No Tanks Will Roll in Trump's Parade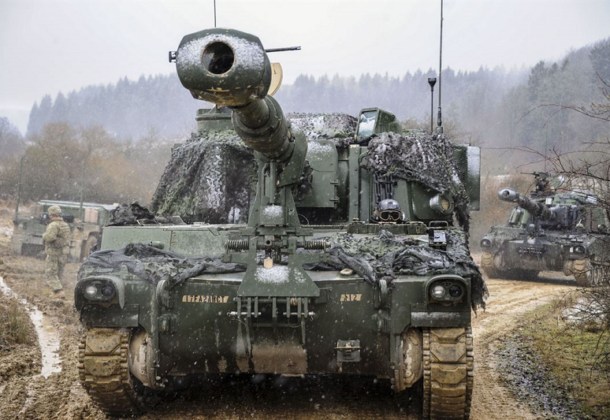 Morning Coffee is a robust blend of links to news around the internet concerning the Naval Air Station Patuxent River

economic community. The opinions expressed here do not reflect opinions of the Leader's owners or staff.
Military officials are still grappling with President Trump's new tariffs on steel and aluminum, uncertain as to how they might affect the DoD, reports The Hill.
The House Armed Services Committee's subcommittee on seapower and projection forces has voiced
concern about the state of the Navy's surge sealift fleet
, reports Navy Times. The concerns come as the Pentagon seeks to fortify the military's ability to fight a possible conventional war against a Russia, China, or North Korea.
DefSec Jim Mattis says he will not publicly discuss issues related to North Korea, deferring to diplomats and the White House, ahead of a proposed meeting between President Trump and North Korea's leader Kim Jong Un, reports Reuters.
Lockheed Martin, through the India Innovation Growth Program, will invite start-ups and university students to present their ideas, reports Defence Aviation Post. The program is set up to identify the innovation taking place in India.
VADM Karl Schultz, commander of US Coast Guard's Atlantic area, has been nominated to serve as the next leader of USCG, reports ExecutiveGov.com.
Google is using its expertise in artificial intelligence to help the Pentagon analyze drone footage, reports C4IRSNET.
France must seek US authorization before selling French cruise missiles with American parts to Egypt, reported Defense News.
President Trump pardoned a former sailor jailed for taking pictures of his workstation on a personal cell phone, reports Navy Times. Former Machinist's Mate 1st Class Kristian Saucier pleaded guilty to the crime in 2016 and spent a year in jail.
The Canadian Armed Forces first, and so far only, military female test pilot was trained at the US Test Pilot School in Patuxent River, reports the Cold Lake Sun. Maj. Catherine Blais, stationed at the Aerospace Engineering Test Establishment in Cold Lake, says her favorite aircraft is the Blackhawk helicopter because "it's an icon of military aviation."
Military Times reports on a DoD report that says a new system for getting fruits and vegetables to commissaries in Japan and South Korea is saving the US government $38 million a year, but at the expense of commissary customers, who are paying from 21 percent to 32 percent higher than under the previous contract.
Contracts:
General Dynamics Electric Boat, Groton, Connecticut, is being awarded a $696,246,000 cost-plus-fixed-fee modification to previously awarded contract N00024-17-C-2100 for additional long lead time material associated with the fiscal 2019 Virginia-class submarines (SSNs 802 and 803); and the fiscal 2020 Virginia-class submarines (SSNs 804 and 805). This contract provides long lead time material for steam and electric plant components; the main propulsion unit efforts and ship service turbine generator efforts; and miscellaneous hull, mechanical and electrical system components to support SSNs 802, 803, 804 and 805 ship construction commencing in fiscal 2019. Work will be performed in Sunnyvale, California (35 percent); Newport News, Virginia (5 percent); Quonset Point, Rhode Island (5 percent); Depew, New York (3 percent); Stoughton, Massachusetts (3 percent); Bethlehem, Pennsylvania (3 percent); Florence, New Jersey (3 percent); Windsor Locks, Connecticut (3 percent); Mount Vernon, Indiana (2 percent); Cajon, California (2 percent); Cheswick, Pennsylvania (2 percent); Arvada, Colorado (2 percent); Coatesville, Pennsylvania (2 percent); York, Pennsylvania (1 percent); Mossville, Illinois (1 percent); Spring Grove, Illinois (1 percent); Linden, New Jersey (1 percent); Jacksonville, Florida (1 percent); Tucson, Arizona (1 percent); Tacoma, Washington (1 percent); Philadelphia, Pennsylvania (1 percent); Charleston, South Carolina (1 percent); Orrville, Ohio (1 percent); Louisville, Kentucky (1 percent); Tempe, Arizona (1 percent); Westfield, Massachusetts (1 percent); Manassas, Virginia (1 percent); South El Monte, California (1 percent); Pewaukee, Wisconsin (1 percent); Loanhead, United Kingdom (1 percent); and other efforts performed at various sites throughout the US (13 percent), and is expected to be completed by January 2019. Fiscal 2018 shipbuilding and conversion (Navy) funding in the amount of $696,246,000 will be obligated at time of award and will not expire at the end of the current fiscal year. The Naval Sea Systems Command, Washington, District of Columbia, is the contracting activity.
Rick Aviation Inc., Newport News, Virginia, is being awarded a $27,538,501 indefinite-delivery/indefinite-quantity contract (N00421-18-D-0018) for the procurement of Contracted Air Services (CAS). The CAS program provides contractor owned and operated propeller aircraft to Department of the Navy fleet customers for a wide variety of airborne threat simulation capabilities to train shipboard and aircraft squadron weapon systems operators and aircrew. This support is provided in a variety of venues, from basic "schoolhouse" air intercept control training to large multinational exercises or small, single unit training exercises, and traffic collision avoidance. Work will be performed in various locations in and outside the continental US, and is expected to be completed in March 2023. No funds will be obligated at time of award. Funding will be obligated on individual task orders as they are issued. This contract was competitively procured via a 100 percent Small Business set aside; three offers were received. The Naval Air Warfare Center Aircraft Division, Patuxent River, Maryland, is the contracting activity.
Tribalco LLC, Bethesda, Maryland, has been awarded a $7,676,567 modification (P00007) to contract W912DY-16-D-0021 for support and services to manage the complete life-cycle of the US Army Corps of Engineers radio communications mission. Work locations and funding will be determined with each order, with an estimated completion date of March 12, 2019. US Army Corps of Engineers, Huntsville, Alabama, is the contracting activity.