New Roles on Horizon for F-35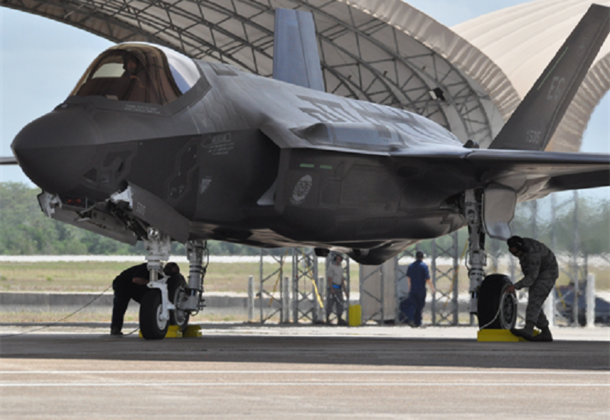 Morning Coffee is a robust blend of links to news around the Internet concerning the Naval Air Station Patuxent River

economic community. The opinions expressed here do not reflect opinions of the Leader's owners or staff.
The US Air Force considers deployment of the F-35 Joint Strike Fighter to the Baltics for an air-policing role once the new stealth aircraft becomes operational later this year, The National Interest reports. The Air Force variant of the JSF is set to enter service with interim software providing limited combat capability. Last week, the new stealthy warplane wowed crowds at two UK air shows, Reuters reports, showing off its capabilities in what US officials say is part of a larger drive to boost NATO's defenses and counter growing threats around the world.
Flight Global gives highlights of the biennial Farnborough International Air Show, the world's biggest aviation event.
After months of deliberation, the name and designation of the US Navy's first carrier unmanned aerial vehicle are now official: MQ-25A Stingray, USNI News reports.
Defense News reports the introduction into service of the search and rescue C-27J aircraft by the US Coast Guard is boosting its reputation as Canada prepares to select a new search and rescue aircraft.
US Secretary of State John Kerry met with Russian President Vladimir Putin for about three hours Thursday about boosting military and intelligence cooperation against Islamic State and al Qaeda in Syria, Reuters reports. The State Department said Mr. Kerry expressed concern about repeated violations of a cessation of hostilities by the Moscow-backed Syrian government.
The UK Ministry of Defence will purchase nine Boeing-made P-8A Poseidon maritime patrol aircraft, military.com reports.
The South Korean Navy takes delivery of the first of eight Lockheed Martin PC-3 Orion aircraft, FlightGlobal reports. The aircraft has received improved radar, communications, acoustic devices, and other digitized systems to enhance antisubmarine capabilities.
The US Navy took delivery in Corpus Christi, TX, of its last T-6B Texan II primary training aircraft, Seapower magazine reports. The two-seat T-6B, is used to train naval aviators at NAS Whiting Field in Florida, as well as by the US Naval Test Pilot School at NAS Patuxent River.
The Navy Times reports that the US Navy is moving to place armed watch-standers at recruiting stations nationwide, a move that comes a year after shootings at a recruiting station and a reserve center in Chattanooga, TN, claimed the lives of four Marines and a sailor.
The Ninety-Nines, an International Organization of Woman Pilots, is helping young women become pilots and inspiring others to fly, Aerotech News reports. Meet two young ladies who are living their dreams.
Stephanie Souders, program manager for the Naval Acquisition Development Program, recently received NAVAIR's "You Made a Difference" award, Naval Air Systems Command reports. The award recognizes members of the workforce for their extra effort and dedication.
Contracts:
Orocon-Carothers JV2, Oxford, MS (N69450-16-D-1108); Whitesell-Green Inc., Pensacola, FL (N69450-16-D-1109); ARTEC Group, Sarasota, FL (N69450-16-D-1110); Desbuild Inc., Hyattsville, MD (N69450-16-D-1111); Southeast Cherokee Construction Inc., Montgomery, AL (N69450-16-D-1112);  Leebcor Services LLC, Williamsburg, VA (N69450-16-D-1113); and Howard W. Pence Inc., Elizabethtown, KY (N69450-16-D-1114), are each being awarded an indefinite-delivery/indefinite-quantity, multiple award, design-build construction contract for construction projects located primarily within the Naval Facilities Engineering Command Southeast area of responsibility. The maximum dollar value including the base period and four option years for all seven contracts combined is $99,000,000.  The work to be performed provides for primarily general building type projects; new construction, renovation, alteration, demolition and repair work in support of Department of Defense activities in the NAVFAC Southeast AOR. Projects issued under this contract will require either single-discipline or multi-discipline design services or may include 100 percent performance specifications.  These seven contractors may compete for task orders under the terms and conditions of the awarded contract. The ARTEC Group is being awarded task order 0001 at $12,228,057 for the design and construction of the Littoral Combat Ship Mission Module Readiness Center at Naval Station Mayport, Jacksonville, FL. Work for this task order is expected to be completed by February 2018. All work on this contract will be performed primarily within the NAVFAC Southeast AOR. The term of the contract is not to exceed 60 months with an expected completion date of July 2021. Fiscal 2016 military construction (Navy); and fiscal 2016 operations and maintenance (Navy) contract funds in the amount of $12,234,057 are being obligated on this award, of which $6,000 will expire at the end of the current fiscal year. This contract was competitively procured via the Navy Electronic Commerce Online website, with 26 proposals received. The Naval Facilities Engineering Command, Southeast, Jacksonville, FL, is the contracting activity.