New Presidential Helicopter Fleet on Schedule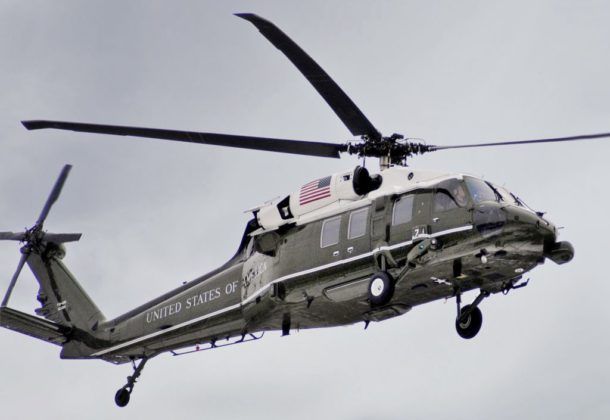 Morning Coffee is a robust blend of links to news around the internet concerning the Naval Air Station Patuxent River

economic community. The opinions expressed here do not reflect opinions of the Leader's owners or staff.
Sikorsky is four years into its $1.2 billion contract to replace the president's helicopter fleet with its VH-92A in 2019, reports Rotor and Wing.
Reuter reports DoD has stopped accepting F-35 jets from Lockheed Martin because of a dispute over who would be responsible for covering the costs to fix a production error found in more than 200 of them. Last year, the Pentagon stopped accepting F-35s for 30 days. Delivery resumed after a fix was made to prevent corrosion where the carbon fiber exterior panels of the planes were fastened to the airframe.
Administration officials have consulted global allies on a joint military response to Syria's alleged poison gas threat, reports Military Times. In a separate story, Military Times also reports that an international chemical weapons watchdog will send a fact-finding mission to the Syrian town where a suspected gas attack took place, but it remains unknown if this would alter President Donald Trump's vow to stand up to Syrian President Bashar Assad.
Defense News reports on development of a hand-held gun to shoot drones out of the sky.
There are 33,000 vacancies in the Veterans Administration, which could hinder veterans health care provision, reports The Washington Post. The agency is short thousands of primary care physicians, mental-health providers, physical therapists, social workers, janitors, and even the personnel needed to vet candidates and make the hires.
The Sea-Air-Space exposition this week at National Harbor, MD, responds to the Navy's push for autonomous boats with  an array of autonomous surface and underwater vehicles on display, reports Military.com.
Fleet Forces ADM Phil Davidson is nominated to lead  Pacific Command and PACAF Terrence O'Shaughnessy to NORTHCOM, reports usni.org.
Facebook's Mark Zuckerberg wrapped up two days of testimony before skeptical lawmakers Wednesday afternoon, reports The New York Times, his second day before the House rougher than his first day before the Senate. Both Democratic and Republican legislators attacked Facebook for failing to protect users' data and stop Russian election interference, and raising questions about whether Facebook should be more heavily regulated.
President Trump has signed an executive order for a government-wide review of welfare programs, reports The Washington Times, with a goal of putting more people back to work, White House officials said. The order directs all federal agencies involved in providing more than $700 billion in low-income assistance annually to study programs that are "failing Americans," and to report back in 90 days with recommendations.
Members of Congress from farm states have been invited to meet with the president to discuss the impact of tariffs on rural America, reports McClatchy. China announced last week it would impose retaliatory tariffs on soybeans, corn, and more than 100 other US products in response to tariffs the Trump administration is threatening to impose on Chinese-made products.
Contracts:
Leidos Inc., Reston, Virginia, was awarded a $210,000,000 hybrid (cost, cost-plus-fixed-fee, and firm-fixed-price) contract for the procurement of contracted services that provide all personnel, equipment, supplies, facilities, transportation, tools, materials, supervision, and other items and non-personal services necessary to perform synthetic environment terrain and model generation services. Bids were solicited via the Internet with two received. Work locations and funding will be determined with each order, with an estimated completion date of April 10, 2023. US Army Contracting Command, Orlando, Florida, is the contracting activity (W900KK-18-D-0020).
Polytechnique By Grucci Inc., Radford, Virginia, was awarded a $92,959,523 firm-fixed-price contract for the supply of 60mm M702 ignition cartridges. Bids were solicited via the Internet with three received. Work locations and funding will be determined with each order, with an estimated completion date of April 10, 2023. US Army Contracting Command, Rock Island Arsenal, Illinois, is the contracting activity (W52P1J-18-D-0035).