New Performance Incentives for F-35, Not for Industry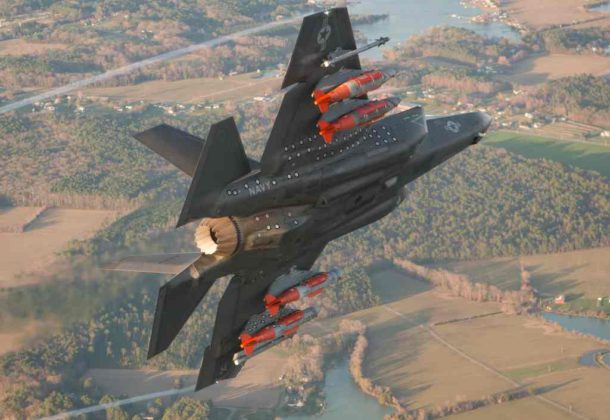 Test pilot Billie Flynn pilots an F-35C Lightning II test aircraft at Naval Air Station Patuxent River, Md., April 4, 2018. (US Navy photo courtesy of Lockheed Martin/Released)
Morning Coffee is a robust blend of links to news around the internet concerning the Naval Air Station Patuxent River 

economic community. The opinions expressed here do not reflect opinions of the Leader's owners or staff.
F-35 Program Director VADM Mat Winter touts changes in the Lockheed contract to improve production of the next order of F-35s, reports USNI. "We have taken a portion of that same fee amount, a portion of it – not an increase, same portion – chiseled it out and said, if you don't increase your performance you won't get this fee. If you increase your performance, then you get the same fee you have in the past."
However, a DoD plan to tie all contract payments to performance measurements is off the table. Facing industry and congressional pressure, the Pentagon backs off changes to contractor pay, reports Defense News. Deputy DefSec Patrick Shanahan called the proposal put forth by Undersecretary of Defense for Acquisition and Sustainment Ellen Lord, "prematurely released."
A Chinese destroyer veered within 45 yards of a US destroyer in "an unsafe and unprofessional maneuver" in the Spratly Islands in the South China Sea, reports Stars and Stripes. The People's Republic of China's destroyer Luyang approached the Arleigh Burke-class destroyer USS Decatur's bow, causing her to change course to prevent a collision.
DefSec Jim Mattis confirms US is training Turkish troops, the final step before the two countries begin joint patrols likely later this month around the strategic northern Syrian city of Manbij. Military Times reports that the forces will be trained in Turkey.
North and South Korean troops begin removing land mines along their heavily fortified border, reports Military Times. It is the first implementation of recent agreements aimed at easing their decades-long military standoff. The Koreas will likely remove a small portion of an estimated 2 million mines littered inside and near the 155-mile-long Demilitarized Zone. Nikkei.com reports the project began at the truce village of Panmunjom and farther east along the border in Cheorwon, Gangwon Province, where both sides plan to excavate Korean War remains.
Navy Undersecretary Thomas Modly joins the Navy's assistance relief efforts with the Air Niugini flight PX56 crash, reports USNI. Modly was visiting several small Pacific nations to talk about regional cooperation and disaster relief when the crash occurred. Modly offered his DoD Gulfstream G-V for use in the rescue effort.
The Pentagon hands out $7.54 billion in year-end contract bonanza the evening of Sept. 28, the last working day of the fiscal year, reports Defense News. The contract dump is an annual event and this year's bonanza involved 114 different contract announcements, with values ranging from $1,05 billion to $7.12 million.
Amazon will pay its US workers at least $15 an hour begining next month, reports NBC News. Founder and CEO Jeff Bezos said, "We listened to our critics, thought hard about what we wanted to do, and decided we want to lead." The hike in the company's minimum wage includes part-time, temporary, and seasonal employees also. The Seattle-based logistics giant reportedly employs 560,000 people nationwide, making it the second-largest employer behind Walmart, reports The Seattle Times.
Deployment readiness continues to be an issue with 11 to 14 percent of personnel non-deployable across the military, reports American Military News. More than a year in the offing, the Navy leads the effort, announcing sailors will face possible separation if they fail to qualify for deployment for 12 consecutive months, Military.com reported.
USNI News Fleet and Marine Tracker: Oct. 1, 2018.
Contracts:
EMCOR Government Services Inc., Arlington, Virginia, was awarded a $33,076,238 modification to extend the period of performance under previously awarded indefinite- delivery/indefinite-quantity contract (N40080-10-D-0464) for base operations support at federal installations within a 100-mile radius of the National Capitol Region. The work to be performed provides for all labor, management, supervision, tools, materials and equipment required to perform facility investment services for federal installations. After award of this option, the total cumulative contract value will be $310,373,231. Work will be performed at various installations in and around the National Capital Region. This extension covers the period from October 2018 to September 2019. No funds will be obligated at time of award. Fiscal 2019 operations and maintenance (Navy); and fiscal 2019 Navy working capital contract funds in the amount of $23,332,381 for recurring work will be obligated on individual task orders issued during the base period of the contract extension. The Naval Facilities Engineering Command, Washington, Washington, District of Columbia, is the contracting activity. (Awarded Sept. 30, 2018)
John C. Grimberg Co. Inc., Rockville, Maryland, was awarded a $30,824,949 firm-fixed-price contract for the renovation of the Agile Chemical Facility, Phase III at Naval Support Facility Indian Head. The work to be performed provides for the construction of an Otto Fuel II (OFII) transfer pipeline and reconfigures other piping to accommodate the new OFII piping within the Agile Chemical Facility (ACF) compound. Project constructs one building and renovates portions of the following Buildings: 775, 781, 786A, 786B, 786C, 786E, 786F, 1006, 1695, 1696, 1769, 1784, 1829, 3152, 3177, 3464, and 3790. Renovations will repurpose facilities to complete the ACF to provide a safer and more efficient process to produce the full complement of nitrate esters and related fuels. The existing control system equipment throughout the plant will be replaced with new equipment which is forward and backward compatible with the existing Siemens process control system. Project will also upgrade, integrate and consolidate heating, lighting, process piping processes for a more efficient plant operation. Work will be performed in Indian Head, Maryland, and is expected to be completed by August 2021. Fiscal 2017 military construction, (Navy) contract funds in the amount of $30,824,949 are obligated on this award and will not expire at the end of the current fiscal year. Pursuant to Federal Acquisition Regulation 6.302-01(a)(iii)(A) and (B), authorizes the use of other than full and open competition when there is only one available source. The Naval Facilities Engineering Command, Washington, Washington, District of Columbia, is the contracting activity (N40080- 18-C-0008). (Awarded Sept. 29, 2018) 
The Whiting-Turner Contracting Co. Inc., Greenbelt, Maryland, was awarded a $20,450,000 firm-fixed-price contract for the improvement of Fuller Road at Marine Corps Base Quantico. The work to be performed provides for the reconstruction, widening and minor realignment of existing Fuller Road from U.S. Route 1 to Mason Drive, and new entry control facility/access control point with entrance to security building(s). The security facilities include new gate house, two sentry houses, inspection shelters, a canopy structure, and personnel weather shelters. The work includes forest clearing; demolition and removals; grading; retaining walls; utility relocations; site utilities (storm drain, sanitary sewer, telecom, and power); buildings structures; vehicle inspection canopy; active vehicle barrier; and incidental related work. Work will be performed in Quantico, Virginia, and is expected to be completed by June 2020. Fiscal 2014 military construction (Navy) contract funds in the amount of $20,450,000 are obligated on this award and expired at the end of fiscal 2018. This contract was competitively procured via the Navy Electronic Commerce Online website, with five proposals received. The Naval Facilities Engineering Command, Washington, Washington, District of Columbia, is the contracting activity (N40080-18-C-0034). (Awarded Sept. 29, 2018)
Diversified Service Contracting Inc., Dunn, North Carolina, was awarded a $7,269,740 modification to extend the period of performance under a previously awarded indefinite- delivery/indefinite-quantity contract (N40080-11-D-3020) for base operations support at Patuxent River. The work to be performed provides for all labor, management, supervision, tools, materials and equipment required to perform pest services, grounds services, janitorial services, and transportation services. After award of this modification, the total cumulative contract value will be $78,351,571. Work will be performed in Patuxent River, Maryland. This extension covers the period from October 2018 to September 2019. No funds will be obligated at time of award. Fiscal 2019 operations and maintenance (Navy); and fiscal 2019 Navy working capital contract funds in the amount of $6,069,740 for recurring work will be obligated on individual task orders issued during the base period of the contract extension. The Naval Facilities Engineering Command, Washington, Washington, District of Columbia, is the contracting activity. (Awarded Sept. 30, 2018)
Parsons Government Services, Pasadena, California, has been awarded a $17,769,011 cost-plus-fixed-fee contract for Agent-Based Data Analytics and Persistence Technology. The scope of this effort is to generate input data; perform data modeling; research, design, develop, and implement novel algorithms, frameworks, information management tools, data stores and services; and integrate capabilities and services into robotic and content production systems. Work will be performed in Arlington, Virginia, and is expected to be completed Sept. 28, 2023. This award is a result of a competitive acquisition and two offers were received. Fiscal 2018 research, development, test and evaluation funds in the amount of $10,000 are being obligated at the time of award. Air Force Research Laboratory, Rome, New York, is the contracting activity (FA8750-18-C-0138). (Awarded Sept. 28, 2018)
Motorola Solutions Inc., Linthicum Heights, Maryland, has been awarded a $16,348,704 contract for performing a land mobile radio trunking system technology refresh. This contract provides for updating and replacing outdated technology on Air Force Global Strike Command and Air Force Space Command land mobile radio trunking systems across 23 Air Force bases. Work will be performed in Eglin, Illinois, and is expected to be completed by Sept. 28, 2019. This award is the result of a sole-source acquisition. Fiscal 2018 operations and maintenance funds in the amount of $16,348,704 are being obligated at the time of award. The 21st Contracting Squadron, Peterson Air Force Base, Colorado, is the contracting activity (FA251718C7005). (Awarded Sept. 28, 2018)
Leidos, Reston, Virginia, was awarded a five-year, $21,208,213, firm-fixed-price task order (HHSN316201200044W) utilizing the National Institutes of Health Information Technology Acquisition and Assessment Center contract tool. This contract provides shared services to support current and future infrastructure for enterprise data transport and data processing, and performance and performance management operations for the Defense Health Agency Health Information Technology Directorate, Infrastructure and Operations Division. In addition, the contract will develop engineering and performance monitoring supporting optimization of networks. This award was open competition with two quotes received. Defense Health Agency, Falls Church, Virginia, is the contracting activity. (Awarded Sept. 28, 2018)