NAWCAD's Taylor to Speak in Dahlgren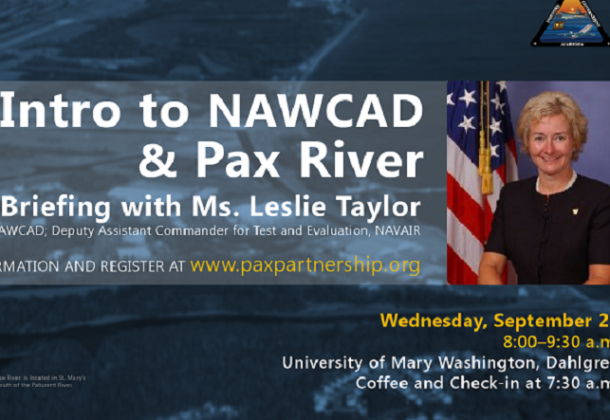 Will Provide Introduction to Patuxent River
The Patuxent Partnership will present Leslie Taylor, executive director of the Naval Air Warfare Center Division and deputy assistant commander for Test and Evaluation at NAVAIR, speaking from 8 to 9:30 am Wednesday, Sept. 27, at the University of Mary Washington in Dahlgren, Virginia. Coffee and check-in will begin at 7:30 am. Click here to register.
Other upcoming events
NAWCAD is planning an Industry Day for Wednesday, Oct. 25, 2017. The event will begin at 8 am at the Southern Maryland Higher Education Center at 44219 Airport Road in California, Maryland. The event is being held with the support of The Patuxent Partnership.
NAWCAD's Industry Day will offer programs that are valuable resources for attendees. Regional defense contractors and industry players have been filling out a survey to bring attention to the types of programs they want to see, and the agenda for Industry Day will reflect the results of that survey.
The event is free to attend.
The NAWCAD team supports engineering, research and development, and testing of all Navy and Marine Corps air vehicle systems and trainers. The organization manages test rangers, labs, test facilities, and aircraft that have been deemed necessary to support the acquisition requirements of the US military. NAWCAD provides many services to the Department of Defense, federal government agencies, and non-federal customers.
According to its website, NAWCAD's products and services include avionics, aircraft, air-launched weapons, cruise missiles, electronic warfare systems, unmanned aerial vehicles, training equipment, launch and arresting gear, and all of the power equipment that is related to the US Navy and the Marine Corps.
TPP Annual Meeting on Oct. 31 at the Southern Maryland Higher Education Center. Click here to register.
The Arctic Domain & National Security with the Patuxent Defense Forum is set for Dec. 12
Collaboration & Strengthening Partnerships: Pax River, Indian Head, and Dahlgren will be held Jan. 9
About The Patuxent Partnership
TPP fosters collaboration and the sharing of knowledge and expertise across a diverse network that includes government, industry and academia. The Partnership also supports STEM education and workforce development within the local community including hosting programs of interest to NAVAIR, NAWCAD, and the broader DoD community.
To learn more about The Patuxent Partnerships and its programs, visit its Leader member page.