NAWCAD Summer Internships Open for Students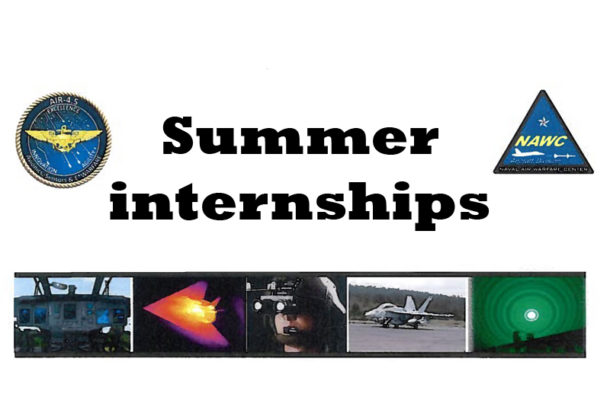 March 15 is the deadline to apply for summer internships with NAWCAD at NAS Patuxent River for the 2019 summer, according The Patuxent Partnership's newsletter.
In the AESIP program, rising high school seniors and rising college freshman can learn about the different technologies that the 3.4 Avionics, Sensors, and E-Warfare Department develops each day. The Aviation Electronics and Sensors Internship Program is from July 8-26, 2019.
The other program, RADIATE, allows interns to learn about radio waves and radar technologies and gives details on how the US Navy develops, tests and uses them in aircraft platforms. Interns will enjoy a curriculum developed and taught by Naval Air Warfare Center Aircraft Division radar engineers. The Radio Frequency and Antenna Demonstration and Instruction for Advancing Technology Education program is from July 29 until Aug. 16, 2019.
A limited number of students will be accepted into these programs, therefore the student must be able to commit to the duration of the internship.
Interested students can get the application form online for these competitive internships. Once completed, the form must be mailed in, so downloading the form soon is advised. Accepted students will be notified by April 10. A teacher endorsement is also required.
The AESIP internship is an opportunity for students to be exposed to many different technologies applied across naval aviation. Interns will gain hands-on learning of various technologies such as unmanned aircraft systems, electro-optics sensors, night vision goggles, communications – radio waves theory/optical fiber, SONAR, LASERS, radios, RADAR and Cyber systems, and more. They will receive on-station tours of laboratories and prepare PowerPoint slides to brief leadership.
About The Patuxent Partnership
TPP fosters collaboration and the sharing of knowledge and expertise across a diverse network that includes government, industry, and academia. TPP also supports STEM education and workforce development within the local community including hosting programs of interest to NAVAIR, NAWCAD, and the broader DoD community.
To learn more about The Patuxent Partnership and its programs, visit its Leader member page.