Navy Rapidly Replaces X-47B Tailhook after Test Failure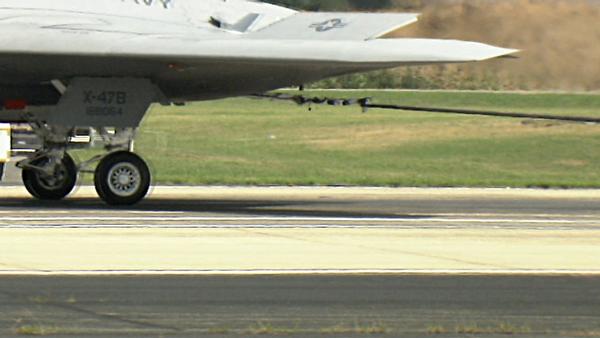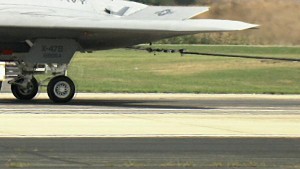 The Fleet Readiness Center South West (FRCSW) in California rapidly manufactured a new tail hook for the Northrop Grumman X-47B  Unmanned Combat Air System demonstrator (UCAS-D) this summer after its original test failed roll-in arrestment tests.
In late spring, a team from Naval Air Station's Patuxent River called on FRCSW at Naval Air Station North Island to redesign the hook point for the strike drone. The team needed to come up with a plan to make the modifications in order to perform arrested landings and catapult launches this fall.
"We reached out to the team at North Island because of their proven history of providing critically needed aircraft components with very short response times," said Capt. Jaime Engdahl, manager of the UCAS-D program (PMA-268), in a prepared statement. "They have repaired, modified and delivered thousands of high quality aircraft components to the fleet. We knew they could get the job done."
Within a few weeks of receiving the initial request from the UCAS team, the FRC signed a formal work order July 10, anticipating the manufacturing and shipping process would take up to one month, according to the Navy's Unmanned and Strike Weapons program office (PEO U&W). The best available delivery date for commercially sourced hook points was Oct. 1; however, in order to keep the testing program moving forward, two tail hook points were required no later than the first week of August.
"The hook point is a fracture critical safety item so you've got to do the job right. You have to create them correctly." Mike Grice, FRCSW Systems Engineering Department Head, in a prepared statement.
FRCSW received the redesigned hook point information and completed four steps prior to manufacturing the item. First they created plastic and then aluminum versions of the hook for fist-testing on the X-47B. Then they used a Coordinate Measuring Machine to dimensionally confirm the finished part was within appropriate tolerance levels. Finally, their Advanced Measurements Systems/Reverse Engineering Lab performed a full surface laser scan of the part. These four steps were completed concurrently in order to reduce process time.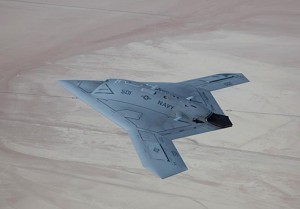 The final version of the hook point was made of heat treated high strength steel so that it could withstand the stresses placed on it when attempting to stop an aircraft traveling at more than 150MPH. The steel was then machined into a hook point on the 5-axis milling unit.
"This is no problem for FRCSW as the command has been working with this kind of material for 5 years." Grice stated.
The first operational hook point was successfully manufactured on Aug. 2 and shipped on Aug. 3 (a second was shipped on Aug. 8), allowing PMA-268 to move forward with the testing schedule for the aircraft. Since then, the X-47B successfully engaged the arresting gear with the redesigned hook point during three separate roll-in arrestment tests. FRCSW says it expects to complete upwards of 30 more units.
Engdahl visited North Island last month and personally thanked the dozens of employees who worked extended hours for nearly two months to support this effort. The FRCSW team made a huge contribution to the UCAS program that will greatly impact naval aviation, he added.