Navy Eliminates Office Overseeing Warfare UAVs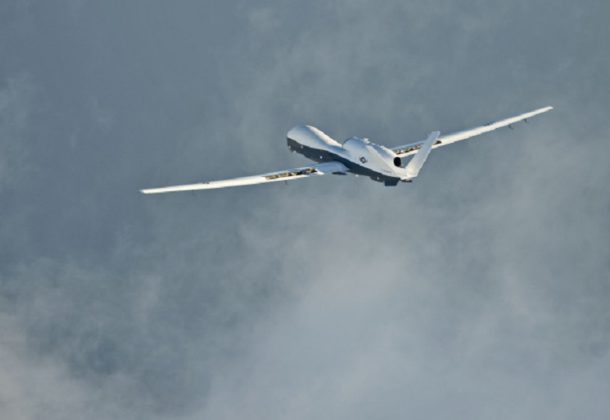 Morning Coffee is a robust blend of links to news around the Internet concerning the Naval Air Station Patuxent River

economic community. The opinions expressed here do not reflect opinions of the Leader's owners or staff.
The US Navy's Office of Unmanned Warfare Systems has been eliminated, Defense News reports. OPNAV N99 was set up less than two years ago to oversee the warfare development of UAVs by then-NavSec Ray Mabus. Its functions are being distributed to other offices.
North Korea fired a ballistic missile Sunday, Fox News reports. This is the first such test by that country since President Donald Trump took office.
Navy ADM William Moran says the military is "flat-out out of money," taskandpurpose.com reports. Only three of the Army's 58 Brigade Combat Teams are ready to fight; 53 percent of the Navy's aircraft can't fly; the Air Force is 723 fighter pilots short; and the USMC needs 3,000 more troops, referring to the military's immediate needs.
Lt. Gen. Jon Davis, deputy commandant for USMC aviation, says that more than half of all Marine Corps fixed- and rotary-wing aircraft were unable to fly at the end of 2016, Marine Corps Times reports. The Marines are struggling to keep aging aircraft flying amid budget cuts, delayed spending bills, and more than 15 years of wartime wear-and-tear. CNN reports nearly two-thirds of the Navy's F/A 18 jets are unable to fly because of repair delays.
The F-35 Joint Strike Fighter will make its debut in Australia at an airshow in March. It will be the Aussies only chance to see the jet until late 2018, Gizmodo Australia reports. Australia has a full complement of 72 F-35As on order.
Despite all of the F-35 JSF program controversy (it's behind schedule with well-publicized issues regarding its cost), the Air Force says, "better late and crazy expensive than never," Wired reports. In its first serious test at the Red Flag war exercises in Nevada, the F-35 proved, that given the chance, it can wreak havoc in the skies.
The Center for Strategic and Budgetary Assessments has suggested the Navy will need to develop a dedicated air superiority fighter to counter Russian and Chinese advances, The National Interest reports. The F-35 and the Super Hornet won't be suitable, it says.
Reuters reports that Lockheed Martin wants to move forward with plans to move the production of its F-16 combat jets to India. Since there are no more orders for the F-16 from the Pentagon, the company wants to use its Fort Worth, Texas, plant instead to produce the fifth generation JSF for the US Air Force. The Fort Worth Star-Telegram reports that the Trump administration has made it clear it will scrutinize any deal that might shift jobs overseas.
Van Hipp, a former Army assistant secretary and one of the candidates under consideration for the Army's top service post, withdrew his name from consideration, Military Times reports. This comes just days after billionaire Vincent Viola withdrew from the confirmation process because of complications with his business interests.
The US Pacific Command detailed what it called an "unsafe" close encounter in the South China Sea between a US Navy P-3 Orion aircraft and a Chinese aircraft last week, Defense News reports. The two planes reportedly flew within 1,000 feet of each other. The publication also reports that China is expanding its construction activities in a second group of disputed South China Sea islands.
Business Insider has identified some of the ways a person can end up on the Terrorist Screening Database watch list, created to help the US track terrorists and prevent terror attacks in the US.
Contracts:
BAE Systems Technology Solutions and Services, Rockville, Maryland (W9113M-17-D-0001); Dynetics Inc., Huntsville, Alabama (W9113M-17-D-0002); Kbrwyle Technology Solutions LLC, Columbia, Maryland (W9113M-17-D-0003); Northrop Grumman Technical Services Inc., Herndon, Virginia (W9113M-17-D-0004); QWK Integrated Solutions LLC, Huntsville, Alabama (W9113M-17-D-0005); Raytheon Co., Tewksbury, Massachusetts (W9113M-17-D-0006); Science Applications International Corp., McLean, Virginia (W9113M-17-D-0007); and Teledyne Brown Engineering Inc., Huntsville, Alabama (W9113M-17-D-0008), will share in the award of a $3,038,000,000 order dependent contract for a research and development effort for the design, development, demonstration, and integration, domain-one of space/high altitude and missile defense hardware and software solutions. The program is being awarded as a multiple award, indefinite-delivery/indefinite-quantity contracts in support of the U.S. Army Space and Missile Defense Command and Army Forces Strategic Command. Bids were solicited via the Internet with eight received. Work locations and funding will be determined with each order; with an estimated completion date of Feb. 8, 2026. US Army Space and Missile Defense Command, Redstone Arsenal, Alabama, is the contracting activity.
Endoscopy MD, LLC, Oxford, Pennsylvania, has been awarded a maximum $9,740,000 fixed-price with economic-price-adjustment, indefinite-delivery/indefinite-quantity contract for hospital equipment and accessories for the Defense Logistics Agency electronic catalog. This is a five-year contract with no option periods. This was a competitive acquisition with 125 responses received. Locations of performance are New Jersey, Maryland and Pennsylvania, with a Feb. 8, 2022, performance completion date. Type of appropriation is fiscal 2017 through 2022 defense working capital funds. The contracting activity is the Defense Logistics Agency Troop Support, Philadelphia, Pennsylvania (SPE2DH-17-D-0010).
Lockheed Martin Corp., Missiles and Fire Control, Grand Prairie, Texas, has been awarded an agreement modification totaling $8,153,741 through the addition of Phase II base tasks to a previously awarded other transaction (OT) for prototype project agreement for the Multi Azimuth Defense Fast Intercept Round Engagement System (MAD-FIRES) program. Under modification P00005, the government negotiated and added a Phase II base effort, Option 1 and Option 2 to the previously awarded OT agreement, HR0011-15-9-0008. The MAD-FIRES program is an advanced technology development and demonstration program to create a gun launched, medium caliber, guided, actively controlled projectile with significantly improved range and accuracy over current systems.  The entire Phase II program (base, Option 1, and Option 2) is to be accomplished in 30 months.  The addition of the MAD-FIRES Phase II base program increases the total cumulative face value of the agreement to $18,073,602 from $9,919,861. Work will be performed in the following locations: Grand Prairie, Texas (76.92 percent); Minneapolis, Minnesota (6.28 percent); Montville, New Jersey (4.52 percent); Dallas, Texas (3.57 percent); Brea, California (3.12 percent); Bethesda, Maryland (1.99 percent); Keyser, West Virginia (1.37 percent); Marion, Illinois (1.16 percent); and Westminster, Maryland (1.07 percent). The Lockheed Martin MAD-FIRES Phase II base program is expected to complete on Nov. 9, 2017.  The Defense Advanced Research Projects Agency, located in Arlington, Virginia, is the contracting activity.
TWD and Associates Inc., McLean, Virginia, is being awarded an $11,595,179 cost-plus-fixed-fee contract for information technology support services for continued enhancement, operation, maintenance, and life-cycle support for software and systems applications supporting mission command networks, systems, and operations.  This contract includes options which, if exercised, would bring the cumulative value of this contract to $24,340,820. Work will be performed at Naval Sea Systems Command Headquarters in Washington, District of Columbia, and is expected to be completed by August 2017. Fiscal 2017 operations and maintenance (Navy) funding in the amount of $6,100,000 will be obligated at time of award. Contract funds will expire at the end of the current fiscal year. This contract was not competitively procured in accordance with 10 US Code 2304(c)(1) – only one responsible source and no other supplies or services will satisfy agency requirements. The Naval Surface Warfare Center, Indian Head Explosive Ordnance Disposal Technology Division, Indian Head, Maryland, is the contracting activity (N00174-17-C-0005).