National Media Tour Pax River, Meet the 'UFO'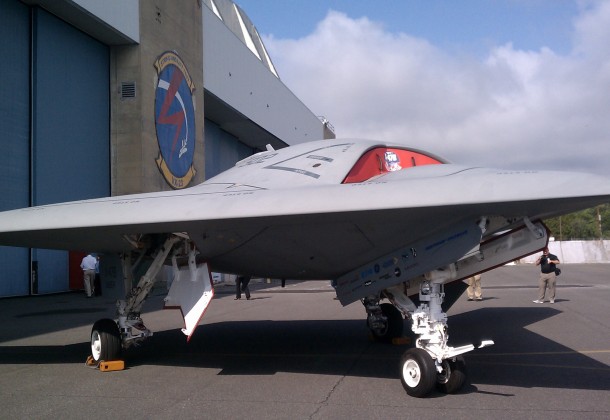 By Jay Friess
Editor
The Navy's X-47B Unmanned Combat Air System Demonstrator (UCAS-D) may look to many like an alien spacecraft, but it was quite terrestrial on Tuesday when the Navy took the national and international media on a tour of Naval Air Station Patuxent River.
Sitting outside the VX-23 hangar, the tailless, bat wing drone loomed over Rear Adm. Randy Mahr, Rear Adm. Mathias Winter and Capt. Jaime Engdahl as they briefed the press on the status of the program and future testing of the two air vehicles at Pax River. Afterwards, the tour moved to the Navy UCAS Aviation/Ship Integration Facility near the catapult and landing traps, where officials showed off the simulator technology being used to develop operating procedures for drones on aircraft carriers.
[youtube=http://www.youtube.com/watch?v=eO7oISYkp0g]
The UCAS-D program also released video of the aircraft's first Pax River flight, which occurred Sunday.
[youtube=http://www.youtube.com/watch?v=1dyojf88-NU]