Moslener Takes Charge of the Navy Test Pilot School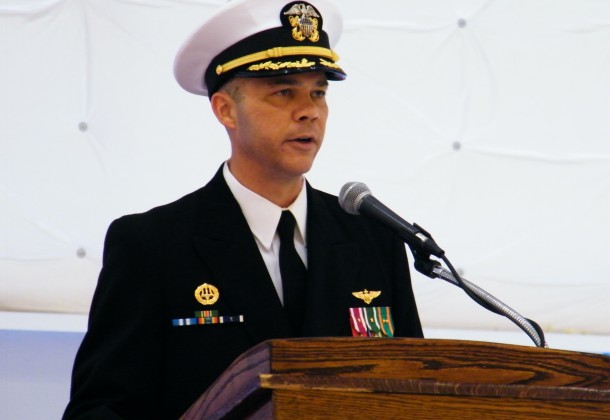 By Jay Friess
Editor
Cmdr. Brandt Moslener, who took command of the Navy Test Pilot School at Naval Air Station Patuxent River Friday, faces big responsibilities.
First, he is tasked with raising the profile of a 67-year-old institution – recognized worldwide for its training of top test pilots – that is having trouble catching the interest of the best pilots, according to Col. Roger Cordell, commander of Naval Test Wing Atlantic and a former TPS commander.
Moslener must also groom his prospective successor, Army Lt. Col. Gregory Fortier, who will serve as his executive officer for the next 18 months. The Army helicopter test pilot is in line to lead the Navy's Test Pilot School.
Moslener thanked Fortier during his speech Friday for providing him with a top ten list for how to train an Army EXO. And to his students, he said, "You are the life blood of the school. … I promise this will be the most rewarding year of your life, but it might take you a while to realize that."
Cmdr. Andrew Lynch, who presided over the school for the last year and a half, graduating 94 Navy test pilots, said Moslener is well-equipped to meet the challenge. Lynch said, "He is also an optimist. He is often heard to say, 'These things pretty much work out.'"
Moslener graduated from TPS in Class 120 and served as a staff instructor pilot. On his most recent tour, he served as integrated teams leads for both the P-3 Orion and the P-8A Poseidon at PMA-290. He has logged 3,000 flight hours in 35 different types of aircraft, according to his Navy biography.
Fortier most recently served as commander of the Army's Aviation Flight Test Directorate.
Vice Adm. David Architzel, commander of the Naval Air Systems command and guest speaker at the command change ceremony, reminded both men: "The work done here is foundational to NAVAIR."
Architzel said that Navy aviation "has begun the largest transition in its history" to new aircraft, and pilots out at sea "are counting on their machines … to function as advertised."