Morning Coffee: SecNav Presents Future of UAS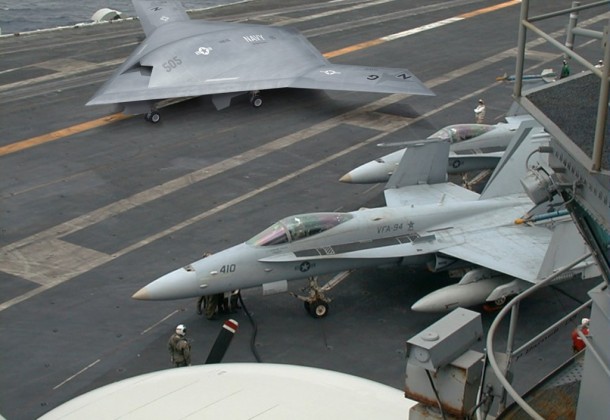 Morning Coffee is a robust blend of links to news around the internet concerning the Naval Air Station Patuxent River economic community. The opinions expressed here do not necessarily reflect those of the Leader's owners or staff.

Secretary of the Navy Ray Mabus presents his views on the future of naval unmanned operations in an essay in War on the Rocks. SecNav Mabus states, in part, "The future of unmanned systems in the Navy and Marine Corps is focused on incorporating our people on manned platforms with unmanned systems to create an integrated force. Unmanned systems are vital to our ability to be present; they lessen the risk to our Sailors and Marines and allow us to conduct missions that are longer, go farther, and take us beyond the physical limits of pilots and crews. But it is our Sailors and Marines that will provide the innovative thinking and develop the new ideas that are crucial to our success.  The unmanned systems and platforms we are developing today, and our integrated manned and unmanned employment methods, will become a central part of the Navy and Marine Corps of tomorrow."
An online Veterans Affairs benefits portal software glitch exposed private information from military veterans to anyone who could log onto the system last week, reports the Washington Post. The joint VA and DoD eBenefits system allows veterans and their dependents to access medical and educational benefits, disability claims, bank information and military personnel records. The VA said on Tuesday that it "conducted a full review of the software issue and reinforced its security posture, after determining that the defect had been remedied and the portal was functioning properly."
Lockheed Martin and Under Armor jointly developed a state-of-the-art textile specifically for the Sochi Olympic US speed skating team according to Engineering.com. The friction reducing "Mach 39" fabric was tested for 300 hours in Lockheed's wind tunnels and is used in a skating suit that features a dimpled hood, forearms designed to disrupt airflow, and super slick fabrics on the upper thigh among other design innovations. The new suit may create a controversy similar to the stir that surrounded the now banned space age swim suit used by Michael Phelps in the 2008 Beijing Olympics when it was determined that it gave an unfair advantage to athletes.
An improved "Gen 3" helmet will be used by F-35 test pilots this year, reports AIN Online. The helmet provides a third-generation mounted display system (HMDS) that provides modifications to an earlier-generation display system which was identified as an F-35 program risk. Marine Lt. Col. Matthew Kelly, government flight test director at the F-35 integrated training center at the Naval Air Station Patuxent River stated, "I definitely have confidence that we are on the right track; we have the right plan for these fixes in place."
Lt. Alexander P. Smith, USN, provided his opinion on why the Navy needs intellectual diversity, according to USNI News. "To me, diversity is more than gender, race, religion and sexual orientation; it also includes the intellectual background each officer brings to the force. Starting in 2014, however, the vast majority of all NROTC graduates will be STEM (Science, Technology, Engineering and Mathematics) majors with minimal studies in humanities. Our Navy is about to go through unprecedented compartmentalization, but not many officers seem to realize it."
An American drone crashed in Yemen last week according to local officials, reports Foreign Policy. The US uses drones to attack suspected militants of the Yemeni branch of al Qaeda, which is considered the most dangerous arm of the global al Qaeda network. Representatives for the Yemeni government, the CIA and the Pentagon all declined to comment.
Mozaffar Khazaee, former Pratt & Whitney employee, was indicted by a federal grand jury for attempting to ship boxes of stolen documents regarding the F-35 Joint Strike Fighter to Iran, reports the Navy Times. He is charged with two counts of interstate transportation of stolen property. The documents came from three companies, two of which remain unidentified, with Pratt & Whitney acknowledging they are the third company. Mr. Khazaee was arrested Jan. 9 at Newark International Airport in New Jersey and faces a maximum of 10 years in prison and a fine of up to $250,000 for each count.
Lockheed Martin will probably announce higher profits Jan. 23 despite the negative impacts of federal sequestration spending cuts, reports TREFIS. Large cost cuts including personnel reductions should mitigate lost revenues.