Morning Coffee: Human Toll of Military Layoffs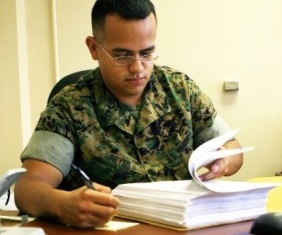 Morning Coffee is a robust blend of links to news around the internet concerning the Naval Air Station Patuxent River economic community. The opinions expressed here do not necessarily reflect those of the Leader's owners or staff.

USA Today takes a look at the possible human toll for thousands of career-military troops who may receive pink slips as a result of looming budget reductions. DefSec Chuck Hagel said Monday that future reductions cut "so deep, so quickly, that we cannot shrink the size of our military fast enough." Civilian groups who support service members and their families believe that job-security concerns will compound existing pressures that are already resulting in record behavioral and physical health issues, marital problems and suicide.
Most of the Pentagon's major weapons-buying and research programs are protected under DefSec Hagel's fiscal 2015 budget request which is boosting revenue prospects for major defense contractors such as Lockheed Martin and Northrop Grumman, reports MarketWatch. After a four year spending slide new projects, including cyberwarfare capabilities, $1 billion for a more fuel-efficient jet and plans for a new Navy surface ship are reassuring military contractors and Wall Street investors.
The US Navy has constructed the "world's smallest guided missile" reports the Navy Times. Weighing only 5 pounds, the "Spike" is far lighter than the unmanned aerial vehicle's standard 100 pound Hellfire, but it is still able to carry out effective pinpoint strikes. Scott O'Neil, the executive director of Naval Air Warfare Center Weapons Division, said, "Most of our weapons are fairly large because they're taking out very big targets. We've started looking at, with miniaturization of electronics, what does that mean to weaponry? How small can we make weapons and keep them effective against the targets that we're talking about?" Spike was funded and developed by NAVAIR at Naval Air Weapons Station China Lake, CA. There are no current plans to deploy the weapon and it will only be used to help train naval engineers on miniature munitions systems.
The USS George H.W. Bush pulled out of Norfolk this month marking the final scheduled carrier deployment of the Northrop Grumman EA-6B Prowler electronic attack aircraft, according to Seapower Magazine. The EA-6B will be retired from Navy service in 2015, but will continue in Marine Corps service until 2019.
The Pentagon/DARPA "Transformer" research program has been redefined from designing a manned "flying Jeep" to creation of a modular, unmanned vertical-takeoff-and-landing delivery system, according to Aviation Week. The project's new objective is seen as a follow-on to the Lockheed/Kaman K-Max unmanned helicopter now being used operationally in Afghanistan. The K-Max's success has sparked interest in unmanned supply options from the Marine Corps, the Army and the Navy.
The Pentagon confirmed Monday that the US Navy's Littoral Combat Ship (LCS) program will procure only 32 ships instead of the 52 previously planned, reports DefenseNews. Earlier this year it appeared that NavSec Ray Mabus' objections to proposed reductions in the LCS program had been effective and that a compromise had been worked out, but DefSec Chuck Hagel announced in a Pentagon news conference that the LCS buys would be curtailed. Mr. Hagel stated, ""I am concerned that the Navy is relying too heavily on the LCS to achieve its long-term goals for ship numbers."
The Boeing Co., Seattle, Wash., is being awarded a $2,070,439,240 modification to a previously awarded firm-fixed-price contract (N00019-12-C-0112) to exercise the options for the procurement of 16 P-8A Multi-mission Maritime Aircraft full rate production Lot I aircraft and 16 Ancillary Mission Equipment kits for the U.S. Navy.  Work will be performed in Seattle, Wash. (78.4 percent); Baltimore, Md. (4.7 percent); Greenlawn, N.Y. (2.4 percent); Cambridge, United Kingdom (1.6 percent); Rockford, Ill. (1.1 percent); North Amityville, N.Y. (1 percent), and miscellaneous locations throughout the continental United States (10.8 percent), and is expected to be completed in April 2017.  Fiscal 2014 aircraft procurement, Navy funds in the amount of $2,070,439,240 will be obligated on this award, none of which will expire at the end of the current fiscal year.  The Naval Air Systems Command, Patuxent River, Md., is the contracting activity.