Pax River Could Benefit from Cargo UAV Boom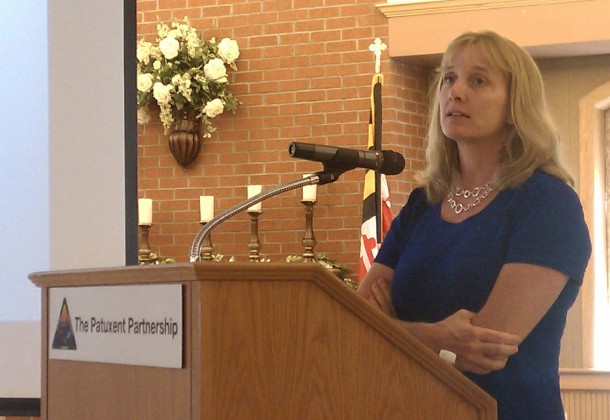 By Jay Friess
Editor
In the coming revolution of unmanned cargo aircraft, the Southern Maryland contracting community has an important role to play and, possibly, a tremendous economic opportunity, according to Dr. Mary "Missy" Cummings, the Autonomous Aerial Cargo Utility System (AACUS) Program Manager for Office of Naval Research.
Speaking to an audience at an event hosted by The Patuxent Partnership at the Bay District Social Hall in Lexington Park, Maryland Thursday, Dr. Cummings said Naval Air Station Patuxent River will be a "key player" in upcoming AACUS demonstrations. She said industry teams have been selected for these demonstrations, but she is not allowed to announce them yet.
More importantly, she said, the Pax River community has the expertise to help take unmanned cargo technologies to the commercial market and grow expansively. She predicted that domestic cargo flights would be turned over to Unmanned Aerial Vehicles within the next five to 10 years.
"It's a whole new commercial opportunity in what UAVs can mean," Dr. Cummings said, encouraging local officials to foster entrepreneurial opportunities in the Southern Maryland economy. "[Department of Defense] systems are not profitable. …They do not make the money that puts companies on the map."
Of manned aviation, Dr. Cummings, a former F/A-18 pilot, said, "I really do not believe it will be on the cutting edge anymore. It's a whole new world out there. … The winds are changing very quickly."
Dr. Cummings described her own program as one of ONR's high-risk, high payoff speculations, attempting to give an unmanned cargo helicopter the "ability to reason on its own."
AACUS is not envisioned as a single aircraft platform, but a suite of sensors, computer hardware and software that can be plugged into existing platforms, even manned ones, and used by ground troops to call in cargo or medical evacuation support.
"We envision AACUS to be a plug-and-play system," Dr. Cummings said.
In the ideal AACUS scenario, Dr. Cummings said a Marine "whips out some smartphone application, calls the helicopter." The helicopter would take off autonomously, plot its own route, fly to the scene, select a landing zone and land itself, all with minimal intervention from an operator. The aircraft could then deliver cargo or remove a wounded Marine from the battlefield. "For the most part, it's the aircraft talking to a novice user on the ground."
This scenario has lead to some philosophical conversations with Navy leadership, pondering the question, "How comfortable do we feel with a human being a passenger on an aircraft without a pilot?" While, leaders agree that using a robot aircraft to evacuate a wounded combatant is far preferable to letting him or her die, the scenario gets murkier if the machine is also carrying a perfectly healthy medic.
In order to effectively accomplish this scenario, Dr. Cummings said unmanned helicopter software has to get a lot faster at selecting landing zones, and cannot take an hour to hover and build a terrain map.
"We have to have a helicopter that can land in two minutes" after coming within five miles of the landing zone, she said. "Hovering is not allowed. And you can not build a map." The AACUS program, she said, has to "reprogram the software to make better guesses than we're making now."
AACUS program aircraft are envisioned to be internal carry aircraft only, unlike the KMAX helicopter that the Marines' Intermediate Cargo Unmanned Aerial System program is testing now. The program also wants  an aircraft that does not require a landing beacon, such as the Army's Autonomous Technologies for Unmanned Air Systems program.
AACUS faces other hard problems as well. Dr. Cummings believes that threat avoidance by AACUS aircraft is four years away. However, she predicted that autonomous loading and unloading of cargo would not be accomplished in her lifetime. She said it will take a while for engineers to mimic sensitivity and speed of human vision and manual dexterity.
And unmanned vehicles that use the Global Positioning System for guidance are very much open to hacking. "I think the vulnerability of these systems is important," Dr. Cummings said, noting that the AACUS program is not allowed to use GPS for guidance.
For the FAA to accept unmanned cargo aircraft in domestic airspace, Ms. Cummings predicted that their software will have to exceed the failure rate of manned aircraft. And, she added, "We have no idea how to certify these systems."