Military Offering Relief in Wake of Irma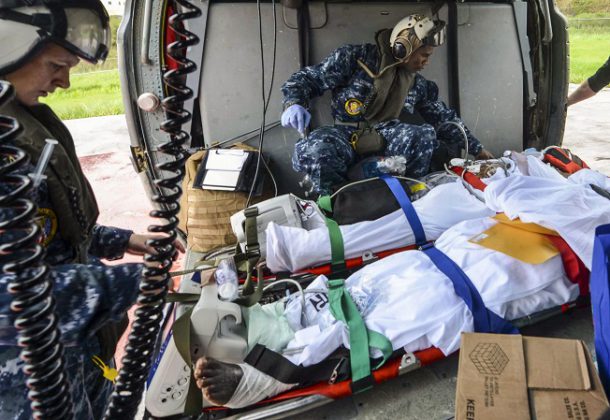 Morning Coffee is a robust blend of links to news around the Internet concerning the Naval Air Station Patuxent River

economic community. The opinions expressed here do not reflect opinions of the Leader's owners or staff.
A flotilla of Navy ships will help with relief operations in Florida in the wake of Hurricane Irma, reports the Washington Examiner. The aircraft carrier USS Abraham Lincoln, based in Norfolk, Virginia, will be joined by the amphibious assault ship USS Iwo Jima, the amphibious transport dock USS New York, and the destroyer USS Farragut. The Air Force sent about 300 health care personnel to Florida to help with disaster response operations, reports Military.com. Last week, the US military launched an amphibious relief operation into the Caribbean to aid the US Virgin Islands and Puerto Rico, The Washington Post reports. These relief efforts come just about a week after more than 10,000-plus troops were on duty in the Houston area following Hurricane Harvey, reported Army Times.
Investigations into the causes of the USS John S. McCain and USS Fitzgerald collisions are still ongoing. Defense Tech reports that the Navy is still probing the possibility that cyberattacks might have caused the collisions. "Everything we operate has a cyber component to it, networks, gear, radios, everything," ADM Bill Moran said. "And so we want to make sure we understand that that is not — we want to eliminate that as a potential causal factor to a mishap." But Breaking Defense reports, the Government Accountability Office says Congress's "repeated budget malpractice and the Navy's flawed policies" combined to cause the accidents.
UPI reports the UN Security Council will vote on new sanctions that could place more economic pressure on North Korea. The final draft of the resolution contains language regarding oil exports to North Korea. North Korean leader Kim Jong Un has vowed the US would face "pain and suffering" if the United Nations approved these new sanctions, reports Fox News.
Japanese security experts debate how Japan should deal with the military threat from North Korea, The Japan Times reports. Chinese President Xi Jinping and French President Emmanuel Macron have called for renewed international pressure to bring North Korea back to the negotiating table over its nuclear weapons program, Politico reports. NATO chief Jens Stoltenberg believes that North Korea is a "global threat" that requires a "global response."
Defense News reports leaders from key innovation centers at the Pentagon told attendees at the Defense News Conference last week the DoD would spend the next few years focusing on artificial intelligence, biotechnology, and precision weapons.
President Donald Trump has nominated retired Air Force major general Robert Behler to be director of operational test and evaluation at the Pentagon, Breaking Defense reports. Also nominated was Thomas Modly to be the Navy undersecretary.
Naval Surface Warfare Center Dahlgren Division hosted a visit by Science, Mathematics & Research for Transformation, or SMART, Scholars, South Potomac Pilot reports. The college students learned about the unique operations at the range.
Contracts:
Homeland Security Solutions Inc., Hampton, Virginia, is being awarded a $17,100,000 cost- plus-fixed–fee, undefinitized contract for program management support, training, human resources services and non-guard security support services to the Marine Corps. Work will be performed at the following locations Camp Lejeune/New River, North Carolina (11 Percent); Camp Pendleton, California (10 percent); District of Columbia (9 percent); Cherry Point, North Carolina (8 percent); Miramar, California (8 percent); Quantico, Virginia (8 percent); Camp Smith and Kaneohe Bay, Hawaii (7 percent); Beaufort/Parris Island, South Carolina (6 percent); Yuma, Arizona (5 percent); Barstow, California (5 percent); San Diego, California (5 percent); Albany, Georgia (5 percent); Okinawa, Japan (5 percent); Bridgeport, California (2 percent); Blount Island, Florida (2 percent); New Orleans, Louisiana (2 percent); and Iwakuni, Japan (2 percent). Work is expected to be completed March 10, 2018.  Fiscal 2017 operations and maintenance (Marine Corps) funds in the amount of $5,762,000 will be obligated at the time of award. Contract funds will expire at the end of the current fiscal year. The contract was sole-sourced under Federal Acquisition Regulation 6.302-1(a)(2)(iii)(B), as being the only responsible source. The Marine Corps Installations National Capitol Region – Regional Contracting Office, Marine Corps Base Quantico, Virginia, is the contracting activity (M00264-17-C-0014).
Science Applications International Corporation (SAIC), McLean, Virginia, is being awarded a $34,636,585 cost-plus-fixed-fee contract. Under this contract (HQ0147-17-C-0045), SAIC will work with Missile Defense Agency to evolve analysis capability to model the Ballistic Missile Defense System's (BMDS) expected performance in support of the director for engineering's Quick Reaction Team (QRT) support and analysis effort.  This effort supports research, development and testing of the BMDS. The analytical support for the QRT will create products used by the Missile Defense Agency director; the National Command Authority; the combatant commands; and the US Congress. Deliverables include technical reports, trade studies, predictive analysis, concept exploration and data inputs to presentations. This contract is a sole-source award and the work will be performed at one of the following locations, Amherst, New York; Orlando, Florida; McLean, Virginia; and Huntsville, Alabama, from September 2017 through September 2022. Fiscal 2017 research, development, test and evaluation funds in the amount of $500,000 will be used to incrementally fund the basic contract under this effort. The Missile Defense Agency, Redstone Arsenal, Alabama is the contracting activity.