Message From The Cap'n … Mid July 2017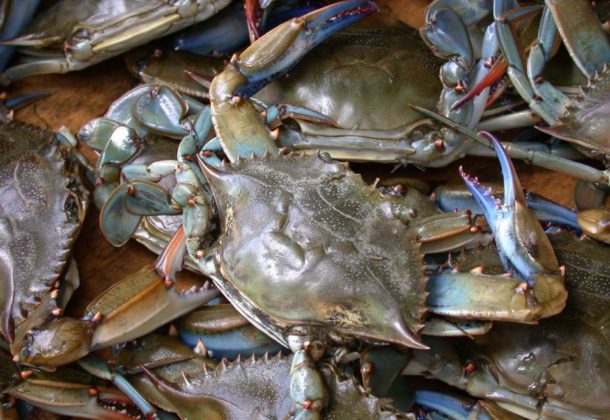 Message from the Cap'n is a compilation of fishing advice, waterman and weather insights, Chesapeake lore, and ordinary malarkey from the folks who keep their feet wet in the Potomac and St. Mary's rivers.
From the Interpretive Buoy System: The lower Potomac water temperature was 84 degrees Fahrenheit over Mother's Day weekend and the salinity just a tad below 13 parts per unit. By July 19, water temperature registered 87.5 degrees Fahrenheit and salinity was holding steady at 12.7 psu.
Jellyfish Galore: As the water temperature increases so do the jellyfish. From now to October it will be almost impossible to try to swim in our local waters without getting stung by these critters. Increase in salinity and temperature provide perfect conditions for sea-nettle growth in the Chesapeake.
Crabbing. has been good this summer. Dockside value for larger males has been upwards of $100 per bushel. Concern about the adult female population has resulted in a shortening of the season in Maryland waters. Two weeks has been cut from the crab season that normally ends in December.
TIPS ON COOKING CRABS:
* The aprons of the crabs will come loose when they are done. ALSO, If the meat sticks to the inside of the claw when you crack it the crab is cooked too much. Adjust cooking time accordingly.
* Crabs will last a week after cooking by cooling them down and placing them in the fridge in a closed container.
*Crabs can be frozen also. Cool and wrap them in plastic or put in a Zip-lock bag. To use, thaw, reheat, enjoy.
Bottom fishing has been great with many Spot, Perch and Hard Head (Atlantic Croaker) being caught in the Lower Potomac, St. Mary's, and Patuxent rivers. All three of these fish are bottom feeders and bloodworms and squid are the baits of choice. Cut your baits small and fish diligently for a better catch.
Striped Bass fishing has been "hit or miss" in the Lower Potomac and mid Bay. With the abundance of small spot fish, "Live Lining' has been very good.
Chumming also is a great way to catch Striped Bass with light tackle. Below is a video of about how to get started chumming from The North Star (301-872-9585): Grind your chum, filet the bait for hooks, distribute chum to create a chum line, use light tackle and let the fish take the bait.  Don't  try to set the hook till the fish starts to swim away. ( Your heart will just "melt" with joy upon catching the first fish.)
Watermans' Lore: As you have experienced this past week, 'When the black flies are biting we are going to have a change of weather and cool off. The change in barometric pressure just drives them crazy."
Remember: "It's Our Bay, Let's Pass it On"
Till next time,
Capt. Jack
To learn more about tours and trips on the Chesapeake, get more information on Fins+ Claws member page.