Come Meet the F/A-18!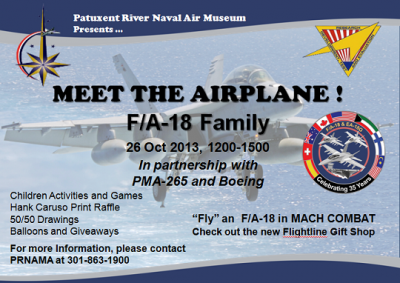 Posted by
Patuxent River Naval Air Museum
Community Builder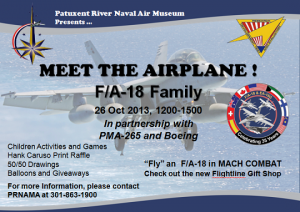 Meet the Airplane! at the Patuxent River Naval Air Museum features this month the F/A-18 Hornet family of aircraft.
Learn more about the Hornet and Naval aviation Saturday noon-3 pm.
Come see the plane out on the flight line and talk with pilots and support personnel. Enjoy the day as you look around and discover what the museum has to offer.   There will be special activities for children – and the flight simulators will be open! 50/50 raffle drawings will be at 1:30 and 3pm.
Food will be available for purchase from Days Off Catering. The Panel will gather at the aircraft for questions from noon to 2 . Inside the museum  a discussion moderated by Hank Caruso begins at 2 pm.
An Aerocatures print by Hank Caruso will be raffled as well.  Each raffle ticket also gives you a discount at Mattedi Gallery.
Admittance to the museum, 22156 Three Notch Road, Lexington Park, is free, but donations are always appreciated.