Mattis & Senate Stall Military Transgender Ban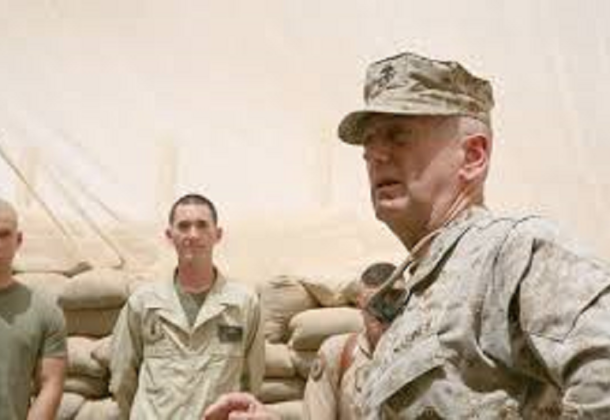 Morning Coffee is a robust blend of links to news around the Internet concerning the Naval Air Station Patuxent River

economic community. The opinions expressed here do not reflect opinions of the Leader's owners or staff.
DefSec Jim Mattis is freezing implementation of President Donald Trump's ban on transgender people serving in the military, reports The Washington Post. Mattis plans a panel of experts to provide advice and recommendations on how to carry out Trump's directive. The panel will address both the potential for transgender people looking to serve in the military for the first time, and transgender troops who already are serving. The Senate could use the National Defense Authorization Act to further stall Trump's transgender ban, reports Washington Examiner. There is a proposal to bar the Pentagon from kicking out any transgender troops or rescinding their medical benefits until the military finished a study on recruitment and reported back to Congress. The idea has support from Sen. John McCain (R-AZ), the Armed Services chairman, who will help decide which proposed NDAA amendments will be approved for a vote on the Senate floor.
The US Air Force is poised to activate its first fully combat capable squadron of F-35s and is considering them to the Pacific as a deterrent to North Korean aggression, reports UPI.
Navy and Marines prepare to deploy to help Hurricane Harvey victims, reports militarytimes.com. "We are continuing to plan and ready assets, should we get the call," said Lt. Cmdr. Brian Wierzbicki, spokesman for Fleet Forces Command in Norfolk. Meanwhile, at least six Navy MH-60 Knighthawk helicopters were in Houston on Tuesday rescuing civilians as part of a coordinated federal response to massive flooding that has all-but paralyzed the city.
The National Guard is readying 30,000 troops for Harvey rescue and recovery, reports Navy Times. "It's hundreds of thousands of homes" that are surrounded by floodwaters now and need help, said Air Force Maj. Gen James Witham, the National Guard Bureau director of domestic operations. "I just can't put a magnitude on the square mileage."
How Congress handles disaster aid and flood insurance as reported by PBS NewsHour says reforms in disaster aid and flood insurance are sorely needed, says the PBS NewsHour. The program is $24 billion in debt, loses more than $1 billion annually, and has thousands of "repetitive loss" properties. Properties with repeated flood damage claims represent just 1 percent of properties insured under the program, but get 25 to 30 percent of its funding.
US forces exchanged fire with Turkish-backed Free Syrian Army rebels near the Syrian city of Manbij, reports Military News. Relations with Turkey soured after President Trump's May decision to arm Kurdish fighters Turkey believes are the same as internationally designated terrorist group that has waged a bloody insurgency inside Turkey for decades, reports Military Times.
North Korea's missile launch over Hokkaido occurred  a few hours before anti-missile drills at two US bases in Japan, overshadowing what was meant to be a symbolic moment of Japan-US solidarity, reports Japan Times.
United Technologies Corp. nears a deal to buy Rockwell Collins for more than $20 billion, reports Defense News. The merger would make UTC an even more dominant supplier in the aerospace business.
"Saturn continues to surprise us." says Earl Maize, project manager for the Cassini mission at Saturn reports Space.com. This trend of finding surprising or unexpected physical characteristics of Saturn and its moons  has characterized Cassini's entire 13-year stint in the Saturnian system.  On Sept. 15, Cassini will complete its "Grand Finale" set of maneuvers and crash into Saturn's atmosphere, transmitting data back to Earth right up until the spacecraft breaks apart. [Cassini's 'Grand Finale' at Saturn: NASA's Plan in Pictures]
NASA may again, soon, send astronauts to the International Space Station from US soil, for the first time since the space shuttle retired in 2011, reports the Associated Press. Critical milestones are on the horizon for Boeing and SpaceX, the space agency's commercial crew partners: Flight tests of their spacecraft, including crewed missions, are planned for 2018.
The Government Accountability Office denied protests from Boeing and Bombardier on the Air Force's Compass Call crossdeck program, likely solidifying L3 Technologies as the systems integrator of the program, reports Defense News. GAO posted notices on its website that it had denied legal challenges from both companies. Further information about the decision was unavailable because the protests are covered by a protective order, meaning that a public report must be redacted before being released.
BAE will demonstrate digital design technology for defense systems in Australia this week, reports UPI. An immersive simulation software package for the AMV 35 combat vehicle design and manufacturing will be displayed using a combination of computer assisted design and gaming software to provide simulated projections of prototype systems and potential upgrades.
Contracts:
Lockheed Martin Rotary and Mission Systems, Manassas, Virginia, is being awarded a not-to-exceed $71,457,135 firm-fixed-price undefinitized contract action (UCA) modification to previously awarded contract N00024-09-C-6247 for electronic warfare equipment in support of Virginia-class submarines. Work will be performed in Syracuse, New York (49 percent); Fairfax, Virginia (40 percent); Germantown, Maryland (5 percent); Van Nuys, California (3 percent) and Buffalo, New York (3 percent), and is expected to be completed by April 2020. The UCA is expected to be definitized by February 2018.  Fiscal 2017 shipbuilding and conversion (Navy) $15,243,418; fiscal 2016 shipbuilding and conversion (Navy) $14,550,536; fiscal 2017 other procurement (Navy) $4,157,296; and fiscal 2016 other procurement (Navy) $692,883 in the amount of $34,644,133 will be obligated at time of award and will not expire at the end of the current fiscal year. The Naval Sea Systems Command, Washington Navy Yard, District of Columbia, is the contracting activity.
Desbuild Inc., Hyattsville, Maryland, is being awarded $10,599,000 for firm-fixed-price task order N6945017F0708 under a previously awarded multiple award construction contract (N69450-16-D-1111) for Hangar 124 upgrades at Naval Air Station Jacksonville. The work to be performed provides for upgrades to finishes on the west and east side second floor offices, exterior hangar and personnel doors, roof over hangar doors, fire suppression and alarm systems, provide lighting protection system and other incidental related work. Work will be performed in Jacksonville, Florida, and is expected to be completed by October 2018. Fiscal 2017 Navy working capital contract funds in the amount of $10,599,000 are obligated on this award and will not expire at the end of the current fiscal year. Six proposals were received for this task order.  The Naval Facilities Engineering Command, Southeast, Jacksonville, Florida, is the contracting activity.
Frontier Technology Inc., Beavercreek, Ohio, is being awarded $8,578,432 for cost-plus-fixed-fee delivery order N6833517F0073 against a previously issued basic ordering agreement (N68335-16-G-0014). This order provides for the continual efforts for Small Business Innovative Research (SBIR) Phase III work stemming from SBIR Topic N07-010 entitled "Advanced Predictive Health Management and Model Based Prognostic Useful Life Remaining Capabilities for Aircraft Tactical Information," Topic N132-096 titled "Innovative Data Anomaly Detection and Transformation for Analysis Applications," and Topic OSD07-CR4 titled "Measuring Progress in Conflict Environments Modeling and Simulation Toolchest and Analysts Work Environment." The effort will provide continued support of Navy energy efficiency and conservation efforts and continued development of the Global Energy Information System. Work will be performed in Chesapeake, Virginia, and is expected to be completed in August 2019. Fiscal 2016 and 2017 research, development, test and evaluation funds in the amount of $925,892 are being obligated on this award, $325,892 of which will expire at the end of the current fiscal year. The Naval Air Warfare Center Aircraft Division, Lakehurst, New Jersey, is the contracting activity.
Northrop Grumman Systems Corp., Herndon, Virginia, has been awarded a $116,916,350 cost, cost-plus-fixed-fee, firm-fixed-price, and fixed-price-incentive contract for logistics support services for government-owned fixed wing fleet performing special electronic mission aircraft missions. Bids were solicited via the Internet with three received. Work will be performed in Herndon, Virginia, with an estimated completion date of Feb. 28, 2027. Fiscal 2017 operations and maintenance (Army) funds in the amount of $30,000,000 were obligated at the time of the award. US Army Contracting Command, Redstone Arsenal, Alabama, is the contracting activity (W58RGZ-17-C-0014).
Catapult Health Technology Group, Alexandria, Virginia, has been awarded a $10,111,130 modification (P00015) to contract W911QX-15-F-0014 for information technology services and support for the Army Research Laboratory, the Adelphi Laboratory Center and Network Enterprise Center. Work will be performed in Adelphi, Maryland; White Sands, New Mexico; Aberdeen Maryland; and Durham, North Carolina, with an estimated completion date of Aug. 31, 2018. Fiscal 2016 and 2017 research, development, test and evaluation; and operations maintenance (Army) funds in the combined amount of $3,372,608 were obligated at the time of the award. US Army Contracting Command, Aberdeen Proving Ground, Maryland, is the contracting activity.