Rear Adm. Winter Takes Command at PEO(U&W)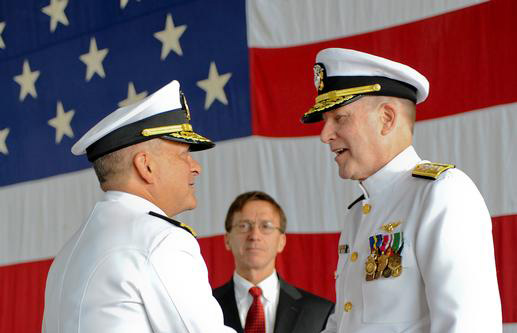 Morning Coffee is a robust blend of links to news around the Internet concerning the Pax River economic community. The opinions expressed here do not necessarily reflect those of the Leader's owners or staff.
Rear Adm. Mathias Winter takes command of the Program Executive Office for Unmanned and Strike Weapons at Pax River.
The Christian Science Monitor sees Congress facing buyer's remorse for sequestration. The Hill says that the defense industry and the military's strategy are at a major crossroads and predicts that a pre-election sequestration deal is unlikely. Some defense industry executives believe that the Congressional fight over sequestration will end up hurting their firms, Defense News reports. Time examines the impact of sequestration and asks, "What defense cuts?"
Meanwhile, the House's new defense bill still still exceeds spending caps, despite cuts, according to Defense News.
Frank Kendall, undersecretary of defense for acquisition, warns that "nothing is protected in sequestration" when referring to the Joint Strike Fighter program, according to the Fort Worth Star-Telegram. Air Force general says it is "mandatory" for the Pentagon to pressure Lockheed to cut costs on the F-35. Aviation Week says that critics of the JSF are rising through the ranks of the Navy.
The Navy is conducting wind tunnel tests of a prototype sub-launched strike weapon (paywall), according to Inside Defense.
U.S. and Australian navies sign a deal to develop biofuels together.
Washington Technology examines words that will kill your contract proposal.
Boeing delivers second production P-8A Poseidon to the Navy.
North Korea says it is developing an electromagnetic pulse weapon to fry enemy electronics, according to Defense Tech.