New Lot of E-2Ds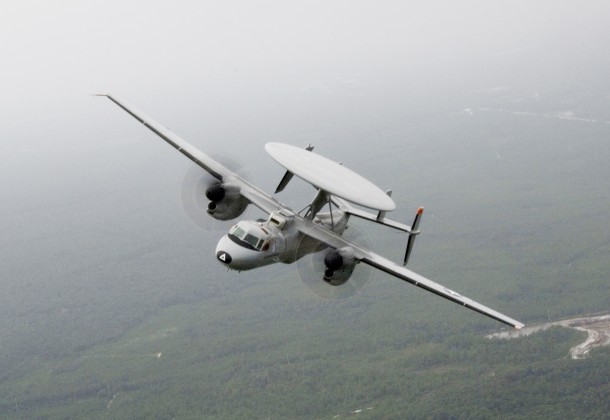 Contracts Solicited:
APC by Schneider Electric Uninterruptible Power Supply – The Naval Air Warfare Center, Weapons Division, China Lake, CA intends to procure on a full and open competition basis for a APC Symmetra PX 30kW scalable to 40kW Uninterruptible Power Supply (UPS).
Contractor Logistics Support and Technical Engineering Support Services for the USMC KC-130J aircraft propulsion system – The Naval Air Systems Command intends to enter into sole source negotiations using Federal Acquisition Regulation (FAR) Part 12 provisions with Rolls Royce Corporation.
Mobile Maintenance Facilities – The Naval Air Warfare Center Aircraft Division Lakehurst, NJ intends to procure Mobile Maintenance Facilities (MMF) to be used to support the testing and operation of various avionics gear by the Marine Corps in training and expeditionary scenarios.
ERAC Installer Functionality Development – The Naval Air Systems Command intends to negotiate a sole source Delivery Order (D.O.) under the Basic Ordering Agreement (BOA) order with SAC, Startford, Connecticut.
Antenna – Solicitation N00421-12-T-0136 is issued as a synopsis/solicitation. The Government intends to purchase on a firm fixed-price basis and to solicit and negotiate the proposed purchase request on a full and open competitive basis under the authority FAR Part 12 and FAR Part 13.
Contracts Awarded
Northrop Grumman Systems Corp., Bethpage, N.Y., is being awarded a $781,500,000 modification to a previously awarded firm-fixed-price contract (N00019-10-C-0044) for the manufacture and delivery of five low rate initial production Lot 4 E-2D Advanced Hawkeye aircraft.  Work will be performed in Syracuse, N.Y. (25.36 percent); Bethpage, N.Y. (25.10 percent); St. Augustine, Fla. (19.3 percent); El Segundo, Calif. (5.34 percent); Indianapolis, Ind. (4.84 percent); Menlo Park, Calif. (4.64 percent); Rolling Meadows, Ill. (2.50 percent); and various locations within the United States (12.92 percent).  Work is expected to be completed by May 2015.  Contract funds will not expire at the end of the current fiscal year.  The Naval Air Systems Command, Patuxent River, Md., is the contracting activity.
Portable Air Compressor – No description.