Loker Sails Log Canoe to Blessing of the Fleet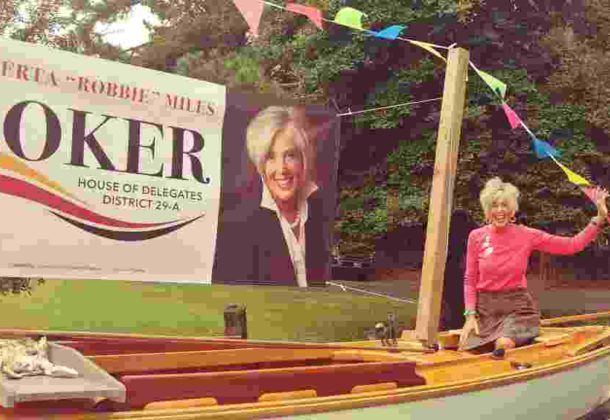 Maryland Delegate District 29A Candidate Robbie Loker sailed into St. Mary's County's 2018 Blessing of the Fleet aboard what is surely the first Tilghman-style Chesapeake Bay sailing log canoe built this century. Well, technically, the Eve was trailered through the parade.
"I was so proud to have an opportunity to attend such a historical event on the brand new Eve," Ms. Loker said. "I really appreciate that Johnny Cook would give me such an honor."
The Blessing of the Fleet is a tradition that began centuries ago in Mediterranean fishing communities, local priest and pastors blessed the working boats to ensure a safe and bountiful season. In St. Mary's, the tradition began in the 7th District, what Ms. Loker calls "one of the cherished waterfront communities in my district."
The local Blessing of the Fleet has been held at St. Clement's Island since 1934 when a large white cross was erected on the island. Since 1967, the celebration has been conducted by the 7th District Optimist Club.
While the sailing log canoe developed centuries ago in the Chesapeake Bay, Eve is brand new. There are less than 20 of the sailing canoes on the water today.
John Cook, an amateur historian and the carpentry instructor at the Dr. James A. Forrest Career and Technology Center in Leonardtown, MD, surprised no one when he decided build a traditional Chesapeake Bay vessel. He settled upon a Tilghman-style Chesapeake Bay sailing log canoe. Eve was christened this spring. And as would traditionally happen, her owner would seek blessings of safety and fortune as she entered the fishing season.
Mr. Cook began his project two years ago "with a block of solid pine made of five logs fastened together, and from them created a graceful and elegant twenty foot," wrote Capt. Rick Franke in SpinSheet.com. "Painted white with varnished bright work and the traditional elegant 'long head' with clipper bow, gold leafed fiddle head, and varnished bowsprit, Eve sat on her trailer looking every bit like the thoroughbred she is."
"It's so important to continue to honor our heritage and remember the efforts that have gone into St. Mary's County, to give us a rich culture. Teachers like Johnny Cook help us learn new skills while putting our past to work," Ms. Loker said. "That's what I want to do as your delegate for District 29A to the Maryland House of Delegates. I would appreciate your vote November 6."
Authorized by the Loker, Roberta for the House of Delegates, Keith Loker, treasurer.