Lexington Park Identified as a U.S. Technology Hub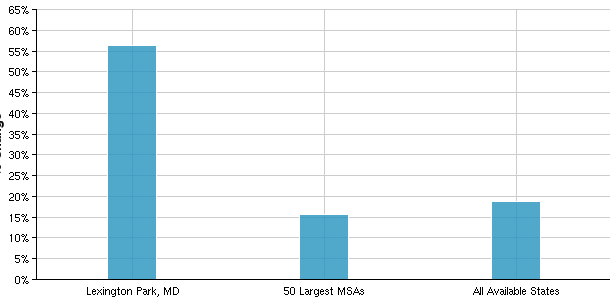 Posted by
Lexington Park Business and Community Association
Bay Leader
Lexington Park, Maryland made another Best Of list this month, found by
NewGeography.com to be one of the hidden technology hubs in the United States that continue to make economic strides in a downturn economy.
Beginning with 70 high-tech occupations, NewGeography searched out where in the nation these jobs were concentrated and found 11 "Off-The-Radar Tech Hubs" scattered across the nation. Lexington Park, Maryland was one of the largest hubs identified, only three other locations had larger populations.
In the announcement of the findings, Chistian Leithart reported that Lexington Park has 7,789 tech jobs in the identified tech occupations which were primarily included in the Electronics Engineers category. The report says, "During the recession, Lexington Park's proximity to D.C. propped up its economy. The city grew 9% from 2007 to 2009, but its tech industry has grown 5.2% since then. Tech workers are 3.48 times more concentrated in Lexington Park than in the rest of the nation, for which the city can thank the Patuxent Naval Air Station.
"All together, the industries staffed by electronics engineers have increased 56%, compared to 16% in the 50 largest metropolitan statistical areas and 19% in the nation as a whole. Most of this growth has occurred in research and development in the physical, engineering, and life sciences (NAICS 541712), which has seen 93% since 2001, and in engineering services, which has seen 84% growth since 2001."
LPBCA Sponsored by:
 [adrotate group="13″]