Is US Really Ready to 'Fight Tonight'?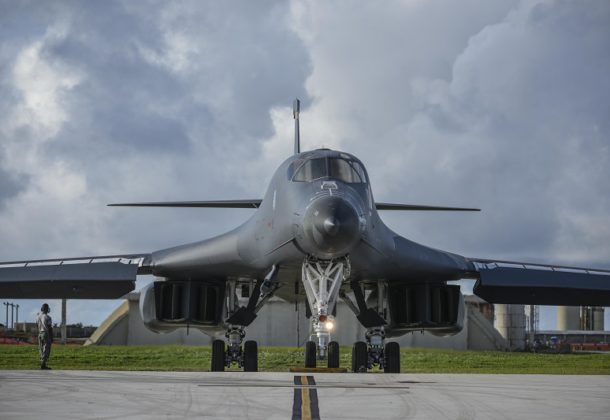 Morning Coffee is a robust blend of links to news around the Internet concerning the Naval Air Station Patuxent River

economic community. The opinions expressed here do not reflect opinions of the Leader's owners or staff.
Of the US's 75 conventional and nuclear B-52s, only about 33 are ready to fly at any given time, Military Times reports. Air Force statistics show less than half of the bombers President Donald Trump would rely upon to be "locked and loaded" against North Korea could launch today if needed. But the president says "we'll either be very, very successful quickly [on the diplomatic front] or we're going to be very, very successful in a different way quickly" if it comes to a military confrontation with North Korean President Kim Jung Un, Military.com reports.
H.R. McMaster, national security adviser, said the US is "taking all possible actions" to resolve the nuclear threat from North Korea without resorting to military action, reports Politico, but he declined to rule out responding to another threat from the country with force. "We're not closer to war than a week ago but we are closer to war than we were a decade ago," McMaster said, adding that the administration is prepared to deal militarily with North Korea if necessary, Navy Times reports.
The rhetoric being propelled by President Trump's words and being reported by news outlets doesn't match what's actually happening, reports Defense News. It seems the military hasn't been looped in. "This may come as a shock, but the rhetoric doesn't match reality," an unnamed US official said.
Yonhap News Agency reports satellite photos suggest that North Korea is preparing for more submarine-based missile tests, amid heightened tension between the US and North Korea.
According to Maryland District Court documents, a Great Mills man and NAVAIR 4.2 Cost Department employee, Daniel A, Fasci, 56, admitted to placing video cameras under the desks of multiple women at buildings on the NAS Pax River, smnewsnet.com reports.
Current technology does not do a good job of stopping botnets, and the Defense Advanced Research Projects Agency wants to fix that problem. DARPA wants industry to provide software that will automatically stop them, reports Defense Systems, without having to get permission of the owners of infected computers
Maj. Gen. Bruce Crawford has been sworn in as the Army's new chief information officer, Defense Systems reports. He will oversee a service-wide effort to move hundreds of software and data systems onto a single common standards architecture. The effort is part of a much larger overhaul of the Army's networks, reports Breaking Defense.
Lockheed Martin has started building a 266,000-square-foot, $350 million facility in Colorado to house its "factory of the future," reports CNN Money. The company says it will be able to make satellites faster and for less money.
The military's bands have come under scrutiny by the DoD as it carries out a directive to realign its spending and emphasis to rebuild readiness and lethality, reports Army Times. About 6,500 uniformed personnel, at a cost of $260 million a year, are serving as musicians.
New Navy policy might send more than 1,000 senior enlisted supervisors back to sea duty involuntarily, Navy Times reports, the latest move designed to tighten up manning levels at sea and in deploying operational units. The Navy needs to fill nearly 3,000 unfilled senior enlisted billets at sea.
The three Marines killed when their MV-22B Osprey crashed earlier this month of the coast of Australia, have been identified, reports Marine Corps Times.
Army veteran Delphine Metcalf-Foster has been named the first female commander of the Disabled American Veterans, reports Army Times. She is the first woman since 1991 to lead one of the major American veterans organizations since 1991.
Contracts:
Pioneering Decisive Solutions Inc., California, Maryland (W15QKN-13-D-0015 P00005); Total Technology Inc., Cherry Hill, New Jersey (W15QKN-13-D-0016 P00006); and McConnell, Jones, Lanier and Murphy LLP, Huntsville, Alabama (W15QKN-13-D-0017 P00008), will share in a $36,000,000 modification for basic engineering services. Work locations and funding will be determined with each order, with an estimated completion date of Jan. 24, 2018. US Army Contracting Command, Picatinny Arsenal, New Jersey, is the contracting activity.
BAE Systems Technology Solutions and Services Inc., Rockville, Maryland, is being awarded $18,347,260 for modification P00022 to a previously awarded cost-plus-fixed-fee contract (N00030-15-C-0007) to provide services for ongoing supply support Strategic Systems Programs (SSP) as it migrates many SSP-unique supply processes and automated systems to a standard Navy system using the Navy Enterprise Resource Planning application. Work will be performed in St. Mary's, Georgia (49.6 percent); Mechanicsburg, Pennsylvania (29.4 percent); Rockville, Maryland (16.3 percent); Silverdale, Washington (2.1 percent); Portsmouth, Virginia (1 percent); Fairfax, Virginia (1 percent); and Bridgewater, Virginia (0.6 percent), with an expected completion date of Sept. 30, 2018. Fiscal 2017 operations and maintenance (Navy) funds in the amount of $14,691,431; United Kingdom funds in the amount of $3,347,063; and fiscal 2017 research, development, test and evaluation funds in the amount of $308,766 are being obligated on this award. Funds in the amount of $14,691,431 will expire at the end of the current fiscal year.  Strategic Systems Programs, Washington, District of Columbia, is the contracting activity.