Hoyer Speaks at Roundtable on Veterans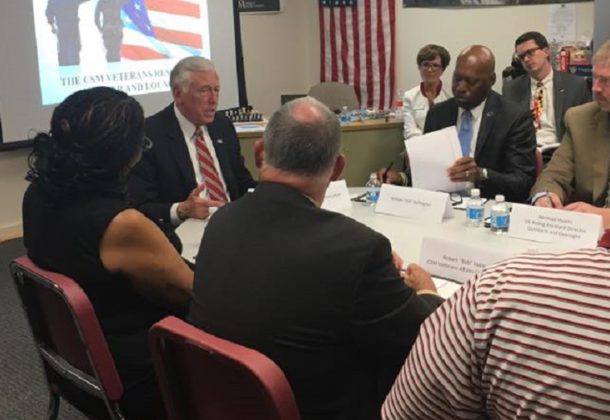 The College of Southern Maryland has found a unique way to make students who are former military feel welcome on the La Plata, MD, campus,a Veterans Lounge.
Congressman Steny H. Hoyer (D-MD) recently visited this Veterans Lounge to participate in a roundtable discussion with CSM President Dr. Bradley Gottfried, student members of the military, and representatives from student veteran organizations to talk about how he is working in Congress to help veterans in the 5th District and across the country.
The lounge opened in November 2015; it provides student members of the military with a dedicated space on campus where they can find academic resources and veteran-specific support.
Congressman Hoyer said he is proud that Maryland's 5th Congressional District has a long tradition of sending dedicated and talented men and women to the armed forces. He said those men and women serve the US with honor and make a difference through their service.
"I'm very impressed with the new lounge here on campus, which will serve as a gathering point for student veterans and those from the community to come together and support one another," Mr. Hoyer said. "It also represents the College of Southern Maryland's ongoing commitment to veterans on campus and making sure they have access to resources that help them in their transition and their academics."
Congressman Hoyer said that through his tenure in Congress, he has believed that America must meet its commitment to the men and women who put their lives on the line for their country.
"That's why I've pushed for reforms to help end the VA backlog, resources to reduce the suicide rate among veterans, and additional housing for homeless veterans here in Southern Maryland," he said.
Congressman Hoyer also continues to focus on expanding access to health care for veterans in Southern Maryland through a new, ADA-compliant community-based outpatient clinic in Charlotte Hall and a new CBOC satellite site in Lexington Park.
"I thank Dr. Gottfried, student veterans, and representatives from student veteran organizations for joining me today to discuss additional actions I can take in Congress to help Maryland veterans navigate the challenges of reintegration and life after separation from service."
Follow Congressman Hoyer on Facebook and Twitter.
For more information about House Democratic Whip Steny H. Hoyer, visit his Leader Page.