House Approves Spending Bill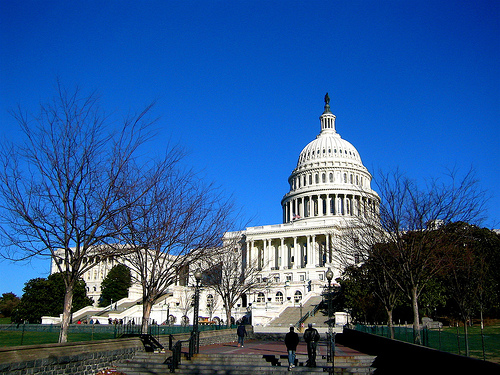 Morning Coffee is a robust blend of links to news around the internet concerning the Naval Air Station Patuxent River economic community. The opinions expressed here do not necessarily reflect those of the Leader's owners or staff.

The  House passed the $1.1 trillion compromise spending bill late Wednesday afternoon, reports CNN. The measure was approved 359-67 and now heads to the Senate for  consideration. Congress approved a three-day spending stop-gap bill earlier Wednesday to avoid another government shutdown while the Senate works on enacting the $1.1 trillion omnibus appropriations measure that will fund the government through September, reports Politico. Sen. Barbara Mikulski (D-Md.) commented on the extended and contentious spending bill negotiations: "This bill required very difficult choices. It meant give and take. It meant more giving on both sides, because there were no big takes."
Lockheed Martin's F-35 Joint Strike Fighter program is unscathed by spending cuts mandated by the omnibus spending bill currently awaiting passage in Congress, according to Bloomberg Business Week. Despite proposed military reductions to all services, including a $1.3 billion cut from previously planned U.S. Navy fiscal 2014 spending, the bill provides funding for all 29 F-35s requested by the Pentagon. The omnibus bill also clears the way for the Pentagon to start preliminary hardware purchases for 39 of the next 42 fighters that DoD plans to buy in fiscal 2015.
The overseas contingency operations (OCO) budget, which funds war fighting activities, was increased for the first time since 2010 under the proposed omnibus spending bill, according to Defense News. The OCO account is immune from sequestration cuts and provides money for Navy aircraft procurement, including $35.5 million for Boeing F/A-18 fighters and $13 million for Northrop Grumman MQ-8 Fire Scout unmanned helicopters. "It appears Congress used the OCO loophole to increase the base defense budget without breaching the budget caps they just agreed to," said Todd Harrison of the Center for Strategic and Budgetary Assessments.
The Navy is changing the homeport of three aircraft carriers, sending the San Diego-based USS Ronald Reagan to Japan, bringing the USS Theodore Roosevelt to San Diego from Norfolk, Va., and recalling the USS George Washington from Asia for a major overhaul in Virginia, reports UT San Diego. The port changes scheduled for 2015 and are designed to allow the Navy to refuel its nuclear-powered carriers while ensuring there are always six carriers available for deployment in the Pacific region, including one stationed in Japan.
Robert C. Martinage, acting undersecretary of the Navy, resigned this week in response to a request from Navy Secretary Ray Mabus "following a loss of confidence in [his] abilities to effectively perform his duties," reports the Washington Post. A criminal investigation into an alleged contracting scheme involving a top secret Navy project turned up evidence that he was having an affair. Mr. Martinage was not a criminal target of the investigation. However, three senior Navy intelligence officials who reported to Mr. Martinage are under investigation for an alleged contracting scheme that charged the military $1.6 million for homemade silencers that cost only $8,000 to manufacture.
Israel is planning on purchasing six Bell Boeing V-22B Block C Osprey tiltrotor transports, reports Flight Global. The $1 billion purchase request was disclosed this week to Congress and specifies V-22s that will perform search and rescue and special operations duties.
The Department of Veterans Affairs allocated $600 million to continue the Supportive Services for Veteran Families program, which fights veteran homelessness, reports Stars and Stripes. The funding pledge provides $300 million each in fiscal 2014 and fiscal 2015 for community grants which provide a housing safety net for low-income veterans.
Delinquent youths are more likely to join the military than their better behaved peers, according to a study reported by Popular Science. The study states that enlistment often signals a move away from illegal activities and a transition to a more responsible adult lifestyle using a military environment to channel aggression and violent activities into legitimate, constructive behavior.
Bell-Boeing Joint Project Office, Amarillo, Texas, is being awarded $26,682,561 for cost-plus-fixed-fee, cost reimbursable delivery order 0067 against a previously issued basic ordering agreement (N00019-12-G-0006) in support of the V-22 aircraft.  This order provides for on-site flight test management, flight test engineering, design engineering, and related efforts for the Naval Rotary Wing Aircraft Test Squadron. Work will be performed at Patuxent River Naval Air Station, Patuxent River, Md. (53 percent); Philadelphia, Pa. (32 percent); and Fort Worth, Texas (15 percent), and is expected to be completed in December 2014.  Fiscal 2013 aircraft procurement and fiscal 2014 research, development, test and evaluation, Navy funds in the amount of $26,682,561 will be obligated at time of award, none of which will expire at the end of the current fiscal year.  The Naval Air Systems Command, Patuxent River, Md., is the contracting activity.