Hornet Crash Was 2nd Involving Aircraft From the Reagan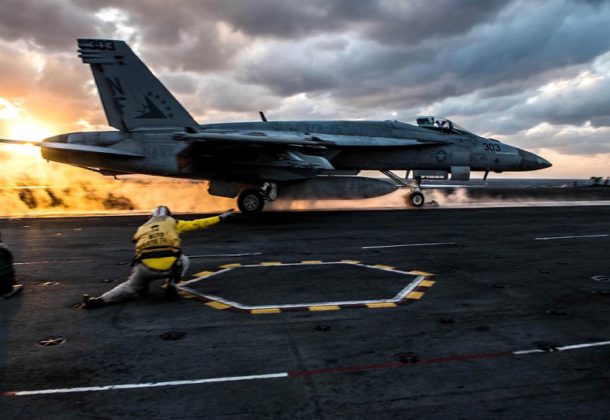 Morning Coffee is a robust blend of links to news around the internet concerning the Naval Air Station Patuxent River 

economic community. The opinions expressed here do not reflect opinions of the Leader's owners or staff.
An F/A-18F Super Hornet assigned to the aircraft carrier Ronald Reagan suffered what authorities believe was a "mechanical issue" during routine operations Monday over the Philippine Sea, reports Navy Times. The crew was forced to eject. The New York Times reports it was the second crash in less than a month involving aircraft from the Reagan. An MH-60 Seahawk crashed on the flight deck in October.
The John F. Kennedy's construction costs are down and the ship will launch next year, reports USNI. Huntington Ingalls Industries executives expect the future aircraft carrier to launch by the end of 2019, which is ahead of schedule and will occur roughly six years since the christening of first-in-class USS Gerald R. Ford. The Kennedy is about 84 percent structurally complete and 53 percent complete overall.
A Pentagon task force to prevent the stealing of American secrets and improve supply chain cybersecurity will include representatives from at least seven agencies and is expected to have a long-term presence, reports Fifth Domain.
Saudis close to the crown prince discussed killing other enemies a year before journalist Jamal Khashoggi's death, reports The New York Times. Top Saudi intelligence officials close to Crown Prince Mohammed bin Salman asked a small group of businessmen last year about using private companies to assassinate Iranian enemies of the kingdom, according to three people familiar with the discussions.
A new report from a Washington think tank identified more than a dozen hidden bases in North Korea that could be used to disperse mobile launchers for ballistic missiles in the event of a conflict, reports The Washington Post. Kim Jong Un hasn't broken any promises, says Jeffrey Lewis, a nonproliferation expert at the Middlebury Institute of International Studies at Monterrey, "Instead, he's making good on one of them — to mass produce nuclear weapons."
China told the US to stop sending ships and military aircraft close to islands claimed by Beijing in the South China Sea, reports Military Times. The US pushed back, insisting it will continue to "fly, sail, and operate wherever international law allows."
Amazon has chosen New York City and Northern Virginia to split duty as its second headquarters, reports CNN. The search began in September 2017 when Seattle based Amazon said it would start accepting proposals for what quickly became known as HQ2.
The US Army's plan to change the way it destroys some chemical weapons stored in Colorado has met one regulatory requirement, but other steps remain, reports Military.com.
China's Liu He and Steven Mnuchin resumed tariff discussions for the first time in months, reports Bloomberg. The two officials spoke by phone but the conversation didn't yield any concrete results, according to people briefed on the matter. The Hong Kong-based South China Morning Post reports Liu is expected to visit Washington shortly.
Bloomberg reports US Homeland Security Secretary Kirstjen Nielsen is on her way out.
New political realities test Nancy Pelosi and other Democrats in the lame-duck session of Congress, reports The Washington Times. The House Democratic leader asked her lawmakers Monday to search for "common ground" with Republicans over the next few weeks as they return to Capitol Hill, facing new political realities and a different set of urgent priorities.
Cyber experts cite vulnerabilities in Washington and North Carolina voting security, reports McClatchy. According to the report, security gaps similar to, but much less porous than, those in Georgia's voter registration system have been identified in Washington state, potentially providing bad actors ways to foul citizens' eligibility to cast ballots in last week's elections.
A record number of women will serve in the Maryland legislature next year, reports Maryland Matters. Seventy-one women were elected or reelected Nov. 6 — 56 to the House of Delegates and 15 to the Maryland Senate.
After Gov. Larry Hogan's record-shattering reelection last week, what's next? Unburdened by the need to put himself before Maryland voters again, but with the possibility of elevating his national profile, Maryland Matters asks: Will Hogan undergo a political transformation? What will his priorities be in a second term?
Contracts:
BAE Systems Jacksonville Ship Repair, Jacksonville, Florida (N40027-17-D-1001); Colonna Shipyards Inc., Norfolk, Virginia (N40027-17-D-1002); East Coast Repair and Fabrication LLC, Norfolk, Virginia (N40027-17-D-1003); Metro Machine Corp., Jacksonville, Florida (N40027-17-D-1004); North Florida Shipyards, Jacksonville, Florida (N40027-17-D-1005); and Tecnico Corp., Chesapeake, Virginia (N40027-17-D-1006), are each awarded a $42,641,520 firm-fixed-price modification to their respective previously awarded multiple award contracts to exercise Option Year Two for the accomplishment of fixed priced delivery orders for emergent and continuous maintenance availabilities. Work will be performed in Mayport, Florida, and is expected to be completed by November 2019. No funding will be obligated at time of the modification award. The Southeast Regional Maintenance Center, Jacksonville, Florida, is the contracting activity.