Guerts Looks to Small Business to Increase Navy's Competitive Edge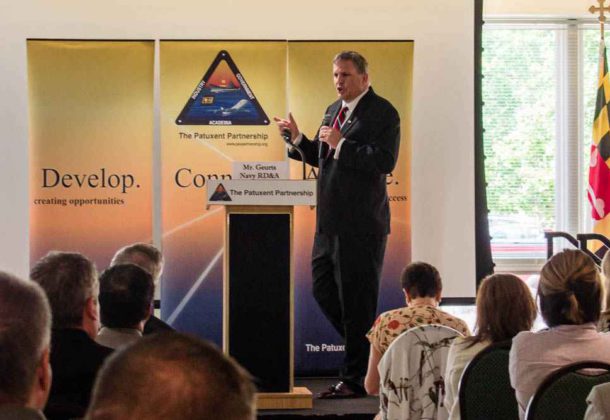 James "Hondo" Geurts, Assistant Secretary of the Navy for Research, Development and Acquisition, speaks to industry and government representatives about his priorities for aligning the Navy with the National Defense Strategy.
"What are we doing to compete and win?"
That's how James "Hondo" Geurts, the Assistant Secretary of the Navy for Research, Development & Acquisition, summarized the current National Defense Strategy (NDS) for small business representatives at a program held by The Patuxent Partnership and the NAVAIR Office of Small Business Programs in September.
"That's big 'we': [government], industry, academia, the country, the Department of Defense," Mr. Geurts said. "So when you talk to me, when you think about your business […] that is my lens: Is this helping us compete and win? If it's not, I'm not terribly interested."
With over 30 years of joint acquisition experience and having served in all levels of acquisition leadership, his career includes a brief stint with private industry which he credits with widening his perspective on how and where government acquisition and contracting bogs down.
Mr. Geurts has said that among his top objectives is developing more agile processes in acquisition. He looks to accomplish this by adopting startup concepts, achieving innovation at scale through decentralization.
In his talk, he laid out four priorities for aligning the Navy with the NDS, which he praised as "the first actionable strategy I've seen in a long time."
His first priority is delivery to sailors and marines, acknowledging that this does not mean everything has to be fielded; improved processes and ways of doing business are fair game, provided they result in outcomes for the warfighter.
"Our unified goal is 'What does it mean to the sailor and marine down range?'" he said. "It's got to get to an outcome."
A second priority is agility. Mr. Geurts stated he is "massively decentralizing," to move decision making as far as possible down the command chain to give command leaders more freedom for inventiveness and critical thinking – to think and act like small business.
"Small business is an incredible enabler for agility and pivot speed," he said.
Third, Mr. Geurts said, "Get the fundamental cost out of business. Speed up, cost down."
An increasingly familiar refrain, Mr. Geurts wants leaders at all levels to take risks that help them figure out how to work quicker.
"If we're five times as fast, and it fails four times, we can still get to the target," he said. "Nothing saves money faster than working quicker."
Mr. Geurts encourages his own personnel to "learn fast" by taking on at least one major initiative every year that has a 50 percent chance of failure, and includes it in their performance goals.
Fourth, and perhaps most important, Mr. Geurts asks, "How do we develop talent?" Mr. Geurts noted that businesses "tend to be a version of" the government, and that small business is a key player in shifting the paradigm. As an objective, he suggested making talent "more fluid" with opportunities for "shared learning."
Dialogue would go a long way, he contended. "We need to figure out how to get that communication working better without sacrificing transparency and credibility," he said.
Mr. Geurts said he believes broader perspectives can be achieved with "a clear understanding of intent; a sense of urgency at all levels of the organization; a close connection between acquirer and operator; transparency to all stakeholders; and a trained, empowered, and accountable acquisition workforce."
Mr. Geurts also made clear that he sees it as his job to help clear the way for better communication, fast learning, and new solutions that benefit the warfighter, but that he needs feedback from industry and government to make it happen.
"Help show me the way. Be bold," he said. "I tell everyone, like on a football team […] I'm just pulling guard. Your job is to tell me who to hit so you can run. If I hit the wrong person that's not useful, and if you can't run that's probably not useful. That's what I'm trying to do here."
About The Patuxent Partnership
TPP fosters collaboration and the sharing of knowledge and expertise across a diverse network that includes government, industry, and academia. TPP also supports STEM education and workforce development within the local community including hosting programs of interest to NAVAIR, NAWCAD, and the broader DoD community.
To learn more about The Patuxent Partnership and its programs, visit its Leader member page.