Growlers & Ospreys Resume Flight After Week of Mishaps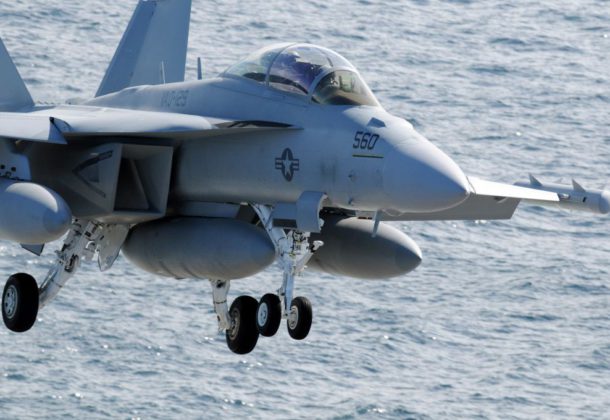 Morning Coffee is a robust blend of links to news around the Internet concerning the Naval Air Station Patuxent River

economic community. The opinions expressed here do not reflect opinions of the Leader's owners or staff.
The Navy has lifted the operational pause on E/A-18G Growler and F/A-18 E/F Super Hornet squadrons, reports  Navy Time. The pause was placed Friday after a Growler accident at Naval Air Station Whidbey Island, Washington, caused injuries to the pilot and electronic warfare officer, as well as damage to the aircraft.
The Marine MV-22 Ospreys in the Pacific are also flying again after safety checks determined an Osprey's rotor blades hit a fuel line during a nighttime aerial refueling that destroyed the aircraft, injuring all five crew members, reports Military Times.
China returned the US Navy's underwater drone seized in the South China Sea. NPR reports the hand-off followed what China termed "friendly" talks between the two countries.
Orbital ATK, a global leader in aerospace and defense technologies, launched a record total of five successful scientific balloon flight launches at this year's NASA Antarctica Long Duration Balloon Flight Campaign, reports SpaceRef.
The last of thousands of F-4 Phantom jets, a mainstay during the Vietnam War and used for decades for reconnaissance missions and anti-missile electronic jamming, will hold a
"final flight" retirement ceremony
today, Wednesday, at Holloman Air Force Base in New Mexico, before being put to pasture to serve as ground targets for strikes by newer aircraft.
The
Marine Corps withheld suicide investigation results
, reports The Washington Post, following the suicide of a Marine. The investigation suggests his unit might have a "drug problem" and highlighted a hostile work environment and the results were withheld from the Marine's family for an "unacceptably long time" spanning months.
A new report from the surgeon general says the country spends $442 billion a year in dealing with a scourge  of drug and alcohol abuse that is destroying millions of lives, reports US News.
President Barack Obama signs the Inspectors General Empowerment Act to clarify and safeguard access by inspector generals to government information. The bill, reports FCW, passed in the House and Senate without opposition at the close of the current session of Congress.
FCW reports, the congressional track record of Rep. Mick Mulvaney (R-SC), President-elect Donald Trump's pick to head the Office of Management and Budget, suggests an interest in cutting spending, outsourcing to the private sector, and shrinking the federal workforce by attrition.
For secretary of the Army, Trump has nominated Florida Panthers' owner Vincent Viola, a 1977 West Point graduate who bought the Panthers in 2013.
The crew of the Coast Guard Cutter Dependable returned Monday after seizing more than 6,600 pounds of cocaine worth about $87 million. The Virginian-Pilot reports that the  crew spent 48 days patroling the Western Caribbean Sea and the eastern Pacific Ocean.
Contracts:
ActioNet Inc., Vienna, Virginia (FA8771-12-D-1012); Array Information Technology Inc., Greenbelt, Maryland (FA8771-12-D-1011); Datum Software Inc., Johns Creek, Georgia (FA8771-12-D-1001); Digital Management Inc., Bethesda, Maryland (FA8771-12-D-1002); Diligent Consulting Inc.,*San Antonio, Texas (FA8771-12-D-1003); Diversified Technical Services Inc., San Antonio, Texas (FA8771-12-D-1004); DSD Laboratories Inc., Sudbury, Maryland (FA8771-12-D-1005); Excellus Solutions LLC, McLean, Virginia (FA8771-12-D-1006); Exeter Government Services LLC, Gaithersburg, Maryland (FA8771-12-D-1007); Indrasoft Inc., Reston, Virginia (FA8771-12-D-1008); Segue Technologies Inc.,*Arlington, Virginia (FA8771-12-D-1009); SI Systems Technologies, Folsom, California (FA8771-12-D-1010), have been awarded a combined, not-to-exceed $800,000,000 modification to increase the ceiling amount on the previous competitively awarded Network-Centric Solutions-2 application services small business indefinite-delivery/indefinite-quantity contract. These contracts provide Air Force contracting offices with a primary source for NetCentric application services such as sustainment, migration, integration, training, help-desk support, testing and operation support. Work will be performed at various locations and is expected to be complete by June 20, 2022. No funds are being obligated at the time of award. Air Force Life Cycle Management Center, Maxwell Air Force Base – Gunter Annex, Alabama, is the contracting office.
Northrop Grumman Systems Corp., Linthicum, Maryland, is being awarded a $26,665,673 firm-fixed-price job order against a basic ordering agreement (N00164-15-G-WS82) for operational test program sets and associated auxiliary support equipment. These supplies support the stand-up of intermediate level repair sites for the P-8A Poseidon AN/ALQ-240(v)1 Electronic Support Measures System. The ALQ-240 provides rapid detection, classification, and geographical location of ground based radar systems to provide situational awareness to the P-8A aircraft. The Navy's P-8A Poseidon aircraft also includes capabilities such as long-range anti-submarine, anti-surface, intelligence, surveillance and reconnaissance in support of broad-area, maritime and littoral operations. Work will be performed in Linthicum, Maryland, and is expected to be completed in December 2021. Fiscal 2015 aircraft procurement (Navy) funds in the amount of $26,665,673 will be obligated at the time of award and will expire at the end of the current fiscal year. This job order was not competitively procured in accordance with 10 US Code 2304(c)(1), only one responsible source and no other supplies or services will satisfy agency requirements. The Naval Surface Warfare Center, Crane, Indiana, is the contracting activity (N00164-15-G-WS82-0001).