Golfers Sought for Gelrud Memorial Tournament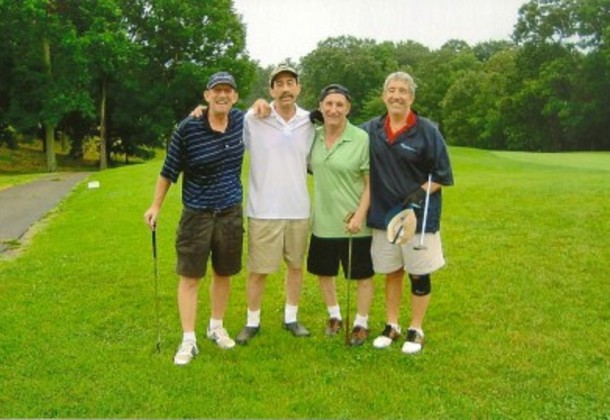 Jack Gelrud's sons at the 2013 memorial golf tournament. From left are Gary, Paul, Steve, and Lou Gelrud.
Three Oaks Center is seeking golfers to play in its annual Jack Gelrud Memorial Golf Tournament.
The tourney will be noon Thursday, June 9, 2016, at the Breton Bay Golf and Country Club at 21935 Society Hill Road in Leonardtown. Registration will begin at 11 am. A shotgun start will be at noon. The tournament fee includes cart, greens fees, beverages on the course, a hot dog at the turn, and a light dinner.
Proceeds will benefit programs provided by Three Oak Center to support more than 1,000 homeless men, women, women with children, families, and victims of family violence.
A day of fun for golfers can help Three Oaks advance its mission to improve the quality of life for St. Mary's County's homeless citizens. Three Oaks Center provides supportive housing and services to veterans and others in need of housing and supportive assistance. Three Oaks' successes have won recognition and support for veterans and all families facing homelessness.
Three Oaks affirms the dignity and human rights of each and every person that it serves. The center partners with governmental agencies, private homeless service providers, and homeless advocates to seek solutions to homelessness. The community's support will help the center to achieve this mission.
The golf outing is held to honor Jack Gelrud who died Feb. 23, 2012, at 89. He was among the early entrepreneurs who turned Lexington Park, MD, from a boom town into a hometown. When he arrived in St. Mary's County, its population was about 39,000. He began making friends in Lexington Park in 1948 after choosing to open Park Rexall Pharmacy on Coral Drive.
The Gelrud family have been longtime supporters of Three Oaks Center.
To register for the tournament or for more information, contact Jackie Hanley by email or call 301-752-3992.
For more information on Three Oaks Center, visit their Leader member page.