Flat Iron Farm Equipment Auction Oct. 2 & 3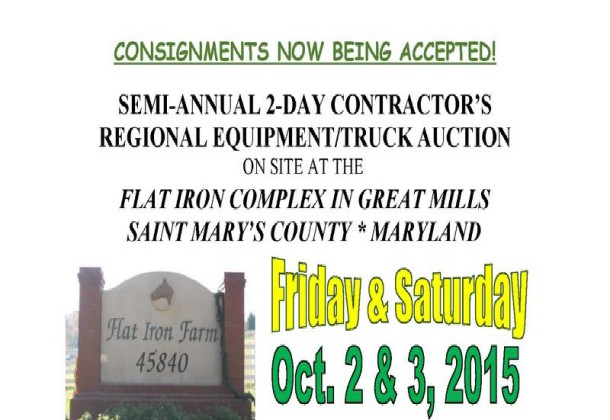 Posted for
Great Mills Trading Post
This is the largest truck, trailer, and equipment auction in the Mid-Atlantic region, coming up this weekend at the Flat Iron Complex in Great Mills, MD. Conducted by  J.G.Cochran auctioneers the semi-annual auction will run Oct. 2 & 3, 2015.
The auction includes equipment and trucks no longer needed in present operations for Southern Maryland Electric Cooperative, St. Mary's County government, area contractors, banking and lending institutions, regional farmers, dealers, and others.
Contact Bubby Knott at 301-904-1306 to consign your items.
Vendors and the Amish Kitchen are featured as well. This is a must-see event for the serious bidder and the curious alike.
Advance consignment items are now being taken, get more information here. Early consignments receive maximum advertising! Contact the Cochran auction team, their experts can help market your equipment and trucks to maximize the price you receive at auction. Whether you have one piece of equipment or a complete fleet, contact Cochran now for further information on how you can get the best price for it at auction.
A Cochran Auction at Flat Iron Farm includes more than 100 farm and compact tractors are included in the acres of equipment lined up for the two day auction. Also in multiple quantities are: hydraulic excavators, including minis; track loaders & track dozers; loader backhoes & rubber tire loaders; motor graders and compaction equipment; tri- tandem-, and single-axle dump trucks; road tractors; support trucks including service, bucket, mechanics, rollback, rolloffs, and others; cars, trucks and vans; trailers; mowers including zero turn and conventional.
There simply is no where else this array of equipment can be found!
Glimpses of some of what went in the spring contractor equipment auction can be seen in the video below: