Fisheries Update, Plus Crab Scraping at Smith Island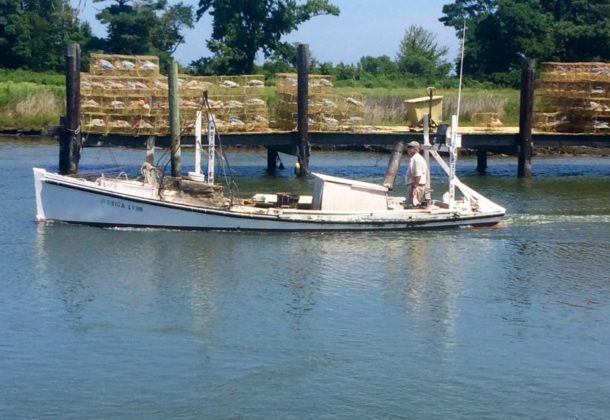 A  typical crab scraper that is used on the "flats" around Smith Island. Photo courtesy of the Dept. of Natural Resources.
Message from the Cap'n is a compilation of fishing advice, waterman and weather insights, Chesapeake lore, and ordinary malarkey from the folks who keep their feet wet in the Potomac and St. Mary's rivers. This week, we will look at the different bay grasses that we have in these rivers.
With the cool snap the water temperature will fall a few points this week. Salinity is still relatively high.
Interpretive Buoy System: The lower Potomac water temperature is 44 degrees F and the salinity is 16.9 PSU (practical salinity unit).
Pound net  fishermen are busy driving poles upon which to hang their nets for the upcoming season. The first run of  menhaden will be on by the middle of March.
These nets are very expensive to set and fewer nets seem to be the norm, necessitating an early start to maximize the season. Netters are always looking for new ways to scare the Crested Cormorants and Brown Pelicans away from the nets. Scarecrows work pretty well and netting covering the pound helps also.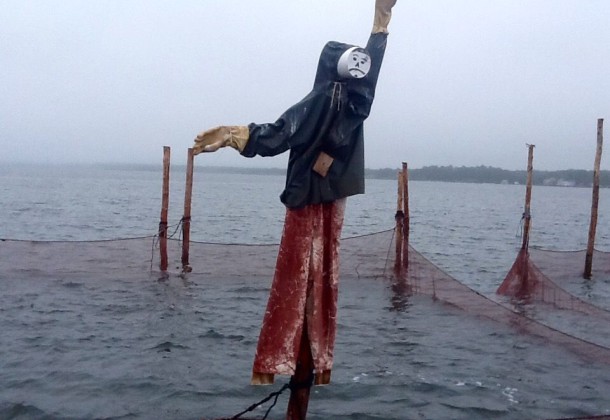 Now here's a trip out of time and place:
David Harps video about David Laird, 77, and his crab scraping operation on Smith Island
Question: Why we do not see and crab scrapers in the Lower Potomac or St. Mary's River? Simply put, we don't have the right type of grass in this area. Ours is Widgeon Grass and Horned Pondweed whereas Eel Grass is the main submerged aquatic vegetation at Smith Island.
The more it is worked the better it grows.
Eel Grass, such as grows in Smith Island waters: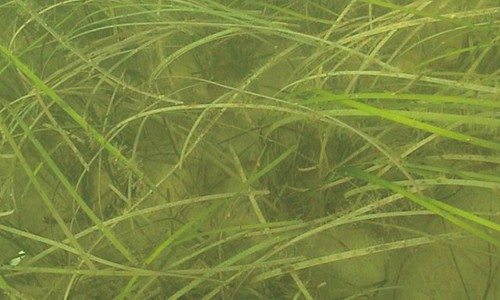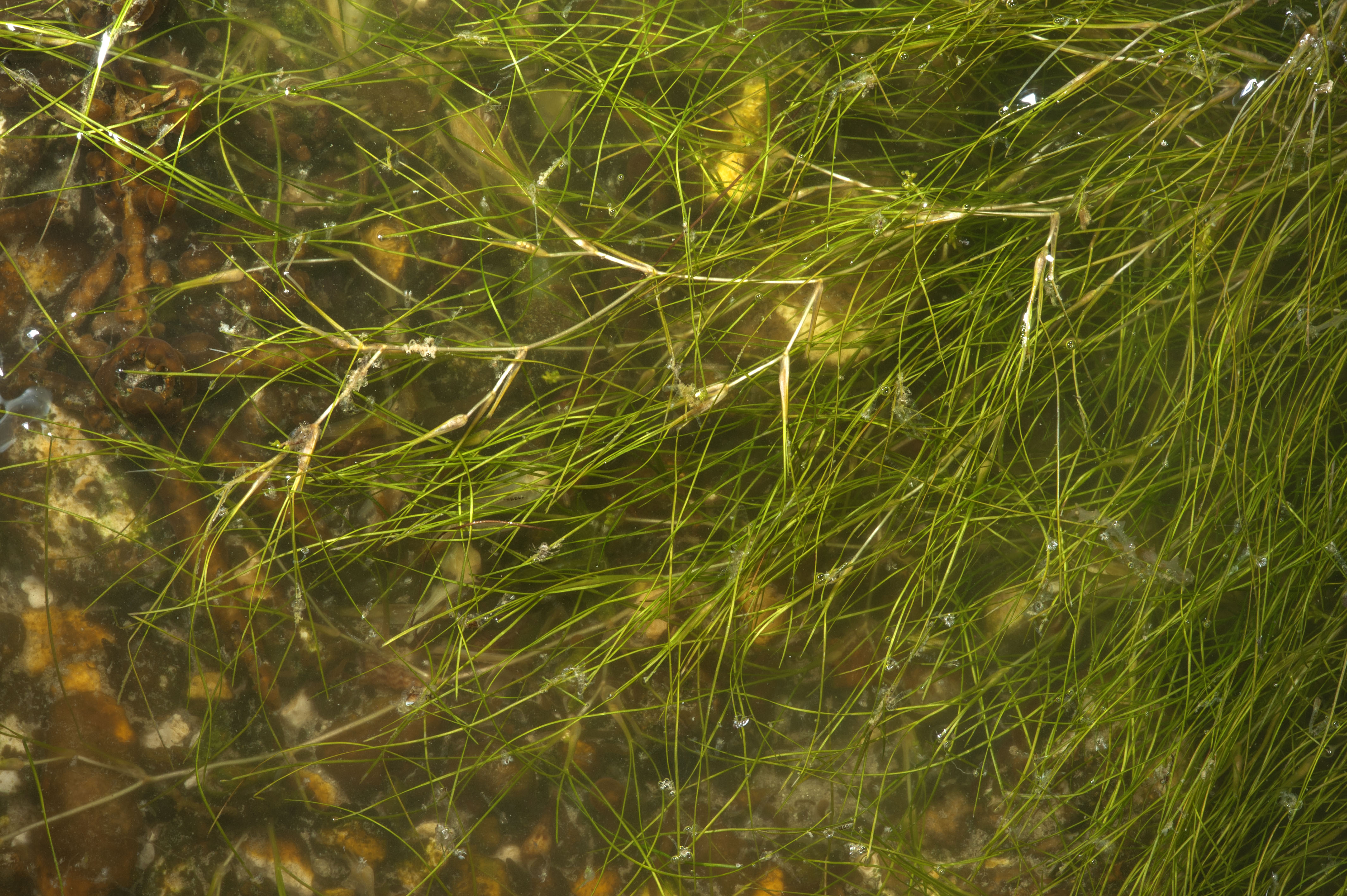 Submerged aquatic vegetation in the Lower Potomac and St. Mary's River is mainly Widgeon Grass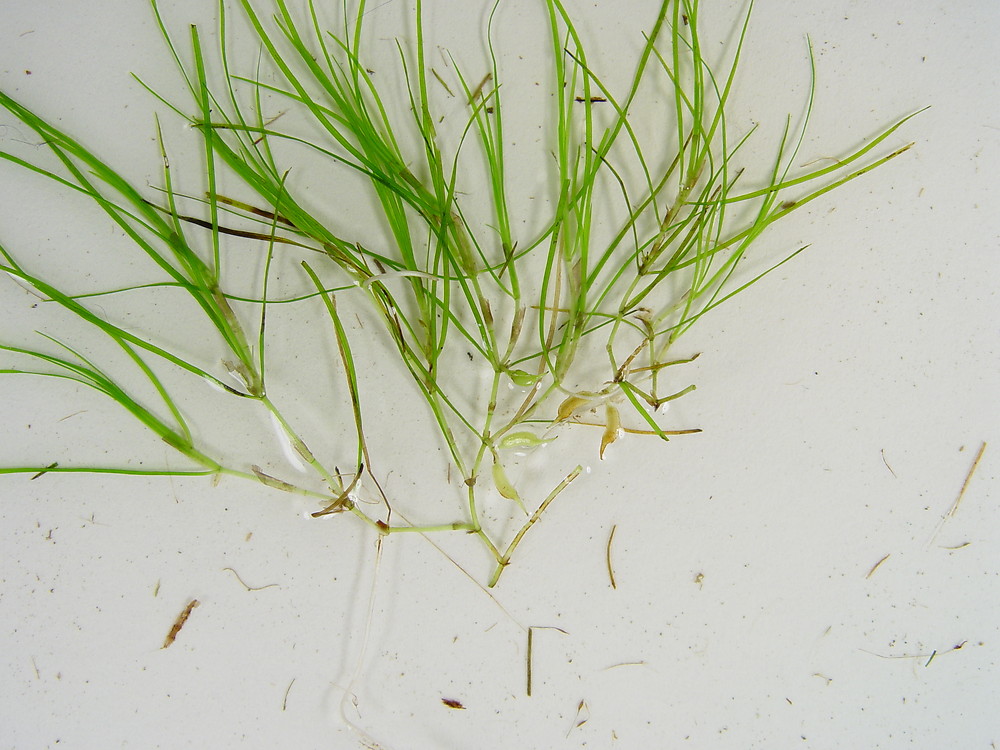 and Horned Pondweed 
The Chesapeake Blue Crab season starts April 1, 2017, and runs through Nov. 30, 2017.  A good crab season depends on the weather. An article in The Washington Post at the start of last year's season talks about how. Expect a report on the 2017 Blue Crab Winter Dredge Survey  soon. The survey is almost complete.
Till next time, remember,
It's Our Bay, Let's Pass It On
Capn Jack
240-434-1385
To learn about tours and trips into the Chesapeake get more information on Fins + Claws' Leader Member Page.