F-35 Machinists Strike to Protest Lockheed Contract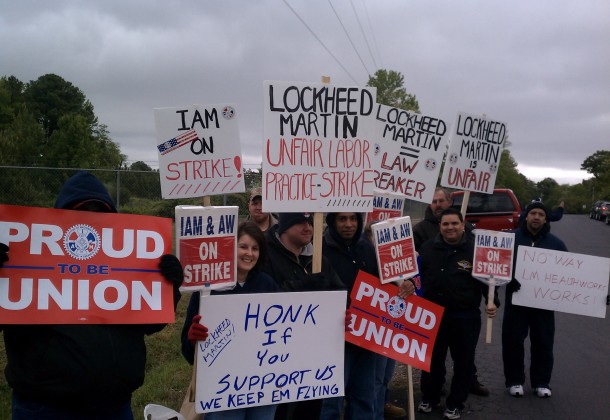 By Jay Friess
Editor
Lockheed Martin machinists went on strike this morning after their contract expired Sunday night, and the union rejected one proposed by the company's management.
On Monday morning, workers from the International Association of Machinists and Aerospace Workers began taking shifts picketing in front of Gate 3 of Naval Air Station Patuxent River as their fellow members picketed in Fort Worth, Texas and Edwards Air Force Base in California.
"Honk if you love Jesus and support the union!" one worker shouted as cars passed through the gate.
The strike has put a halt on production, support and testing of the F-35 Lightning II Joint Strike Fighter, a program which has already seen several cost overruns and is in Washington's cross-hairs this week as Congress debates where and how to cut the Pentagon's budget.
The union rejected Lockheed's latest contract offer, which it says would eliminate pensions for new hires, increase health care costs and allow the company to hire subcontractors for union jobs. The union says it represents 200 workers at Pax River, 150 at Edwards and 3,500 in Fort Worth.
A particular problem that local workers have with the new contract is something called the "field rate," an extra salary paid to union members who have had to relocated to Pax River to support testing of the JSF. The union asked for a $3 per hour field rate; Lockheed countered with a 75-cent rate.
"It's like they gave them a quarter, patted them on the head and sent them back to work," said Joe Alvian, a business representative with the union, who stood with striking workers at Pax River Monday morning.
With Maryland's high cost of living, many of Lockheed's Texas workers are finding that their standard of living has fallen. Gilbert Torres, a day shift steward for the union, said he has had to downgrade from a two-bedroom waterfront apartment in Texas to a one-bedroom apartment in Maryland.
Taken with the field rate counter offer, the company's health care and pension offers are arrogant, Alvian said. He added, "As sorry as that [health] insurance is, they ought to give it to them for free. Lockheed Martin ought to be ashamed of themselves."
In a prepared statement, Lockheed said it was disappointed that the union decided to strike.
"We believe our offer included terms that constituted a fair and equitable contract for the IAM members, including wage increases of 3 percent annually in each of the three years, a $3,000 signing bonus, an annual cost of living supplement of $800, increased retirement income for current employees, and various other improvements," the statement reads. "Our operations will remain open and we will implement our contingency plan while focusing on meeting our commitments to our customers."
Alvian said workers will "do whatever it takes" to maintain the strike until the union and Lockheed reach an agreement.
As the sound of a jet engine rumbled through the overcast sky, one worker observed, "That better not be one of our planes. Oh, wait, they don't have anybody to get them up!"