F-35B Makes First Sloped Landings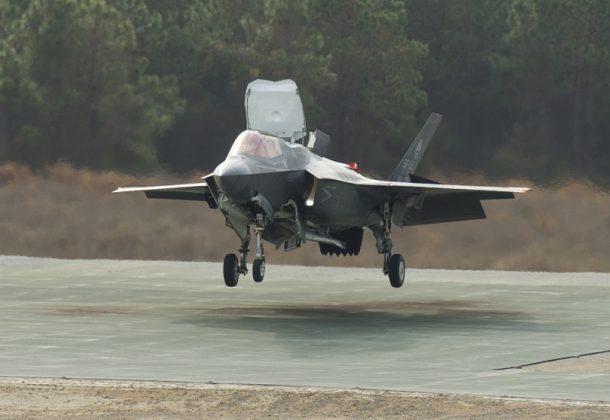 Morning Coffee is a robust blend of links to news around the internet concerning the Naval Air Station Patuxent River

economic community. The opinions expressed here do not reflect opinions of the Leader's owners or staff.
The F-35 Patuxent River Integrated Test Force team brings the Marine Corps' F-35B one step closer to initial operational test and evaluation, reports somd.com, as they wrap up testing of the F-35B STOVL envelope with sloped surface vertical landing tests this month and next in North Carolina. The Marine Corps hopes the tests will expand the expeditionary envelope for the aircraft, reports Rotary & Wing International. Watch video of the testing.
The Navy has tested the Harpoon Block II+ missile's compatibility with the F/A-18 aircraft's updated software, reports ExecutiveGov.com. NAVAIR says the missile employs a modern GPS guidance kit, in-flight update ability, augmented targeting systems, and electronic countermeasure resistance capacities.
Bring the team together and unify the talent. That is the message from ADM John Richardson to VADM Richard Brown who has taken over as the top surface warfare officer, Defense News reports. ADM Richardson wants the surface community all moving in the same direction after a pair of collisions that claimed the lives of 17 sailors last summer.
Federal News Radio takes a look at the fall-out from the latest government shutdown. While it only lasted 69 hours, the article states, some of its effects will be with us for years.
Agencies will treat employees as if the government shutdown never happened, reports Federal Times. As part of the continuing resolution passed Jan. 22, Congress provided for employees to receive back pay.
The Air Force is warning that congressional gridlock could set back development and delivery of Northrop Grumman's B-21 bomber, reports The Motley Fool.
Budget uncertainty is taking a toll on research and modernization efforts at the Air Force, reports Defense Systems. Recent remarks at the service's Science and Technology 2030 summit in Washington, DC, leaders worried about the prospect of a government shutdown and the problems that come with funding by continuing resolution.
US District Court Judge Peter Messitte says he's not persuaded by a New York court's decision to toss out a case over President Trump's refusal to divest his business holdings, reports Politico. Messitte believes US District Court Judge George Daniels was too quick to cast aside arguments that competitors to Trump's businesses have legal standing to challenge benefits he's receiving from his hotels, buildings and other ventures.
The US expects to send an aircraft carrier to Vietnam in March, reports The Strait Times. A post-war first, leaders say this is evidence of deepening military ties between the two countries, more than four decades after the Vietnam War.
Building an aircraft carrier is a long and laborious process, one that costs billions of dollars and takes years to complete. Popular Mechanics offers a guide to the new "flat-tops" that are under construction.
Fifty years after it was seized by North Korea, the spy ship USS Pueblo is the only US Navy ship held captive by a foreign government, reports Military Times. And though the incident is mostly forgotten in the US, the "Pueblo Incident" for North Korea remains a symbol of military success.
The Army's top leaders have decided to integrate female officers into infantry and armor brigades at three more military bases around the country, reports Army Times.
Contracts:
General Dynamics Mission Systems, Pittsfield, Massachusetts, is being awarded $8,307,797 for cost-plus-incentive-fee, cost-plus-fixed-fee contract modification P00017 to a previously awarded contract (N00030-16-C-0005) for sustainment of the US and United Kingdom (UK) SSBN fire control system, the US SSGN attack weapon control system, including training and support equipment. Also included is the missile fire control for the Columbia-class and UK Vanguard-class Common Missile Compartment Program development, through first unit UK production, and strategic weapon interface simulator. The work will be performed in Pittsfield Massachusetts (90.5 percent); Bremerton, Washington, (3.6 percent); Kings Bay, Georgia (2.7 percent); Dahlgren, Virginia (1 percent); Cape Canaveral, Florida (0.9 percent); Portsmouth, Virginia (0.9 percent); and the United Kingdom (0.4 percent), with an expected completion date of September 2023. Fiscal 2018 research, development, test and evaluation funds in the amount of $4,800,000; and fiscal 2018 operations and maintenance (Navy) funds in the amount of $3,507,797 and are being obligated on this award. Funds in the amount of $3,507,797 will expire at the end of the fiscal year. Strategic Systems Programs, Washington, District of Columbia, is the contracting activity.
Decisive Analytics Corp., Arlington, Virginia, is being awarded a $59,463,490 competitive cost-plus-fixed-fee contract for advisory and assistance services for cybersecurity compliance and risk management in support of technical, engineering, advisory and management support. This contract covers improved independent verification and validation analysis and reporting of the Ballistic Missile Defense System and Enterprise cybersecurity controls, and will expand information cybersecurity knowledge improving the system architecture, system life cycles, and authorization decisions for the Missile Defense Agency. The work will be performed in Colorado Springs, Colorado; and Huntsville, Alabama, with an estimated completion date of April 2023. This contract was competitively procured via publication on the Federal Business Opportunities website with five proposals received. Fiscal 2018 research, development, test and evaluation funds in the amount of $833,600 are being obligated at time of award. The Missile Defense Agency, Huntsville, Alabama, is the contracting activity (HQ0147-18-C-0012).
Lockheed Martin Aculight Corp., Bothell, Washington, is being awarded a $150,022,901 cost-plus-incentive-fee contract for Surface Navy Laser Weapon System Increment 1, High Energy Laser and Integrated Optical-dazzler with surveillance system. Under this contract Lockheed Martin Aculight Corp. will develop, manufacture, and deliver two test units in fiscal 2020 (one unit for DDG 51 FLT IIA, and one for land-based testing). This contract includes options which, if exercised, would bring the cumulative value of this contract to $942,818,114. Work will be performed in Bothell, Washington (52 percent); Moorestown, New Jersey (31 percent); Owego, New York (9 percent); Marion, Massachusetts (3 percent); Clearwater, Florida (3 percent); Manassas, Virginia (0.9 percent); Baltimore, Maryland (0.6 percent); and Akron, Ohio (0.5 percent), and is expected to be completed by April 2020. Fiscal 2018 research, development, testing, and evaluation (Navy) funds in the amount of $3,500,000 will be obligated at time of award and will not expire at the end of the current fiscal year. This contract was competitively procured via the Federal Business Opportunities website, with four proposals received. The Naval Sea Systems Command, Washington Navy Yard, District of Columbia, is the contracting activity (N00024-18-C-5392).
Tri-Cor Inc., Alexandria, Virginia, has been awarded a $30,256,209 firm-fixed-price contract modification (P00034) to previously awarded contract FA4452-13-D-0002 to extend support for existing applications, infrastructure and system support services. This modification brings the total cumulative face value of the contract to $138,955,903. Work will be performed at Scott Air Force Base, Illinois, and is expected to be complete by Jan. 31, 2019. Fiscal 2018 transportation working capital funds, TWCF operations funds, and operations and maintenance funds in the amount of $20,369,337 will be obligated at the time of the award. The 763rd Specialized Contracting Squadron, Scott AFB, Illinois, is the contracting activity.
AAI Corp., Hunt Valley, Maryland, has been awarded a $15,670,445 firm-fixed-price contract for unmanned aircraft systems (UAS) intelligence, surveillance, and reconnaissance (ISR) services, to include supporting force protection efforts and providing a non-developmental Contractor-Owned and Contractor-Operated UAS ISR solution to perform operational, engineering, and sustainment efforts. Work will be performed at Bagram and Kandahar Airfields, Afghanistan, and is expected to be complete by Sept. 27, 2018. This award is the result of a sole-source acquisition. Air Combat Command Acquisition Management and Integration Center, Langley Air Force Base, Virginia, is the contracting activity (FA4890-18-C-0005).