East Coast on Alert As Florence Nears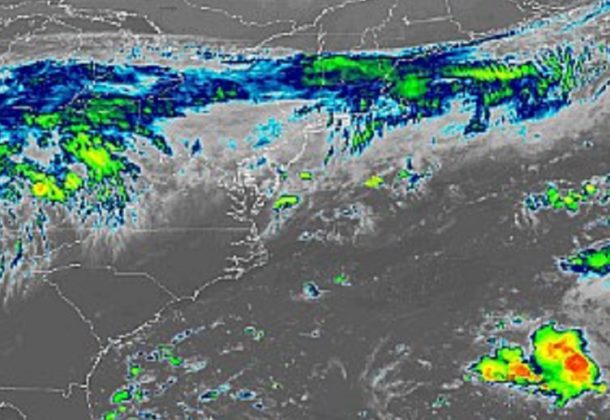 Morning Coffee is a robust blend of links to news around the internet concerning the Naval Air Station Patuxent River 

economic community. The opinions expressed here do not reflect opinions of the Leader's owners or staff.
The Navy's US Fleet Forces Command ordered all ships in the Hampton Roads area to set Sortie Condition Bravo ahead of the storm, reports Navy Times. Condition Bravo is a "warning order" set when onset of destructive weather conditions to the port are likely. The Virginian Pilot reports the storm is picking up speed and will likely hit the East Coast on Thursday.
Science Applications International Corp. will purchase Engility Corp., reports Washington Technology. The $2.5 billion sale will create one of the three largest publicly traded government IT and professional services companies. SAIC expects to close the transaction by Feb. 1.
Col. Regina Sabric has become the first female F-35A pilot in the US Air Force Reserve, reports The Aviationist. Col. Sabric is the commander of the 419th Fighter Wing at Hill AFB in Utah.
House Democrats in the Maryland, Virginia, and the District are criticizing President Trump's plans to cancel a 2.1 percent pay raise for civilian federal employees in 2019, reports Federal News Radio.
Air Force Secretary Heather Wilson said last week that she is in "complete alignment" with President Trump's desire to form a Space Force, complete with a separate military department with the same authorities as the other military services, reports Defense News.
Department of Homeland Security Secretary Kirstjen Nielsen wants to change the name of the National Protection and Programs Directorate to the Cybersecurity and Infrastructure Security Agency, reports Federal News Radio. She says the name change is important. Listing cybersecurity and infrastructure explicitly is both an indication to stakeholders of where the agency is going, and puts it on par with other agencies that are also cyber-minded.
The August 2018 jobs report says the unemployment rate for post-9/11 veterans was 3.9 percent, on par with the national unemployment rate, which was unchanged, reports Marine Crops Reboot Camp. Overall veteran unemployment matched that of their nonveteran counterparts at 3.8 percent.
Washington Examiner reports that countries that cut diplomatic ties with Taiwan could lose the friendship of the US under a bill from a bipartisan group of senators. "This important legislation reaffirms our commitment to the US-Taiwan relationship and allows for the State Department to take diplomatic action against governments that alter diplomatic relations with Taiwan in favor of China," Sen. Marco Rubio (R-FL) said.
The Chinese government claims that a British warship passed close to its islands in the South China Sea, MSN reports. China is denouncing the move, calling it a "provocation."
The US and North Korea might be struggling to get nuclear talks back on track, but negotiators are moving forward with efforts to bring home the remains of more American troops killed in the 1950-53 Korean War, reports Stars and Stripes.
It's another successful SpaceX Falcon 9 launch. On Monday morning, the company sent the Telstar 18 Vantage communications satellite into orbit before returning for a drone-ship landing in the Atlantic Ocean, reports GeekWire. The launch marked the 15th flight of a Falcon 9 rocket in 2018 and the 18th successful drone-ship landing since SpaceX landed its first rocket booster at sea in 2016, according to space.com.
Old Ironsides will commemorate the Sept. 11, 2001, terrorist attacks with canon fire and solemn music, reports Navy Times. Navy crews with the USS Constitution will fire one-gun salutes to mark when airplanes crashed into the World Trade Center, the Pentagon, and a field in Somerset County, Pennsylvania.
Contracts:
L-3 Communications Vertex Aerospace LLC, Madison, Mississippi, is awarded $202,936,338 for modification P00029 to a previously awarded indefinite-delivery requirements contract (N00019-14-D-0011) to exercise an option for organizational, intermediate, and depot level maintenance, logistics, and engineering support for Navy T-45 aircraft, aircraft systems, and related support equipment for flight and test and evaluation operations. Work will be performed at the Naval Air Station (NAS) Kingsville, Texas (45.7 percent); NAS Meridian, Mississippi (41.7 percent); NAS Pensacola, Florida (10.1 percent); and NAS Patuxent River, Maryland (2.5 percent), and is expected to be completed in September 2019. No funds will be obligated at time of award; funds will be obligated on individual orders as they are issued. The Naval Air Systems Command, Patuxent River, Maryland, is the contracting activity.
BAE Systems Technology Solutions, Rockville, Maryland, has been awarded a $12,000,000 indefinite-quantity/indefinite-delivery contract for F-16 commercial fire control computers. Work will be performed at BAE Systems Technology Solutions in Rockville, Maryland, and is expected to be completed Jan. 6, 2023. Fiscal 2017 aircraft procurement funds in the amount of $1,729,414 are being obligated at the time of award. This award is the result of a sole-source acquisition. Hill Air Force Base, Utah, is the contracting activity (FA8232-18-D-0021, FA8232-18-F-0170).
Alion Science and Technology Corp., Washington, District of Columbia, is awarded a $49,803,941 contract for professional support services for Naval Sea Systems Command 21, surface warfare directorate. The required services support SEA 21 in its mission to manage critical modernization, maintenance, training and inactivation programs and include program management, engineering, logistics, planning and readiness, and financial management support services. This contract includes options which, if exercised, would bring the cumulative value of this contract to $74,717,645. Work will be performed in the District of Columbia, and is expected to be completed in September 2019. Fiscal 2018 operations and maintenance (Navy) funding in the amount of $13,707,500 will be obligated at time of award, and will expire at the end of the current fiscal year. This contract was not competitively procured in accordance with 10 US Code 2304(c)(1), only one responsible source and no other supplies or services will satisfy agency requirements. The Naval Surface Warfare Center Indian Head Explosive Ordnance Disposal Technology Division, Indian Head, Maryland, is the contracting activity.
Dynamic Systems Technology Inc., Fairfax, Virginia, was awarded a $7,794,248 firm-fixed-price contract to promote and sustain the quality of life and resilience of Army National Guard children and youth by providing secure, timely, flexible, high-quality support services and age-appropriate development programs. Bids were solicited via the internet with eight received. Work will be performed in Arlington, Virginia, with an estimated completion date of Sept. 11, 2023. Fiscal 2018 operations and maintenance (Army) funds in the amount of $7,794,248 were obligated at the time of the award. National Guard Bureau, Arlington, Virginia, is the contracting activity (W9133L-18-C-0013).