Dunaway Spreads the Word: Open Architecture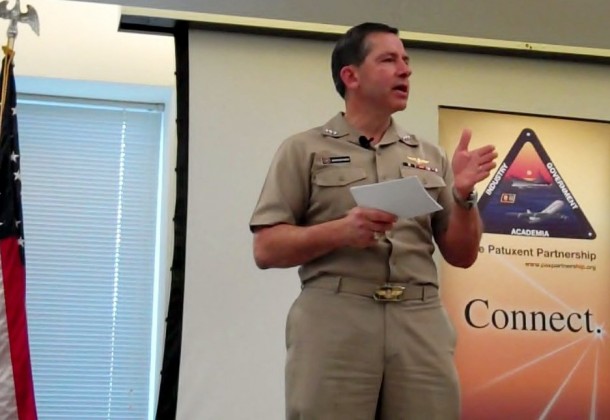 Morning Coffee is a robust blend of links to news around the internet concerning the Naval Air Station Patuxent River economic community. The opinions expressed here do not necessarily reflect those of the Leader's owners or staff.

VADM David Dunaway, head of Naval Air Systems Command, spoke last week to the American Society of Naval Engineers about NAVAIR's advancement of open architecture and in-house aircraft development.  His talk is making the rounds of defense blogs, the link here is USNI's report. This is old news locally. VADM Dunaway told the region's contracting industry last year, 87 percent of NAVAIR's budget goes to large corporations, and he expects that percentage to fall.
Now that it's funded,  GovExec breaks down the missions of the Department of Homeland Security and its budget, which includes more than half a billion dollars for undocumented children. The department has 225,000 employees and its FY15 budget request was smaller than what Congress passed.
Defense News sees the DHS budget battle of Republican on Republican infighting as foreshadowing difficult passage of Pentagon spending and authorization bills as well. Military News reports DoD continues to be told, by members on both sides of the aisle in Congress, to expect sequestration will remain in place causing more across-the-board budget cuts. Even without sequestration caps, Navy Undersecretary for Acquisitions Frank Kendall told a Senate Armed Services subcommittee construction funding needed by the early 2020s for the nuclear submarine program are not  available despite drawing from both the Departments of Defense and Energy, reports Breaking Defense.
It will be an after-deployment add-on when the Navy upgrades  Triton radar to recognize and avoid all aircraft,. The surveillance UAV will deploy late 2017 and early 2018, reports IHS Jane's. Initial radar capabilities recognize and avoid only aircraft similarly equipped with transponders.  Northrup Grumman is developing Triton to work with Boeing's P-8A Poseidon manned surveillance aircraft.

 "There is no Department of Defense solution to our cybersecurity dilemmas," Defense.gov reports Cybercom commander ADM Michael S. Roger's testimony to House Armed Services Committee. ADM Roger said public and private sectors must jointly address cyber-threats. Cybersecurity is also part of CIA Director John Brennan's agency shake-up announced late Friday. Plans include 10 new CIA mission centers  and reorganizing so spies and  analysts work alongside each other.

Newly adopted protocols require sign-off from both of the operations, surface warfare officers and helicopter aircrews, reports the Navy Times. The new rules grew from a 2013 mishap when weather conditions swept a Sea-Hawk helicopter off a flight deck resulted in two fatalities.
Based on a solicitation issued late last month, the US began late last week transporting up to 300 US soldier into western Ukraine to help train Ukrainian forces. Defense News reports relief rotations will follow the March deployment in May, July, August and October.
The Federal Trade Commission is launching two contests seeking ways to identify and block robocalls, reports NextGov. The contests aren't merely open to the public, but encourage broad participation. One carries up to a $25,000 prize, submissions accepted through June 15 and finalists competing at the DEFCON hacker conference in Las Vegas in August. The second contest, called "DetectaRobo," will be held on June 6 on the National Day of Civic Hacking.
NASA's asteroid-belt probe, Dawn, used solar-electric propulsion to make a second celestial visit, to Ceres. This makes Dawn the first spacecraft to orbit a dwarf planet and first to achieve orbit around a second celestial body. On the way to its Friday morning visit to Ceres, Dawn met up with the asteroid Vestra in July 2011, reports Aviation Week.