Drones Sliding from Military Budgets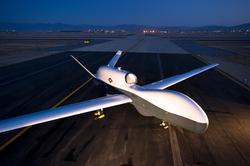 Morning Coffee is a robust blend of links to news around the internet concerning the Naval Air Station Patuxent River economic community. The opinions expressed here do not necessarily reflect those o

f the Leader's owners or staff.
Navy halts work on Triton Drone, reports Breaking Defense. And hasn't yet released the anticipated RFP for a stealthy UAV, reports Aviation Week, continuing the question of how stealthy the aircraft needs to be. The Navy and Marines are discussing unmanned helicopters for cargo deliveries ship to shore, reports Defence Daily.
"Fee for service" training on rental drones could save $70 million a year for the Air Force and U.S. Customs and Border Control, reports Breaking Defense. Military interest in drones expected to wane as budgets tighten, reports Defcon Hill.
China is displays UAV for first time in the U.S., reports Flightglobal.
Air Force unit that operates intercontinental ballistic missiles fails a safety and security inspection, reports Defcon Hill.
Defense Industry Daily reports, Boeing's  EA-18G Growler sensor system upgrades uses Rockwell Collins' TTNT (Tactical Targeting Network Technology), in development since 2001.
Speaking at the Disabled American Veterans National Convention President Barrack Obama said new personnel have been hired to cut the VA backlog and those already receiving VA health benefits will not be impacted by the Affordable Care Act, reports Defense.com.
FCW reports, Homeland Security awards up to $6 billion to 17 companies to bolster civilian cyber security.