DoD Budget: R&D vs Immediate Threats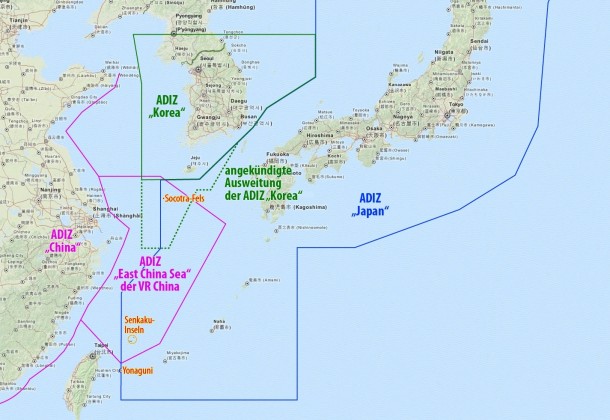 Morning Coffee is a robust blend of links to news around the internet concerning the Naval Air Station Patuxent River economic community. The opinions expressed here do not necessarily reflect those of the Leader's owners or staff.

A tug of war continues between Pentagon leaders seeking replenishment of Research & Development budgets and the services still looking to fill near-term needs as DoD build's its FY15 budget, reports Defense News. R&D took the biggest sequestration hits in 2013 in order to protect operation and maintenance. Pentagon leaders say a returned emphasis on R&D is necessary for the US to maintain its competitive edge.
Meanwhile calls to bulk up for Chinese threats are growing. Breaking Defense has the map of China's newly declared Air Defense Identification Zone that continues to ramp-up tensions in the China Sea and push Japan into a more aggressive military stance. Just as Japan prods the US to step up as well,  Jim Talent in the National Review opened the new year  also calling for the US to grow its military, reporting China will double its nuclear warheads by 2015 and by 2020 have a substantially larger Navy than the US as well as the capabilities to attack all space assets and a large inventory of conventional missile able to strike Guam.
Paula Paige of NAS:PaxRiver reports in Military Times, last week's Milestone C approval advanced limited production and installation of the next-generation Electronic Consolidated Automated Support System (eCASS). The system tests aircraft avionics and "will become the backbone of avionics repair across the Naval Aviation Enterprise," said Dennis Albrecht, principal deputy program manager for PMA-260, based at Pax River.
Aviation Week anticipates a rebound in 2014 for defense contractors, who are anticipated to receive 73 percent of all government contracts this year, worth $118 billion to the defense industry. This amount is double the total defense opportunities last year. The Army represents 57% of the total contract value. All government contracts will total more than $160 billion, according to consulting firm Deltek.
GovExec reports, Sen. Barbara Mikulski (D-Md.) and Rep. Hal Rogers (R-Ky.) expect a  three-day extension from Congress today, Monday, to allow their respective Senate and House Appropriations Committees through Saturday Jan. 18 to finalize $1 trillion in federal spending.  The omnibus spending bill will carry all government agencies through the rest of  the current fiscal year which ends Sept. 30, 2014.
Defence Talk reports the US retains its commitment to keep its troops out of Iraq but will speed-up delivery of air to ground Hellfire missiles to Baghdad as fighting escalates between Iraqi government forces and al-Qaeda-linked forces.
A combat engineer, CV-22 Osprey pilot, fighter pilots, flight surgeons, a Navy SEAL, a UH-60 Blackhawk mechanical test pilot and a Navy journalist are among the first 1,000 selected as potential pioneers of Mars. The non-government Mars One project anticipates landing its first four-member crews in 2025, reports Defense Tech. More than 200,000 applied. Military experience is not required but leaders of the effort note that service members understand the importance of teamwork.
If you carry a smart phone you can also carry your own paparazzi at your shoulder with the Pocket Drone. It's a portable camera on helicopter blades that is operational 20 seconds out of the box. It records as it follows signals from its tethered smart phone, reports Defense Tech. The one-pound drone is only a prototype today but a Kickstarter campaign for AirDroid could have one looking over your shoulder soon.
FCW suggests 2014 will be the next tipping point for the Business-to-Government's neworking site, LinkedIn. Given restrictions on travel and event attendance in government and industry, author Mark Amtower predicts greater government engagement in the site's communication sharing platforms. Expanding industry and government connections and discussion platforms will be a win-win, Mr. Amtower says.
The US issued last week security warnings to Americans traveling to Russia for the Winter Olympics, reports The Hill. Two suicide bombings last month 400 miles from the Olympic town has brought security assurances from Russia and offerings of security assistance from the US. The US warnings emphasize heightened situational awareness with regard to public transportation and secure versus non-secure areas and note a Russian ban on distributing literature promoting homosexuality, which can land you in jail in addition to levying a fine.
As a Small Business, Airtec, Inc.,  California, Md., won a $9,477,860 modification to a previously awarded firm-fixed-price, indefinite-delivery/indefinite-quantity contract (N68335-13-D-0010) for intelligence, surveillance, and reconnaissance (ISR) services in support of the U.S. Southern Command.  The contractor will provide ISR services utilizing two contractor-owned, contractor-operated aircraft, with government furnished property previously installed on the aircraft.  Work will be performed in Bogota, Columbia, and is expected to be completed in September 2014.  Fiscal 2014 operations and maintenance, Army contract funds in the amount of $751,459 will be obligated at time of award, all of which will expire at the end of the current fiscal year.  The Naval Air Warfare Center, Lakehurst, N.J., is the contracting activity.