CSM's Bee Campus, More Get Grant Boost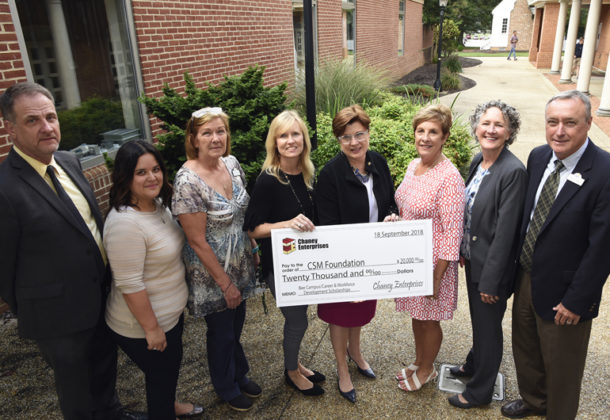 The Chaney Enterprises Foundation awarded the College of Southern Maryland two grants in September totaling $20,000 to support college programs. Pictured at the check presentation are CSM Vice President of Continuing Education and Workforce Development Dr. Dan Mosser, Grants and Scholarship Manager of the Community Foundation of Anne Arundel County Angela Travers, CSM Executive Director of Work Development Kelly Winters, The Chaney Foundation Vice Chair R.G. Chaney Lare, CSM President Dr. Maureen Murphy, CSM Vice President of Advocacy and Community Engagement Michelle Goodwin, CSM Vice President of Academic Affairs Dr. Eileen Abel, and CSM Vice President of Financial Services Tony Jernigan.
The Chaney Enterprises Foundation awarded the College of Southern Maryland two separate grants in September for a total of $20,000 in support of the college's efforts inside and outside its classrooms. Programs like the Bee Campus and skills training are getting a boost.
For the first grant, the concrete and aggregate company gave $10,000 to help maintain CSM's Bee Campus USA Program. CSM was one of the first Maryland colleges to become a Bee Campus and is building pollinator-friendly environments at each of its four campuses. Last spring, the college set out to foster habitats to encourage pollinator diversity and abundance — serving bees, butterflies, and other helpful insects, plus birds and bats.
To give a boost to this kind of habitat in Southern Maryland, native species including bee balm and butterfly weed were planted at the La Plata Campus. Golden Alexanders and lyre leaf sage are being planted at the Leonardtown Campus. Additional plantings are still being researched at the Regional Hughesville Campus, and the Prince Frederick Campus now boasts the largest variety of plants, including bee balm, lemon balm, black-eyed Susan, calendula, spirea, tansy, carpet roses, sweet Williams, dianthus, oregano, coreopsis, fall asters, tall phlox, oak leaf hydrangea, candy tuft, geranium, sedums, French lavender, and milkweed.
"The Chaney Enterprises Foundation is proud to support the CSM Bee Campuses," said Rebekah Chaney Lare, vice chair of The Chaney Foundation, in a news release from the college. "We recognize that the environment must be treated with respect and with an eye to the future. Projects like this promote sustainable environmental practices which is a core part of Chaney's mission."
"Chaney Enterprises and The Chaney Enterprises Foundation are amazing corporate neighbors, not just to CSM, but also to more than 30 partners and charities in Southern Maryland, to whom they give generously," said CSM President Dr. Maureen Murphy in the release. "Their focus on our communities and the people — and work force — living in our communities is amazing. We are achieving more and succeeding as a region, thanks to Chaney's philanthropic philosophy."
The Chaney Enterprises Foundation also granted CSM $10,000 to create a Workforce Development Scholarship for students who are pursuing skilled trades at the CSM Regional Hughesville Campus Center for Trades and Energy Training.
The grant was announced on Sept. 20 in conjunction with the announcement that CSM's Construction Workforce Partnership for Southern Maryland was awarded a $150,000 EARN grant from the Maryland Department of Labor, Licensing, and Regulation to provide tuition assistance for 40 students pursuing careers in the skilled trades.
The Construction Workforce Partnership includes SMECO, CSM, Chaney Enterprises, the Calvert, Charles, and St. Mary's County's chambers of commerce, Southern Maryland Minority Chamber of Commerce, Associated Builders and Contractors, and Independent Electrical Contractors.
"Chaney Enterprises strives to serve the needs of our surrounding community through philanthropic donations," said Ms. Lare. "Our goal is to provide a better quality of life for all citizens in the communities where we do business. We are proud to serve on the partnership that applied for and secured the EARN grant and because CSM is an amazing academic partner – who we turn to for assistance in training our skilled trades employees – we wanted to give more."
The US construction industry added 23,000 new positions in September 2018, according to an employment statistics survey that was prepared by the Analysts of the National Estimates Branch of the US Bureau of Labor Statistics. In the last year, according to the survey, the construction industry has added 315,000 net new jobs.
To learn more about CTET and the various credentials available for skilled trades, contact CTET Director Bruce Posey at 301-539-4733 or [email protected] or course coordinator Michael Langton at 301-539-4370 or [email protected].
For information on other ways the college is working toward environmental sustainability, visit CSM online.
For more about the College of Southern Maryland, visit its Leader member page.