CSM Dedicates First Hughesville Building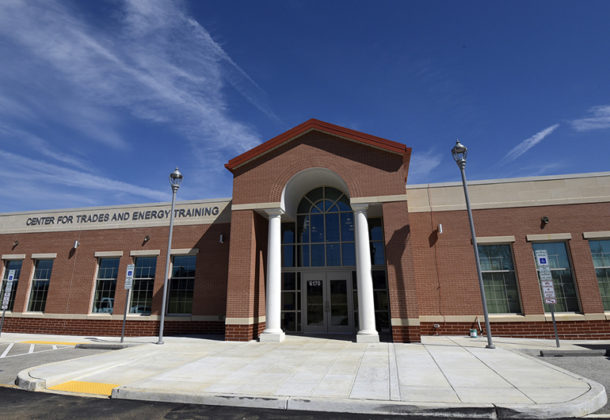 The first completed building on the Regional Hughesville Campus of the College of Southern Maryland will be dedicated at 2:30 pm Tuesday, April 25, with a ceremony attended by Southern Maryland elected officials and business and community leaders.
The 30,000-square-foot Center for Trades and Energy Training (CT Building) includes labs, classrooms, and administrative space and provides residents of the three counties easier access to specialized training in career fields with significant growth potential. The CT Building is home to training for trades — HVAC, plumbing, electrical, welding, and carpentry — as well as the Maryland Center for Environmental Training (MCET). Nearing its 35th anniversary this year, MCET provides environmental, safety and health training, and compliance assistance for workers.
"We serve Southern Maryland with a full-service campus in each of our counties, and we try to deliver a full range of academic programs and services. However, there are some programs that are too expensive to replicate on more than one campus, such as our trades programs and nursing and allied health. It makes much more sense to centralize these programs so residents of all three counties can take full advantage of them." —CSM President Dr. Brad Gottfried
The building was designed by Grimm + Parker and constructed by Scheibel Construction. The state provided 75 percent of the construction funding of $8,934,000 and Charles County provided 25 percent. The building was designed to have a low impact on the environment and meet the US Green Building Council Leadership in Energy and Environmental Design (LEED) for New Construction criteria. CSM anticipates that the new CT Building will be awarded a LEED Silver Certification.
Future building phases for CSM's 74-acre Regional Hughesville Campus include a Health Sciences building, which has received state funding in fiscal 2018 for design to begin, followed by a fine arts center, a field house and relocation of the college's athletic fields, as well as space for future needs that have not been anticipated yet.
CSM's Regional Hughesville Campus is at 6170 Hughesville Station Place.
For more about the College of Southern Maryland, visit their Leader member page.