CSM Celebrates First Class of GED Grads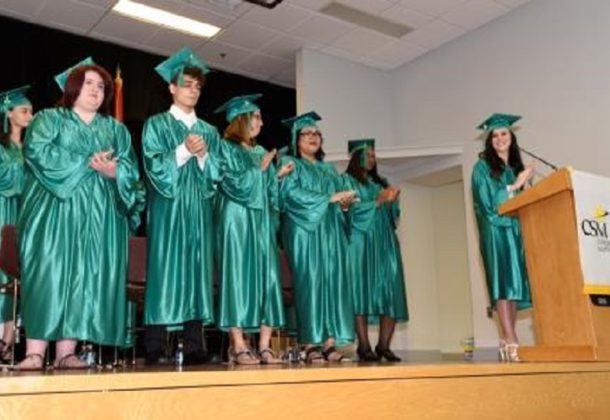 Student speaker Alice Endes, right, asked her fellow graduates to stand and thank those who have inspired and supported
them as they completed their program. From left are graduates Alicia NeSmith, Sarah Evans, Joshua Fuller, Kelly Hayden,
Christy Joyner, and Sarayna Makal.
The College of Southern Maryland hosted a celebration on its Leonardtown, MD, campus June 30 for the students receiving their Maryland high school diplomas through the General Education Development program.
The spring 2016 graduates are Melissa Allen of Mechanicsville, Natalie Beary of Great Mills, Michael Brown of Lexington Park, Tasha Easter of Fort Washington, Alice Endes of Lexington Park, Sarah Evans of Hollywood, Jackquline Fowler of Prince Frederick, Joshua Fuller of Leonardtown, Kelly Hayden of Hollywood, Christy Joyner of Lusby, Sarayna Makal of Leonardtown, Michelle Mobley of Lexington Park, Tatiana Montes-Acevedo of Lexington Park, Aubrey Morgan of Lexington Park, Brandy Morgan of Mechanicsville, Alicia NeSmith of Mechanicsville, Brionna Parker of Piney Point, Dillon Peeling of Hollywood, Nejaia Skinner of Lexington Park, Brian Sweeney of California, Shyianne Tolliver of Hollywood, Maria Torres of Lexington Park, and Charlett Vittatoe of Callaway.
"From the day these students began their journey until tonight, it has been a most memorable experience. Tonight's ceremony is a fitting salute to these graduates as the first group of students who will accept their Maryland high school diploma through the College of Southern Maryland's Adult Education program," CSM President Dr. Brad Gottfried said. "I want to remind you that education never ends. Transforming lives through lifelong learning and service is the core mission of CSM, and the greatest gift we can give to ourselves and to each other is the gift of learning."
Beginning last fall, CSM received funding to begin offering basic education instruction for adults living in St. Mary's County.
Courses offered at the Leonardtown campus include Adult Basic Education, General Education Development Preparation, and English as a Second Language. There is also a Family Literacy course that focuses on the development of workforce skills and GED test preparation to increase students' education and employability skills while learning to support their child's academic development.
Classes generally meet two times per week and are small so learning can be individualized to meet the needs of each student. Most classes are free due to grant funding by the Maryland Department of Labor, Licensing and Regulation, and Maryland Literacy Works.
ABE students are assessed to determine their literacy level and ESL students are assessed to determine their level of English speaking and comprehension skills at one of the free orientation sessions to determine appropriate class placement.
"There are a million reasons why a student comes to us looking to earn a high school diploma by passing the GED test. Sometimes the student had her own reasons for leaving high school, and sometimes circumstances were beyond his control. The truth is that it doesn't matter. We are here to help all adult learners get a second shot at accomplishing this milestone and moving ahead with post-secondary education or a career," said Dr. Dan Mosser, the evening's master of ceremonies and CSM's vice president for continuing education and workforce development. "All of our learners have the grit and ambition to decide to take on this very challenging GED 2014 test. It's not your grandfather's GED test anymore. It is truly designed to get graduates ready for the future. The GED 2014 Test is the starting line for a better future, not an end goal in itself."
"For some, high school graduation is a step. For others, and for many reasons, it can be a huge challenge and remain only a dream. Today is the day you have proven you can overcome any challenge," keynote speaker Michael Blackwell, director of St. Mary's County Library, said. "Having a diploma means you have shown you are educated. Education is not the sum of what we have memorized. Education is a way of living. Your diploma suggests you have learned certain qualities—qualities that, with your diploma in hand, will give you a brighter future."
Recognized as Distinguished Student Graduate for her high achievement of college readiness test scores was Ms. Beary, while Ms. Endes offered remarks as the 2016 GED Program student speaker.
"Receiving my Maryland High School diploma has happened with a positive mindset and a lot of math classes. This program really helped me and it will keep helping me throughout my whole life because it gave the thing I needed most — a diploma," Ms. Endes said. "By joining this program, all of us are able to achieve any goals we wish. So many opportunities have opened once we have finished."
Also honored during the program as a Friend of Adult Education by adult education instructional specialist Patricia Meszaros was Lynn Williams, lead administrative assistant at the Leonardtown campus, "who has gone out of her way to make our adult education program a success."
The Adult Education Program of CSM is supported by grant funding from the Maryland DLLR, the US Department of Education, and local funding. Adult education partners with CSM are Great Mills High School, J. Patrick Jarboe Family Education Center, Judy Center, St. Mary's County Detention Center, St. Mary's County Library's Lexington Park branch, and The Housing Authority of St. Mary's County.
For information about the program, click here, call Frazer Nelson, intake and assessment specialist, at 240-725-5473, or email [email protected].
To view photos from the graduation, click here.
For more about the College of Southern Maryland, visit their Leader member page.