Contractors Flock to NAWCAD Industry Day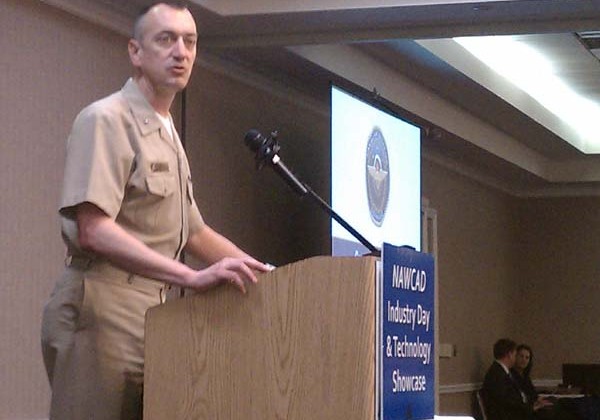 By Jay Friess
Editor
By the time the first speaker stepped to the podium at the Solomons Holiday Inn Tuesday morning, the hotel's parking lot was packed. Cars spilled over into nearby parking lots, and attendees of the 2012 Naval Air Warfare Center Aircraft Division Industry Day wedged themselves into the conference room.
Ken Carkhuff, small business deputy for NAWCAD, asked audience members sitting next to empty seats to raise their hands so others could find them. About an hour and a half later, he announced that a nearby office building was threatening to tow any interloping cars, which temporarily emptied dozens of seats.
Rear Adm. Steven Eastburg, vice commander of the Naval Air Systems Command observed, "I've been in this conference room many times, but I don't thinkg I've ever seen it with 700 people. … I think it's probably a sign of the fiscal times."
NAWCAD organizers said that more than 750 people reserved seats at the event, and dozens showed up to register Tuesday morning.
Eastburg quickly jumped to the reason why so many contractors trekked to Solomons for the latest information on the Navy's aircraft programs. He referred to a slide which showed the history of defense funding since World War II and noted that budget reductions of 30 to 40 percent tend to follow wars.
"History suggests a downturn is inevitable," Eastburg said. "We're going to shrink, and we're going to be more selective in what we buy."
Eastburg warned that the Navy is going to be less concerned with spending money until they get a perfect "exquisite solution." Instead, he said, "We're willing to settle on 80 percent capability if we can deliver on time and on budget."
Eastburg noted that the defense industry, while considered large, is far smaller than other American sectors. He noted that eBay is worth more than Lockheed and Northrop combined and that the entire defense industry base is worth less than half of Apple.
"The bottom line is that there are big changes ahead," Eastburg said.
"We're willing to settle on 80 percent capability if we can deliver on time and on budget."
Rear Adm. Steven Eastburg
Rear Adm. Randy Mahr didn't mince words either.
"I'm not doing this out of a sense of altruism to get you all together," Mahr said. He stated that NAWCAD has several patented technologies, such as its Oxycool air conditioning system and NAVSOLVE parts cleaner that it is looking to commercialize.
"Despite what you hear in the media, we are open for business," Mahr said. But, he cautioned, "It's hard to do business with the U.S. government."
Gary Kessler, executive director of NAWCAD, noted that Naval Air Station Patuxent River is the most active it has ever been. He said the base logged 20,000 flight hours last year, crushing its recent historical average of 14,500.
"I've never seen a time when we had so many things going through the gates of Pax River," Kessler said. "We see continued demand for our capabilities and competencies."
Kessler said NAWCAD's focus has begun to shift to irregular warfare; rapid prototyping and acquisition; autonomous unmanned systems, lead systems integration, interoperability, nano and meta technologies, the Center for Rotorcraft Advancement and alternative energies.
For a list of NAWCAD patents and copies of the presentations made Tuesday, visit the NAWCAD Industry Day web site.