Congress' Flub Could Hurt Pax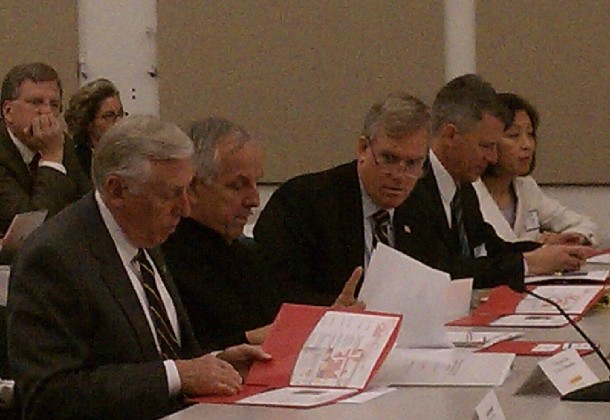 Posted for Del. John Bohanan
Pax Leader
Federal and local officials warned a state board Friday that Congress' inaction on balancing the national budget could have economic consequences for Naval Air Station Patuxent River.
In a public session at the Frank Knox Building in Lexington Park, following a morning tour of Pax River by federal and state officials, Dominick Murray, deputy secretary of the Maryland Department of Business & Economic Development, explained that the state's Federal Facilities Advisory Board was visiting federal installations to learn more about the operations that drive 7.5 percent of the state's economy.
Rep. Steny H. Hoyer welcomed the state board to Pax River and expressed his disappointment at failure of the Congressional Joint Select Committee on Deficit Reduction, also known as the "super committee," to reach an agreement on budget cuts. The Budget Control Act of 2011 now calls for an automatic $1.2 trillion across-the-board cut to all federal spending areas over the next decade, a process known as sequestration.
"The super committee has, to my profound sorrow, failed to come up with the $1.3 trillion in reductions," Hoyer said. He said all federal budgets now face 8 to 9 percent across-the-board cuts. "That is an irrational process to pursue," Hoyer said.
Hoyer said that Pax River has the potential to ride out the cuts, adding, "Pax River is now the center of naval aviation" and a "premier testing center in the world."
Sen. Benjamin Cardin told the board, "We are part of a team here. We are proud [of Pax River]. … None of us wants sequestration. That would be a failure."
Cardin said that NAVAIR and Pax River need predictable federal spending to make wise budget choices.
Capt. Ted Mills, commander of Pax River, said the base is facing a two million square foot deficit of usable space. The base needs to find space to put 2,000 more office seats to accommodate the programs coming to the base. He noted that the facility's older hangars are deteriorating, with the Test Pilot School being rated "fair" by Navy standards and two testing hangars being rated "fair" and "poor."
Gary Kessler, executive director of the Naval Air Warfare Center Aircraft Division, noted that the base employs 15,207 people. Of those, 7,777 are civilians, 6,398 are contractors, 5,993 work for NAWCAD and 1,784 work for NAVAIR. Kessler said he anticipates 620 civilian hires in fiscal year 2012, but noted that there is some uncertainty.
"There is a great deal of uncertainty," Hoyer interjected, noting that Congress needs to find new revenue sources to avoid cutting the military. Every federal commitment, he said, is at risk. "We're all going to have to decide if we're going to contribute a little more to sustain this enterprise. … We can't get there by cutting defense, non-defense discretionary or entitlements alone. … If we see additional cuts, we will see those [employment] numbers come down."
St. Mary's County Commissioner Todd Morgan told the board that two things keep him up at night: "It's the budget; it's the base." He noted that 75 percent of the St. Mary's County economy depends on Pax River.
"The gang of 12 failed, and the cuts are coming," Morgan said of the super committee. "If the cuts come, I don't know where the hell they're going to go, but I'm not crazy enough to believe they're not going to hit the base."
Morgan said competition between communities for the Navy's business is a "rough and tough boxing match," and warned, "The next round of [Base Realignment and Closure] will be much different than the first few."
Kevin Kelly, chairman of the state's Federal Facilities Advisory Board, said his panel is visiting 75  installations throughout the state and plans to release a report in 2012. He said the visit to Pax River "shows us that you really do have your act together down here."