CNO Honors Environmental Work of Pax River Teams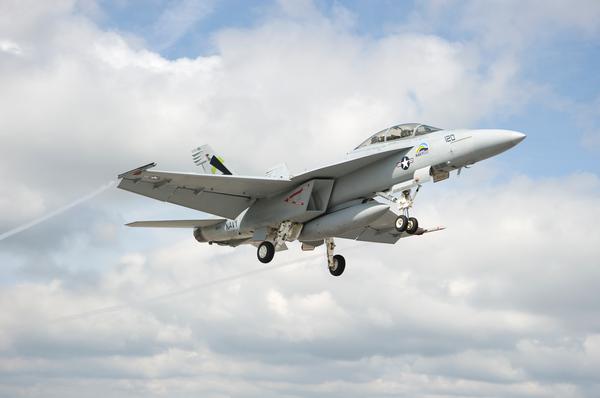 Three NAVAIR programs were recently saluted for balancing their naval aviation missions while ensuring environmental safety.
The Chief of Naval Operations (CNO) fiscal 2011 Environmental Awards, announced Feb. 22, honored the F/A-18 and EA-18G Program Office's (PMA-265) Green Hornet team; the Maritime Patrol and Reconnaissance Aircraft Program Office (PMA-290); and the Fleet Readiness Center (FRC) East, Cherry Point, N.C.
The awards recognize Navy ships, installations and people for outstanding performance in promoting environmental stewardship. For 2011, the CNO environmental awards team received 68 nominations from commands around the world in 10 categories.
"Striving for technological and environmental leadership takes commitment and dedication from the entire NAVAIR team," said Vice Adm. David Architzel, commander of the Naval Air Systems Command. "I could not be prouder of our award winners, and I challenge the command to continue to exceed their accomplishments as good stewards of the environment."
Eight-time environmental award winner FRC East, received its nod in the Sustainability, Industrial Installation category for running a model hazardous materials program, an FRC East official said.
"Service to the fleet requires the use of hazardous material," said FRC East's Environmental Director Amy Morgan."A well-run hazardous materials program means less hazardous waste, decreased air emissions, lower employee exposure, complete regulatory compliance, quality assurance and vastly reduced overall cost. We are extremely proud of our FRC East hazardous materials program, with it often being held up as a model for the rest of DOD and the greater business arena."
From investments in noise-reduction technology to alternative fuels, PMA-265's Green Hornet team could show "Sesame Street's" Kermit the Frog why there's no lament about "bein' green."
The team's sixth consecutive win in the Weapon System Acquisition, Large Program, Individual or Team category demonstrates its ongoing commitment to environmental excellence, said Capt. Frank Morley, program manager for PMA-265.
"Developing and implementing these new and progressive technologies for the Hornet and Growler communities is a win-win for the environment and the fleet," Morley said.
PMA-290 snagged a spot in the Weapon System Acquisition, Large Program, Individual or Team category for its focus on energy efficiency, recycling and hazardous material program.
"We are doing our part by being good stewards of the environment," said Martin Ahmad, deputy program manager for PMA-290. "It truly is an honor to have the program office recognized for this award. This is a team effort. We look forward to new ways to keeping the environment safe."
Vice Adm. William Burke, deputy chief of naval operations for fleet readiness and logistics, commended the nominees and winners in a naval memo, saying, "Your dedication to environmental stewardship is commendable, and your actions exemplify the Navy's commitment to protecting and preserving the environment."
A ceremony honoring the winners is scheduled June 5 at the U.S. Navy Memorial in Washington, D.C. All CNO environmental award winners will advance to the Secretary of the Navy level of competition.
Source: NAVAIR Headquarters