Chautauqua Brings Living History to CSM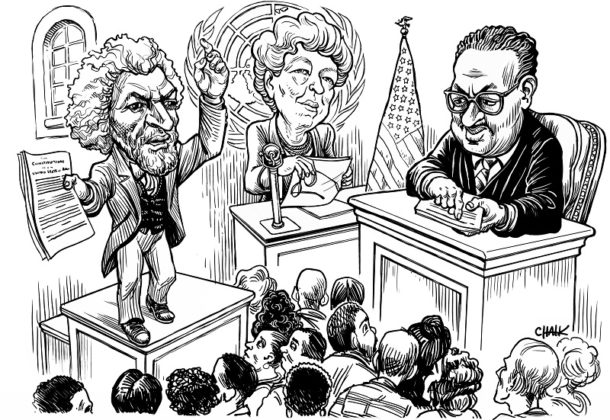 The College of Southern Maryland will host the 2018 Chautauqua Series on July 10, 11, and 12, beginning at 6:45 each evening at the CSM Fine Arts (FA) Building theater at 8730 Mitchell Road in La Plata. The presentations are free.
This year's program follows the theme "seeking justice." Writer, orator, and abolitionist Frederick Douglas will be portrayed in the first presentation July 10. Humanitarian, diplomat, and the longest-serving first lady in American history, Eleanor Roosevelt, will be portrayed in the second presentation of the series July 11. The first African-American Supreme Court Justice Thurgood Marshall will be portrayed in the final presentation July 12.
Chautauqua is presented by Maryland Humanities in partnership with CSM with support from Old Line Bank. For more information, visit the college's website or call 301-934-7828.
What is Chautauqua?
Taking its name from a lake in New York State, Chautauqua (shuh-tqaw-kwa) is a free living history performance series each July. Join fellow Marylanders at this year's event, and meet and talk with celebrated figures from our nation's past.
"Justice cannot be for one side alone, but must be for both." With these words, Eleanor Roosevelt asked a complicated question: "what is justice?"
Throughout 2018, Maryland Humanities is engaging with this challenging notion. For its 24th season, the contributions to the search for justice will be celebrated by bringing three historical activists to life on the Chautauqua stage.
Chautauqua 2018 honors a continuing search for justice with three characters: Mr. Douglass, Ms. Roosevelt, and Judge Marshall.
Judge Marshall will be portrayed by Bill Grimmette, a living history interpreter, storyteller, actor, and motivational speaker who has appeared as Martin Luther King Jr., W.E.B. DuBois, and Benjamin Banneker at Chautauquas in Maryland, Colorado, and South Carolina.
Ms. Roosevelt will be portrayed by Susan Marie Frontczak, a writer, speaker, living history presenter, and storyteller. Frontczak has appeared throughout the US as Marie Curie, Clara Barton, Mary Shelley, and Irene Castle.
Judge Marshall will be portrayed by Brian Anthony Wilson, a film and television actor and producer who will perform a scene from the play "Thurgood" by George Stevens Jr., followed by a dialogue with Lenneal Henderson. Mr. Henderson is an internationally recognized scholar who brought Marshall to life in the 2010 Maryland Humanities Chautauqua tour.
Performances are subject to change.
For more about the College of Southern Maryland, visit its Leader member page.