Chancellor Thanks St. Mary's for Building 3 Support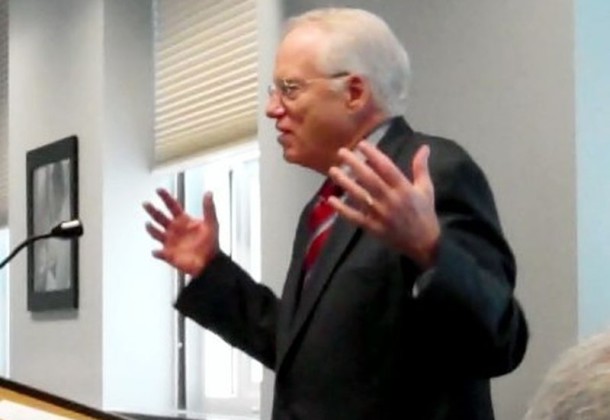 University System of Maryland Chancellor Brit Kirwan added his appreciation to St. Mary's County Commissioners who last week pledged $1 million toward construction of the USM Southern Maryland Academic and Research Center, aka, Building 3. Joseph Anderson, Chairman of the Southern Maryland Higher Education Board of Governors, also thanked the commissioners. His e-mail is excerpted below along with links for your to send your support and appreciation to the county officials as well.
First is the letter from Chancellor Kirwan:
  St. Mary's County Commissioners Post Office Box 653 Leonardtown, Maryland 20650
Dear Commissioners:
On behalf of the University System of Maryland (USM), I want to thank you for the vision and commitment demonstrated by your decision to invest $1 million of St. Mary's County's BRAC preparedness fund in support of the USM Southern Maryland Academic and Research Center—popularly known as Building 3—at the Southern Maryland Higher Education Center (SMHEC) campus.
As you know, the USM already has a strong presence at SMHEC, with several institutions offering a wide array of programs. Building 3, however, has the potential to take our partnership to a much higher level. It will be a modern education and research facility, featuring state-of-the-art classrooms, cutting-edge research labs, space to leverage our Autonomous Systems research and augment the activities of the University of Maryland Unmanned Test Site at the St. Mary's Airport, and much more.
Obviously, all of us who support the construction of this impactful new facility must still work with Governor Hogan and the Maryland Legislature to secure the remaining necessary funding. But there can be no doubt that your decisive action has underscored the fact that expanding educational opportunities and strengthening economic development and job creation is a top priority for St. Mary's County and Southern Maryland.
Once again, I thank you for your support. In addition, I what to reaffirm the commitment of the USM and our Board of Regents to this important project.

Similarly, Mr. Anderson thanked St. Mary's County Commission President Randy Guy, and Commissioners John O'Connor, Mike Hewitt, Todd Morgan and Tom Jarboe., and along with other supporters of the Academic and Research Center urged others to contact the commissioners and thank them and to maintain support for the project with the Southern Maryland Delegation and Governor Hogan.
Mr. Anderson wrote, in part,
"On behalf of the Southern Maryland Higher Education Center Board of Governors, and I believe many others in our community, I'd like to thank you for your leadership and vision demonstrated very clearly by your unanimous decision to invest $1M of St. Mary's County's BRAC preparedness fund towards the $3.85M needed to design the USM Southern Maryland Academic and Research Center, aka "Building 3."
Your decision and action has rightfully been met with great acclaim and appreciation by all those in our community who share your interest in strengthening our economy, enhancing our quality of life, and providing many opportunities for our citizens for decades to come.
While we still must receive approval for the balance of funding required to complete the building design from Governor Hogan and/or the Maryland Legislature – there still is work to be done – your very strong action has assuredly sent a strong message to our partners in the Maryland State Government that this project is a priority for Southern Maryland, and that we are committed to doing what it takes to assure the economic future, well-being, and prosperity of St. Mary's County, Southern Maryland, and indeed the entire state of Maryland.
This important project has truly become a community and regional priority – an initiative that we can all embrace with pride.
Thanks to your support, we are that much closer to making it a reality.
Sincerely, Joe Anderson Chairman, Southern Maryland Higher Education Center Board of Governors