Ceremony Honors 5th President of CSM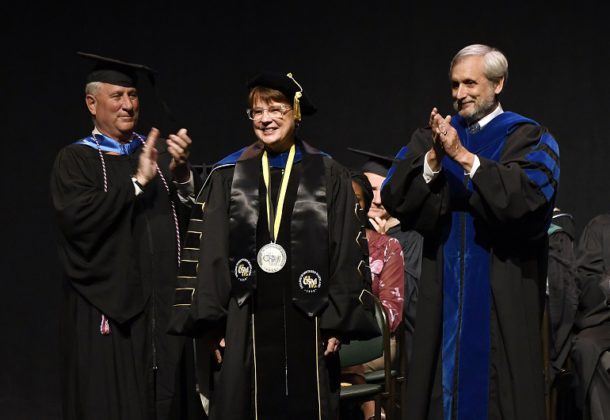 During the installation of Dr. Maureen Murphy, center, as the 5th president of the College of Southern Maryland, a presidential stole was presented to her by CSM President Emeritus Dr. Bradley Gottfried, right, and CSM Trustee Chair Theodore L. Harwood II.
State and local dignitaries as well from colleagues from Maryland's community colleges, and the College of Southern Maryland's faculty, students, and foundation came together as Dr. Maureen Murphy was installed as the 5th president of the college in a ceremony May 22, 2018.
"This is indeed a great day for the college. For only the fifth time in our 60-year history, we observe the installation of a president," said CSM Trustee Chair Theodore L. Harwood II as he welcomed more than 400 people including elected officials, dignitaries, faculty, staff, alumni, and friends to the inauguration held at the La Plata Campus and simulcast to the college's other campuses.
Dr. Murphy was appointed as the college's president in July 2017, assuming the role as the college marks its 60th anniversary during 2018. Murphy brings more than 27 years of community college experience including a decade serving as president, most recently at Brookdale Community College, a multi-campus community college in New Jersey, and previously at San Jacinto College South in Houston, Texas, and as vice president at both Rappahannock Community College and Wytheville Community College in Virginia.
"I'm honored to serve as the fifth president of the College of Southern Maryland," Dr. Murphy said in her remarks. "We were founded, 60 years ago, on the fundamental American principle that opportunity should be available for everyone. We are democracy's college leveling the playing field for all who live in Southern Maryland. Community colleges emerged in post-World War II America because America needed us. And America needs us now — Southern Maryland needs CSM now — more than ever."
In bringing greetings to Dr. Murphy on behalf of Maryland Gov. Larry Hogan, Maryland Higher Education Commission Secretary Dr. James D. Fielder Jr. said, "Governor Hogan understands the magic of higher education and how education transforms lives."
Dr. Murphy is the second female to serve as CSM's president. Prior presidents include Dr. Jay Carsey, Dr. John Sine, Dr. Elaine Ryan, and Dr. Bradley Gottfried.
"Unlike other colleges, CSM has enjoyed stability, which has added to its success. I am here representing the presidents who have come before Maureen," Dr. Gottfried said. He remembered Dr. Carsey for his work in shaping Charles County Community College during its early years and establishing the college's first partnerships, Dr. Sine for shaping the La Plata Campus and extending services into St. Mary's and Calvert counties, and Dr. Ryan for implementing the vision of CSM as a regional college. "And me — I would like to believe that I followed in Elaine's footsteps in continuing to implement the college's vision of one college serving one region. And now we are blessed to have Maureen continue the tradition of excellence," Dr. Gottfried said.
"One of the first things that Dr. Murphy did at the start of her first semester here at CSM was listen," said Faculty Senate President and Professor Mike Green. "Dr. Murphy, this 'Listening Tour' that took you … to all points on the CSM compass was noticed and appreciated by all that chose to participate. During this year you continued to seek understanding and to share your judgments: With the faculty by accepting the Faculty Senate Executive Board's standing invitation and meeting with us multiple times; and with the CSM community through your Friday Report communications. These have kept us abreast of your thinking and decisions regarding important issues that impact work and life here at CSM. We hear you and we are looking forward to many years of continuing fruitful conversation."
Dr. Murphy's first year has been student-focused including an initiative to address food insecurity among the college's students. Her inauguration included a service project of a food drive to support the college's micro food pantries, Hawk Feeders that are located on each campus. Built by a CSM faculty member, the Hawk Feeders are stocked through individual donations by faculty, staff, and students as well as through food drives, under the adage, "Give what you can, take what you need."
"During the first few days of the fall semester, Dr. Murphy made it a priority to engage with students from every campus and she has embraced all with open arms," said Student Government Association President Oluwaseyi Kintunde. "From handing out ice cream cones and free T-shirts to giving classroom directions, she has made herself accessible to everyone in need. By her taking the time to stop and talk to current and new students, Dr. Murphy demonstrated her attention on students but also reflected to me the caring behavior of our new president. Students have equally welcomed Dr. Murphy and we are excited for the potential future of change."
With more than 23,000 students at its four campuses in Charles, St. Mary's, and Calvert counties, CSM is the sixth largest of 16 community colleges in Maryland.
The staff and faculty at CSM work closely with a diverse student population to provide a rich variety of educational options, and CSM is a leader among Maryland community colleges in offering courses, which meet the busy schedules of our students.
"Today's community college presidents are offered many opportunities while at the same time, are faced with many challenges," said Allegany College of Maryland President Dr. Cynthia Bambara, representing the Maryland Council of Community Colleges. "To provide our students with the best possible educational experience, we must constantly be thinking differently. Dr. Murphy joined the Council of Presidents at our retreat last August. From day one she has been an active participant in all areas of discussion bringing a fresh perspective, creative suggestions and a true spirit of collaboration. She hit the ground running during the legislative session taking lead roles on several items of our collective legislative agenda."
Dr. Murphy has successfully developed partnerships with community organizations, school districts, business and industry, donors, and other higher education institutions. She began her career teaching English at St. Louis Community College-Meramec, where she later served as a dean. Dr. Murphy is committed to social justice and equity. She has been an active member of the American Association for Women in Community Colleges since 1995 and has served on the national board (two years as president) since 2007. She also served two terms as a commissioner on the American Association of Community College's Commission on Diversity, Inclusion and Equity.
"By our mission, we are called to serve the learners of Southern Maryland and help them improve their lives and the lives of their families," Dr. Murphy said. "Just as we stepped forward in the mid-20th century, so do we now. We meet our learners where they are and guide them, through education, to more fruitful and fulfilling lives. We are Southern Maryland's economic engine, building our region one student, one employee, one engaged citizen at a time."
"I am sure you've quickly discovered in your short time here that there are many people within our Southern Maryland community whose lives are positively impacted because of the work you do. It is estimated that 80 percent of our alumni stay and work here, in this community we call home," said CSM Foundation Chair Nancy Hempstead. "Your commitment and emphasis on our students, whatever their goals, is equally embraced by the Foundation, and we couldn't be more excited to work with you. We look forward to your continued enthusiasm, your leadership, and your quest for excellence that will successfully carry us beyond 60 years of impact."
Established as part of the junior college expansion in America, the college began with 23 students attending evening classes at the original La Plata High School, now the Charles County government building in September 1958. The La Plata Campus was built in 1968 and the college expanded its educational offerings to St. Mary's County residents in 1978 and to Calvert County residents in 1980. The College of Southern Maryland was formalized as a regional college in 2000, with equal representation from the three counties on its board of trustees.
Greetings and citations were presented as well to Dr. Murphy during the ceremony on behalf of US Sen. Ben Cardin, US Sen. Chris Van Hollen and US Congressman Steny Hoyer, and by the Southern Maryland Annapolis delegation and the Charles County commissioners.
Dr. Murphy has received numerous awards including the Shirley B. Gordon Award of Distinction by Phi Theta Kappa, the Distinguished Corporate Leadership Award by the Greater Red Bank NAACP, and the Carolyn Desjardins CEO of the Year Award by AAWCC. Currently, she is on the board of directors for the American Association of Community Colleges, the national organization representing more than 1,100 colleges.
Dr. Murphy earned a bachelor's degree in English from the University of Louisville, her master's degree in English from the University of Missouri-Columbia, and her doctorate in American studies from Saint Louis University. She has had support throughout her career from her husband of 37 years, Joe McArdle, and their sons, Dan and Ryan.
Earlier inauguration activities included the Ward Virts Concert May 13 featuring baritone Antony Zwerdling at the Prince Frederick Campus and a faculty showcase as part of the Benny C. Morgan Recital Series at the Leonardtown Campus, which is being rescheduled due to inclement weather. The free recital will feature music and original poetry by CSM faculty members.
To extend greetings to Dr. Murphy as part of the inauguration, visit the college's website. For photos from the May 22 inauguration ceremony, click here.  For information on the Hawk Feeders, click here.
For more about the College of Southern Maryland, visit its Leader member page.