Businesses Get Winefest Preview at Sotterley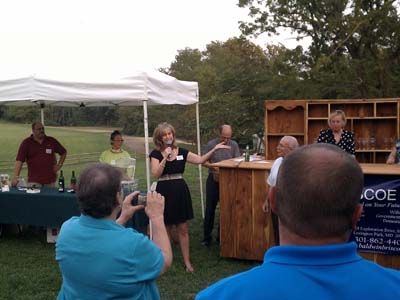 Posted for Sotterley Plantation
Community Builder
By Jay Friess
Members of the St. Mary's County Chamber of Commerce got a sneak preview of the upcoming Riverside Winefest at Historic Sotterley Plantation in Hollywood, Maryland at their Business After Hours event Wednesday night.
Members sampled stuffed ham from Lenny's restaurant and entered a drawing for an in-home dinner by the chef at The Tides restaurant while enjoying wine in the cool twilight weather on the mansion's portico.
"Those of you who have not been to Sotterley since the last Winefest may notice a few changes," said Nancy Easterling, Sotterley's executive director.
Ms. Easterling explained that the centuries-old plantation lost approximately 170 trees in Hurricane Irene last year. The organization has begun replanting trees, most noticeably along the plantation's picturesque driveway.
There are eight days left until Winefest, a fact that Ms. Easterling said is brought to her attention when she changes the countdown number on the event sign on Route 235.
"It's a shock to the heart every time I do that," she said.
Thirty-nine local businesses have signed up to sponsor Winefest, but there are still sponsorship opportunities for Sotterley's largest annual fundraiser. See Sotterley's web site for details.