Blue Angels Fly Into Annapolis This Week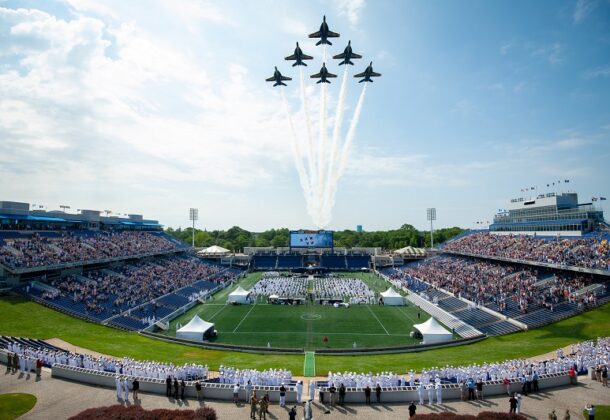 The US Navy Flight Demonstration Squadron, the Blue Angels, fly in formation over the US Naval Academy's Class of 2021 graduation and commissioning ceremony at Navy-Marine Corps Memorial Stadium in Annapolis. This year's graduation will be Friday. (US Navy photo by Midshipman 2nd Class Sean Mccullough/Released)
Morning Coffee is a robust blend of links to news around the internet concerning the Naval Air Station Patuxent River

economic community. The opinions expressed here do not reflect opinions of the Leader's owners or staff.
Commissioning Week has begun in Annapolis and will culminate with the US Naval Academy graduation on Friday, May 27, reports The Baltimore Sun. Today's activities include the S.S. Central America Bell Dedication and Herndon Monument Climb. Visitors can see the arrival and rehearsal on Tuesday, May 24, of the Blue Angels. The Navy's flight demo team will also do a flyover during the graduation where President Joe Biden is expected to be the keynote speaker.
Ukraine is among the 10 countries that received the most US military aid; most were in the Middle East, Africa, or Central Asia, reports US News & World Report. USAFacts has compiled a list of the top 10 countries that received the most military aid from the US in 2020.
The US embassy in the Ukrainian capital of Kyiv has officially resumed operations three months after the Russian invasion, reports Government Executive. "The Ukrainian people, with our security assistance, have defended their homeland in the face of Russia's unconscionable invasion, and, as a result, the Stars and Stripes are flying over the embassy once again," said SecState Antony Blinken.
President Joe Biden has invoked the Defense Production Act to speed production of infant formula and authorized flights to import supply from overseas, reports Military Times.
Seabee underwater construction technician master divers could receive up to $100,000 in retention bonuses by signing on for three to five more years of service in the US Navy, reports Navy Times. UCT sailors who have served on active duty for 20 to 27 years, and are at least in paygrade E-7, are eligible for the bonus in a master underwater construction technician diver (B18A) billet.
Naval News reports that the Navy's Independence-variant littoral combat ship USS Montgomery successfully launched an AGM-114L Longbow Hellfire Missile at a land-based target for the first time during a proof-of-concept exercise earlier this month.
Lockheed Martin said it will build an Airbus facility in Arkansas if the company wins a US Air Force contract to manufacture the LMXT strategic tanker boom refueling system, reports Arkansas Democrat-Gazette. The facility would create from 60 to 100 jobs.
Switzerland will sign a contract to buy 36 Lockheed Martin F-35A Lightning IIs, reports New York Post, pressing ahead without waiting for a referendum on the $5.5 billion deal.
US Marine Corps SGT MAJ Troy Black told a House Appropriations military construction subcommittee last week that inflation and supply chain concerns are having an impact on service members and their families, reports Military Times. "Our junior service members … feel the largest impact," he said. "If we can't get a handle on those costs that are [burdening our] families, then that's going to impact our retention."
The US Navy christened the USS Frank E. Petersen Jr. earlier this month, reports Military.com. The Aegis-class destroyer, built by Ingalls Shipbuilding, is named in honor of Marine Corps LT GEN Petersen, the first black Marine Corps aviator and the first black Marine to rise to the rank of three-star general.
NavSec Carlos Del Toro said that a future Arleigh Burke-class guided-missile destroyer will be named USS Telesforo Trinidad, the service announced. The future Trinidad (DDG 139) will honor Fireman 2nd Class Telesforo De La Cruz Trinidad, the only Filipino in the US Navy to be awarded the Medal of Honor.
During a hearing last week of the House Appropriations Committee's defense subcommittee, AFSec Frank Kendall was asked to lay out the next steps in the possible relocation of US Space Command from Colorado to Alabama, reports Space News. Assuming that the Government Accounting Office does not recommend overturning the original basing decision, Kendall said the service is "hoping to move forward with a final decision as quickly as we can."
Bell Textron said that South Korea has chosen the Bell 505, also known as the Jet Ranger X, as its next military training helicopter, reports Defense News. The company said South Korea will purchase 40 of the helicopters.
The number of sailors who deserted the Navy more than doubled from 2019 to 2021, reports NBC News, highlighting the lack of options contract-bound sailors face when they're desperate to leave the service. Among more than 342,000 active sailors, there were 157 new Navy deserters in 2021, compared with 63 in 2019 and 98 in 2020.
A US Air Force pilot who kept her composure as her A-10C Thunderbolt II fell apart midflight during a routine sortie two years ago in Georgia was presented with the 2020 Koren Kolligian Jr. trophy at a Pentagon ceremony, reports AviationPros. CAPT Taylor Bye became the first female recipient of the award since its creation in 1957. "The day she landed with 66% of her landing gear and wind in her hair is one she'll never forget," Air Force Chief of Staff GEN CQ Brown Jr. said at the award presentation, applauding Bye's "exemplary performance."
The remains of an American airman who went missing in action in World War II might have been recovered from a rice field in Thailand, reports The Associated Press. Tests at a laboratory in Hawaii will determine if the remains are human and possibly identify the person. Officials believe it is a long-lost service member from the US Army Air Forces. The Defense POW/MIA Accounting Agency estimates that of the 72,335 US service personnel still missing from WWII, almost 47,000 disappeared in Asian battle zones.
The US Army will award the Silver Star medal to one of four troops killed in an ambush in Niger in 2017, reports Army Times. Families of the soldiers who were killed have argued that blame for the botched October 4, 2017, mission was unfairly placed on the 11-man Army Special Forces team that fought through the unexpected attack, rather than the senior officers who greenlit the operation. Helmet camera footage has triggered the medal upgrade for one of the men.
Decisions on punishments are still to come for the 36 individuals who were at least somewhat responsible for the destruction of the amphibious warship Bonhomme Richard in July 2020, reports Breaking Defense. To date the only disciplinary actions made publicly known about the incident are the charges against Seaman Recruit Ryan Sawyer Mays, the junior enlisted sailor who allegedly started the fire. The trial for Mays is set to start September 19, reports Army Times.
Cardinal Golf Course at Fort Lee, VA, will now be open to the public, reports dvidshub.net. The Army approved the move after a request from the Fort Lee Family and MWR. Tom Green, community recreation officer for the directorate, said patron expansion is vital to maintaining profitability and sustainability. "Over the past several years, our annual membership has dropped from a 650 average to around 450," he said. "Conversely, operating costs continue to climb."
Contracts:
Cape Fox Federal Integrators LLC, Manassas, Virginia (FA4890-22-D-0001); Nisga'a Tek LLC, Chantilly, Virginia (FA4890-22-D-0002); Koa Lani JV LLC, Orlando, Florida (FA4890-22-D-0003); Tenax Technologies LLC, Belcamp, Maryland (FA4890-22-D-0004); Vector Innovative Solutions LLC, Glendale, Arizona (FA4890-22-D-0005); and All Native Synergies Co., Winnebago, Nebraska (FA4890-22-D-0006), have been awarded a combined not-to-exceed $784,355,002, multiple award, indefinite-delivery/indefinite-quantity contract for the Squadron Operations Center-Enterprise (SOC-E) Program. This contract provides for combat mission support for the sustainment of SOC mission systems, the operations and maintenance of equipment and design/development of systems in support of combat lines. Work will be performed at the contractors' facilities and is expected to be completed by May 19, 2030. This award is the result of a Small Business and 8(a) Set Aside competitive acquisition, and 17 offers were received. Fiscal 2022 operation and maintenance funds in the amount of $30,000 are being obligated via six task orders at the time of award. Air Combat Command Acquisition Management and Integration Center, Joint Base Langley-Eustis, Virginia, is the contracting activity.
Kihomac, Inc., Reston, Virginia, has been awarded an $18,000,000 indefinite-delivery/indefinite-quantity contract for A-10 universal rudders. This contract provides for the acquisition of a maximum of 330 rudders. Work will be performed in Layton, Utah, and is expected to be completed by May 18, 2027. This award is the result of a competitive acquisition, and seven offers were received. Consolidated Sustainment Activity Group working capital funds in the amount of $3,661,700 are being obligated at the time of award. Air Force Sustainment Center, Hill Air Force Base, Utah, is the contracting activity (FA8212-22-D-0004).
AECOM Technical Services Inc., Germantown, Maryland, is awarded a $20,000,000 firm-fixed-price, indefinite-delivery/indefinite-quantity, architect-engineering contract for geotechnical, environmental, and surveying services at various locations within the Naval Facilities Engineering Systems Command (NAVFAC) Mid-Atlantic area of operations (AO). The work to be performed provides for geotechnical and environmental field exploration services, geotechnical soils laboratory services, environmental laboratory services, geotechnical engineering services, geotechnical and geologic literature search, preparation and presentation of geotechnical reports, geotechnical instrumentation services, construction monitoring/inspection and field testing, design and engineering deliverables, forensic investigations of existing pavements, surveying services, and hazardous material survey, sampling, and reporting. An initial task order is being awarded for $245,658. Work will be performed at various Navy and Marine Corps facilities, and other government facilities within NAVFAC Mid-Atlantic AO. The term of the contract is not-to-exceed 60 months with an expected completion date of May 2027. Fiscal 2022 operation and maintenance (Navy) funds in the amount of $245,658 are obligated on this award and will expire at the end of the current fiscal year. Future task orders will be primarily funded by fiscal 2022 military construction (Navy) and operation and maintenance (Navy) funds. This contract was competitively procured via the beta.sam.gov website with two proposals received. The Naval Facilities Engineering Systems Command Mid-Atlantic, Norfolk, Virginia, is the contracting activity (N40085-20-D-0043).
ALQIMI National Security Inc., Rockville, Maryland, was awarded an $8,268,481 firm-fixed-price contract for the development and formulation of machine learning models for a chemical biological radiological and nuclear integrated early warning service. Bids were solicited via the internet with one received. Work will be performed in Rockville, Maryland, with an estimated completion date of May 18, 2027. 2022 research, development, test, and evaluation, Army funds in the amount of $8,268,481 were obligated at the time of the award. US Army Contracting Command, Aberdeen Proving Ground, Maryland, is the contracting activity (W911QY-22-C-0028).
Airbus U.S. Space & Defense Inc., Arlington, Virginia, was awarded a $14,273,735 contract for UH-72 Lakota helicopter contractor logistics support and engineering services. Bids were solicited via the internet with one received. Work will be performed in Grand Prairie, Texas, with an estimated completion date of Dec. 31, 2026. Fiscal 2022 fixed-firm-price funds in the amount of $14,273,735 were obligated at the time of the award. US Army Corps of Engineers, Fort Shafter, Hawaii, is the contracting activity (W58RGZ-22-C-0022).
ACT Services LLC, Columbia, Maryland, was awarded a $10,000,000 contract for construction management services to support Construction Division, Savannah District. Bids were solicited via the internet with 24 received. Work locations and funding will be determined with each order, with an estimated completion date of May 19, 2027. US Army Corps of Engineers, Savannah, Georgia, is the contracting activity (W912HN-22-D-2007).