Another Helo Goes Down in Pacific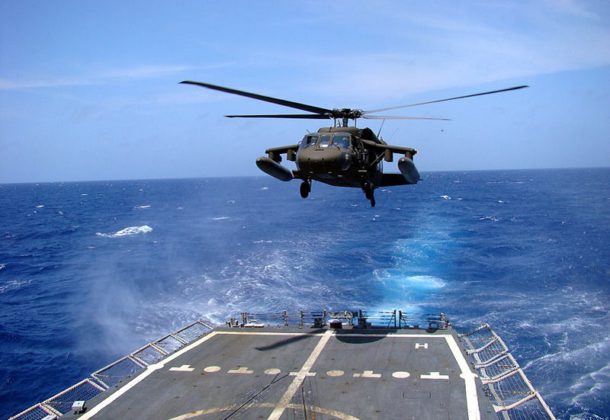 Morning Coffee is a robust blend of links to news around the Internet concerning the Naval Air Station Patuxent River

economic community. The opinions expressed here do not reflect opinions of the Leader's owners or staff.
An Army UH-60 Black Hawk helicopter went down Tuesday in the Pacific Ocean, The Washington Post reports, during a nighttime training mission off Hawaii. A search was on for the five crew members. A Black Hawk crashed on the Breton Bay Golf Course in Leonardtown in April, killing one and injuring two, as was reported by Military.com.
Guam residents mistakenly received a "civil danger warning" around midnight amid fears of an attack by North Korea, reports Politico.  The false alarm was blamed on human error and local authorities said it would not happen again.
North Korea might have stepped back from its Guam threats, reports Military Times. Kim Jong Un praised his military's "close and careful plan" and said he would watch the "foolish and stupid conduct of the Yankees" a little more before deciding whether to order the missile test.
Venezuelan leader Nicolas Maduro has ordered his army to conduct a "comprehensive" drill in response to President Donald Trump's threat of possible military action in the South American country, reports Voice of America, so Venezuela is "never touched by an imperialist Yankee boot," Maduro said.
The Washington Post reports an Iranian drone made several passes by the aircraft carrier USS Nimitz in the Persian Gulf on Sunday, the second such incident in a week and described by the Navy as unsafe, unprofessional and dangerous.
DefSec James Mattis calls a looming stop-gap budget "as unwise as can be" for the military, reports the Washington Examiner. If, as analysts predict, Congress passes a months-long continuing resolution at the end of September holding DoD spending to current levels, advances in electronic, space, and drone warfare would be hamstrung.
Huntington Ingalls Industries at the Newport News shipyard will repay $9.2 million to settle overbilling of the US government, reports Navy Times. The settlement resolves allegations of labor charges for work that wasn't done.
Air Force captain lands A-10 with no canopy, no gear, reports Air Force Times, crediting his training for kicking in."[I]t is what made the difference," said pilot Capt. Brett DeVries.
Plans for a new Coast Guard museum in Connecticut gains momentum, reports The Boston Globe. "Right now we are in a position to kick off," said Dick Grahn, a retired Boston lawyer and president of the National Coast Guard Museum Association, the nonprofit spearheading the project. "If the cards fall as we wish, we'd like to break ground in 2018."
The Congressional Budget Office finds health care premiums will spike, insurers will exit the market, and deficits will increase if Trump follows through on his threats to cut off government payments to insurance companies, reports NBC News. The president has not forgotten who voted against the recent health care plan, reports Fox News, quoting Trump saying, "We came very close with health care. Unfortunately, John McCain decided to vote against it at the last minute."
Marines want 50,000 more Infantry Automatic Rifles to replace the M4, reports Military Times. In most respects, experts agree the M27 is a superior rifle to the M4, but it does come at an increased cost. Officials told Marine Corps Times earlier this year that M27s cost $3,000 apiece while the M4 costs $1,000.
Maryland's fiscal guru announces plans to retire, reports Maryland Matters. Warren Deschenaux, the executive director of the Maryland Department of Legislative Services, has been an integral part of state budget-making and the policy-writing process for decades.
Contracts:
Lockheed Martin Space Systems Co., Sunnyvale, California, has been awarded $21,858,842 for cost-plus-incentive-fee contract modification P00029 to fund previously exercised options under a previously awarded contract (N00030-15-C-0100) for Trident II (D5) missile deployed system support. The work will be performed in Sunnyvale, California (43.25 percent); Cape Canaveral, Florida (31.96 percent); Kings Bay, Georgia (8.81 percent); Silverdale, Washington (7.40 percent); Magna, Utah (3.51 percent); Clearwater, Florida (1.05 percent); Palo Alto, California (0.90 percent); Poulsbo, Washington (0.76 percent); Gainesville, Virginia (0.42 percent); Elkton, Maryland (0.24 percent); Baltimore, Maryland (0.15 percent); Atlanta, Georgia (0.13 percent); and other various locations (less than 0.10 percent each, 1.42 percent total), and work is expected to be completed by Sept. 30, 2017. Fiscal 2017 weapons procurement (Navy) funds in the amount of $20,999,842; and fiscal 2017 operations and maintenance (Navy) in the amount of $859,000 are being obligated on this award. Funds in the amount of $859,000 will expire at the end of the current fiscal year. Strategic Systems Programs, Washington, District of Columbia, is the contracting activity. (Awarded Aug. 14, 2017)