Alternatives to the LCS Beginning to Arrive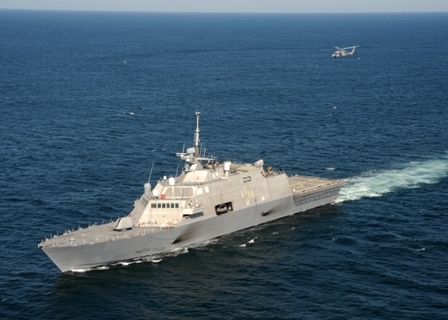 Morning Coffee is a robust blend of links to news around the internet concerning the Naval Air Station Patuxent River economic community. The opinions expressed here do not necessarily reflect those of the Leader's owners or staff.

Lockheed and Austal of Australia submitted their "spiraling" menus for a small warships in response to the Navy's search for alternatives to the Littoral Combat Ships, built to hunt and fight mines, submarines and surface ships. Reuters reports, officials are concerned the ships also need some permanent weapons on board.  The Navy the defense industry to submit cost and technical data on ship designs and weapons for a task force charged to report out options by July 31 to shape the Navy's FY16 budget request.
Rep. Adam Schiff (D-Calif.) wants to end use of military force against perpetrators of the Sept. 11, 2001, terrorist attacks, saying the original authorization is no longer necessary, reports The Hill.  But his amendment failed in the House, 191-233.
Following theJustice Department's indictment of five PLA members for cyber espionage Navy Chief of Naval Operations Jonathan Greenert said the two nations navies were still working well together on important exercises and alignments in the Pacific, reports  of Sydney J. Freedberg Jr. reports in Breaking Defense out of a defense writers meeting with military officials, strategists, and thinkers. The latter were not as optimistic as the Navy Chief.
It was a sticking point, but S. Korea is buying 40 JSFs based on test-flying the $80- to $85-million stealth aircraft via a simulator at Lockheed Martin's Fort Worth, Texas plant, reports Korea Times, noting a contingent of 10 will spend two weeks at Fort Worth for the testing.
Army and Air Force Exchange Service has asked DoD to open online Exchange shopping services to all veterans, reports Military Times. About 90 percent of honorably discharged vets leave service before qualifying for retirement, many of these vets said deployed four, five or more times to war in the last 13 years, said AAFES Director Tom Shull. The Navy has not submitted a similar request.
DoD wants less variant in its parts, more commonality and is looking for cost savings, reports DoDBuzz. "An example would be in motors," said RADM Thomas Kearney, Deputy Commander, Acquisition and Commonality. "We have 4,500 types of motors in the Navy that we use. When we look technically at the requirements, we have about 1,500 different motors needed. That is an example of an area where we have room for improving commonality."