All Souls Day Mass for El Faro Crew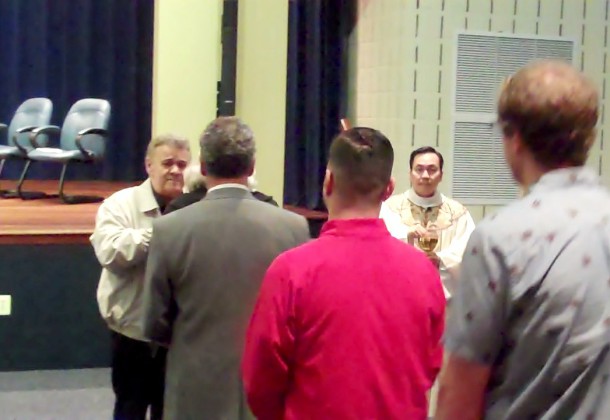 On all Souls Day, mass was said at the Paul Hall Center in Piney Point, MD, for the 33 crew members who lost their lives Oct. 1, 1015 aboard the cargo ship the El Faro during Hurricane Joaquin.
The US Navy found the vessel last week, upright on the bottom of the Atlantic at a 15,000 foot depth. There will be no recovery effort except for the recorder which officials are optimistic can be located.
"The last communication … was calm," reports the Seafarer's Log of the last transmission from the ship, about 7:30 am, Oct. 1. Although the transmission was calm, by that time the ship, en route to Puerto Rico from Jacksonville, FL, had lost power near the Bahamas, was taking on water and listing 15 degrees. The communication from the vessel described the situation "as manageable."
Seventeen of the crew were members of the Seafarer's International Union, which has its training facility for merchant marines at the Paul Hall Center. SIU President Michael Sacco invited Fr. Paul Nguyen of St. George Catholic Church in Valley Lee, MD, to hold the mass.
All Souls Day is the day to honor the dead, whether they died at "sea or land," Fr. Nguyen told the packed auditorium.
Members of the El Faro's final crew included 17 SIU crew members listed here:
Roan Lightfoot, Bosun; Brookie Davis, Able Seaman; Frank Hamm, Able Seaman; Carey Hatch, Able Seaman; Jack Jackson, Able Seaman; Jackie Jones Jr., Able Seaman; Sylvester Crawford Jr., QMED; Joe Hargrove, OMU; Geman Solar-Cortes, OMU; Anthony Thomas, QMU; Louis Champa, Reefer Engineer; Roosevelt Clark, GUDE; James Porter, GUDE; Mariette Wright, GUDE; Theodore Quammie, Steward Baker; Lashawn Rivera, Chief Cook; Lonnie Jordan, Steward Assistant.
Eleven members of the SIU-affiliated American Maritime Officers (AMO) were also among the final crew and their names are listed here:
Michael Davidson, Master; Steven Shultz, Chief Mate; Danielle Randolph, Second Mate; Jeremie Riehm, Third Mate; Jeffrey Mathias, Chief Engineer; Richard Pusatere, Chief Engineer; Keith Griffin, 1st Asst.Engineer; Howard Schoenly, 2nd Asst. Engineer; Michael Holland, 3rd Asst. Engineer; Mitchell Kuflik, 3rd Asst. Engineer; Dyland Meklin, 3rd Asst. Engineer.
And five Polish nationals completed the crew:
Piotr Marek Krause, Marcin Nita, Jan Podgorski, Andrzej Roman Truszkowski, Rafal Amdrzej Zdobych